With its roots in Madiran (a tiny village in South West France), Tannat might be the next Malbec. Why? Well, it has more gusto than Cabernet Sauvignon, and Tannat wines from up-and-coming Uruguay are surprisingly affordable! Here's what you need to know.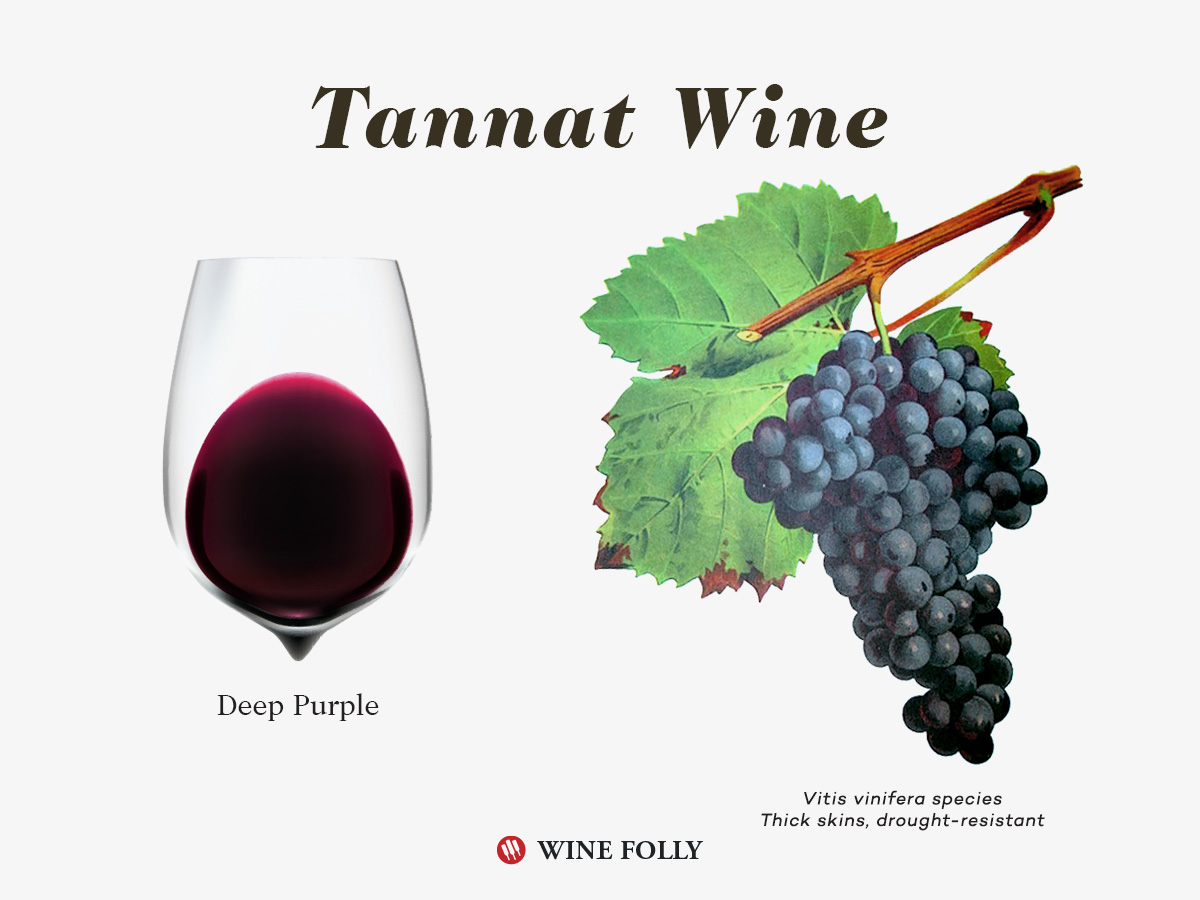 Fun Facts About Tannat Wine
Tannat made its first appearance on Wine Spectator's Top 100 Wines of the Year in 2017. It listed #41 with Bodega Garzon 2015 "Reserve" Tannat from Uruguay (~$17). (Tried it – delicious!)
 
Tannat is a great value! A great bottle of Tannat will is priced between $15-$30.
 
Tannat has been touted as one of the "healthiest" red wine grapes, thanks to much higher levels of antioxidants (like resveratrol).
 
Newer Tannat vine clones are improving this wine. They maintain power, structure, and complexity, but roll back the frisky acidity and heavy-handed fruit profile.
 
What Does Tannat Taste Like?
Tannat tastes range from red to black fruit with a decent dose of black licorice, vanilla, dark chocolate, espresso, and smoke alongside a signature note of cardamom and brown spices. Typically, the more oak-aging, the more spice-driven character the wine will carry. Likewise, the more maceration (time the juice spends swimming in the grape's skins), the more intense the color pigments and tannins will be in the final wine.
---
French Tannat vs Uruguay Tannat
French Tannat From Madiran
Flavors: French Tannat leans more readily into red fruit flavors, namely raspberry, tighter gripping tannins, and unmistakable power.
The Tannat grape is a bit of a chameleon and shines differently depending on where it is grown. Traditionally, Madiran Tannat is a big wine, with full throttle tannins and searing acidity. For this reason, it's often blended with Cabernet Sauvignon or Cabernet Franc to ease astringency. Still, French law requires a minimum of 60% Tannat on wines labeled "Madiran AOC." That said, many regional winemakers opt for 100% Tannat because they love the stuff. In conclusion, expect French Tannat to have feisty tannins, an opaque "black wine" color, elevated alcohol, and cellar-worthiness. Try setting one down for a decade (if you can wait that long!).
Uruguay Tannat
Flavors: In Uruguay, the tannins come across as more pliable and softer on the approach, while the fruit profiles are mostly black fruits, like blackberry, black cherry, and plum. Wines show an enduring elegance.
Yet a quick sip south to Uruguay and you'll find Tannat sporting a more laid- back, creative style. Intentionally blended with a variety of grapes to soften up its staunch structure, it's not unusual to find Uruguay's Tannat married to Pinot Noir, Merlot, or Syrah in the bottle, where soft, synergistic fruit flavors help tame Tannat's high octane tannins. Thanks to French immigrants bringing their hometown grapes to Uruguay in the late 1800s, Tannat vines were readily cultivated and have since become the country's dominant grape variety, enthusiastically representing well over a third of the nation's plantings.
---

Cassoulet, with its rich, meaty flavors, will help quell Tannat's rigorous tannins. by Phillip Capper
Tannat Food Pairing Recommendations
Given the tightly-wound tannins, Tannat begs for food that brings the hearty duo of high protein and high fat to the table. Why? The fats and proteins soften the intense, gripping quality of high tannins. The happy pairings of beef, sausage, cassoulet, roasted lamb, duck confit, and assorted aged cheese (reach for Roquefort or Chaumes) will gladly serve to soften the tannins and amplify the rich vibe of the food itself.
---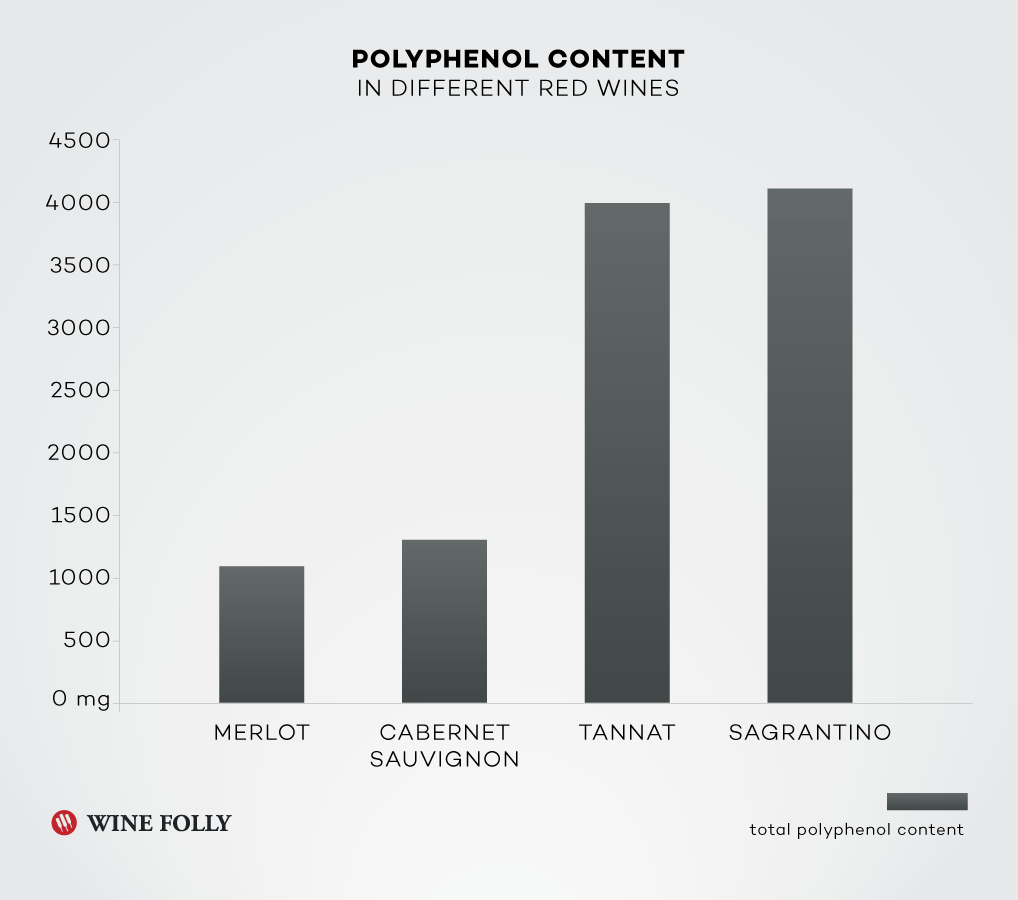 Tannat has high antioxidants! However, this makes bitter and astringent wines without special skill.
Winemaker Secrets to Tannat Wine
Winemakers love Tannat because its thick skins make it:
relatively easy to grow in a variety of climate conditions (especially dry)
less likely to be attacked by vineyard pests, fungus, and mold
less susceptible to cold temperature variations and the dreaded frost
Of course, it can be tricky to manage in the cellar because it's such a big wine! The grape itself showcases extra thick skins and high seed counts (often 5 seeds per grape instead of the standard 2–3). These attributes contribute to robust polyphenol compounds in the wine.
Here's what to look for in the winemaker's notes to find smooth, velvety Tannat wines:
Oak barrel aging – while oak introduces wood tannins, it also allows a steady oxygen entrance to the wine, which helps the wine taste smoother.
Micro-oxygenation – (aka "microOX" or "microbullage" in French) – is the process of introducing teeny, tiny amounts of oxygen during the winemaking process to soften the overbearing structure and make the wines more approachable at a younger age.
Extended aging – one of the perks of aging a wine that is built to age (i.e. carries high tannins and
high acidity) is that over time, the wine's tannins will break down and soften on their own.

Tannat – Elevated Polyphenolic Compounds study
Role of Polyphenols in Disease Prevention Study