The live video course, with wine expert Madeline Puckette, explores fundamental topics in wine through our sense of taste. Grab a glass, pull up a chair, and join us live.
Prosecco Superiore vs Champagne
In a glass, Prosecco and Champagne look very similar and, while both are sparkling wines, this is where their similarities end. In this tasting we'll compare the differences of Champagne and Prosecco by taste and by winemaking methodology. You'll learn the real reasons why Prosecco is usually half the price of a bottle of Champagne and you'll get to taste the two wines head-to-head.
The comparison specifically calls for a Prosecco Superiore DOCG vs a non-vintage style Champagne in order to match quality as closely as possible. If you can't find the bottles below, you can seek out another brut-level Prosecco Superiore, Valdobbiadene Conegliano or Asolo Prosecco. Read more about Prosecco here.
---
The Wines
Bisol "Crede" Valdobbiadene Prosecco Superiore DOCG
Page 52 Wine Folly: The Essential Guide to Wine
Color: Clear. Star bright. Pale yellow with silver flecks. Medium-fine persistent bubbles
Aroma: Clean. Medium intensity aromas of honeysuckle, honeydew melon, citrus blossom and fresh cut pears.
Taste/Structure: On the palate the wine is light and creamy with medium-plus acidity and dry with notes of green apple, pineapple and a medium-length slightly saline finish. Bubble mousse is big and explosive.
Blend: 85% Prosecco (Glera), 10% Pinot Bianco, 5% Verdiso
Alcohol: 11.5%
pH: 3.25 pH
Acidity: 5.5–6 g/L
Residual Sugar:"Brut" 7.5 g/L
Serving: Serve chilled around 45-47 ºF (7-8 ºC). No need to decant.
Wine Tech Sheet Link: Bisol (Italy)
Find this wine: ~$17 wine-searcher.com
---
Nicolas Feuillatte Brut Reserve Champagne
Page 48 Wine Folly: The Essential Guide to Wine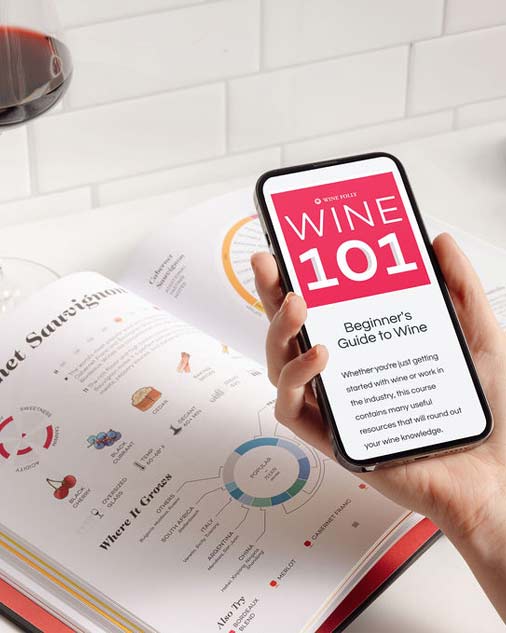 Buy the book, get a course.
Get the Wine 101 Course ($100 value) FREE with the purchase of Wine Folly: Magnum Edition.
Shop Now
Color: Clear. Star bright. Pale gold with silver flecks. Fine persistent bubbles.
Aroma: Clean. Low intensity aromas of apple, green pear, white peach and a subtle note of parmesan cheese.
Taste/Structure: On the palate, wine is lean and zesty with high acidity and notes of green apple, chamomile and bruised quince with a long persistent tingle acidity on the finish. Bubble mousse is subtle and creamy.
Blend: 20% Chardonnay, 40% Pinot Noir, 40% Pinot Meunier
Alcohol: 12%
pH: 3.06
Acidity: 6.61 g/L
Residual Sugar: 8.5–9.6 g/L
Serving: Serve chilled around 45-47 ºF (7-8 ºC). No need to decant.
Wine Tech Sheet Link: Nicolas Feuillatte Brut Reserve Tech Sheet
Find this wine: ~$28 wine-searcher.com