Explore how the impact of climate and oak affect the taste of Chardonnay when you have Chablis vs California Chardonnay. You can try this at home with your own comparative tasting.
Can you figure out which wine is which before the big reveal?
Do This Comparative Tasting on Your Own
Choosing Your Wines
I like to spend a little bit more on comparative tasting wines, maybe between $20–$30, to make sure I'm getting quality examples with minimal additives.
For this tasting, I'd recommend looking into the following French options:
Chablis
Pouilly-Fuissé
or another Mâconnais (white Burgundy with medium to light oak)
For your New World choice, you have a lot of options, but perhaps we can round these down to a few warm-climate selections:
Chardonnay from Sonoma, Napa Valley, or another North Coast AVA
Chardonnay from the Santa Barbara area (such as Edna Valley)
Chardonnay from Australia (look into Yarra Valley)
When tasting Chardonnay there are a couple of things you can note right away:
A deeper color in the wine is often an indication of oak aging.
Thick, slow moving legs? This is usually a trait of New World Chardonnay wines with more than 14% ABV
Smell butter or brûlée? Yep, that's the oak coming through!
---
What We Tasted
Smith-Madrone Napa Valley Chardonnay 2014
pH: 3.32
Total Acidity: 7.3 g/L
Alcohol: 14.2%
Price: $32
Look: Shows a deep yellow color with gold flecks.
Smell: Smells like pine needles, green pineapple, yellow apple, crème brûlée crust, and lemon curd.
Taste: On the palate, it starts out with a burst of pineapple that leads into a tingle of acidity and finishes with oak flavors of brûlée and butter. The body is somewhat lighter than other Napa Chardonnay I've had because of the spritey acidity.
---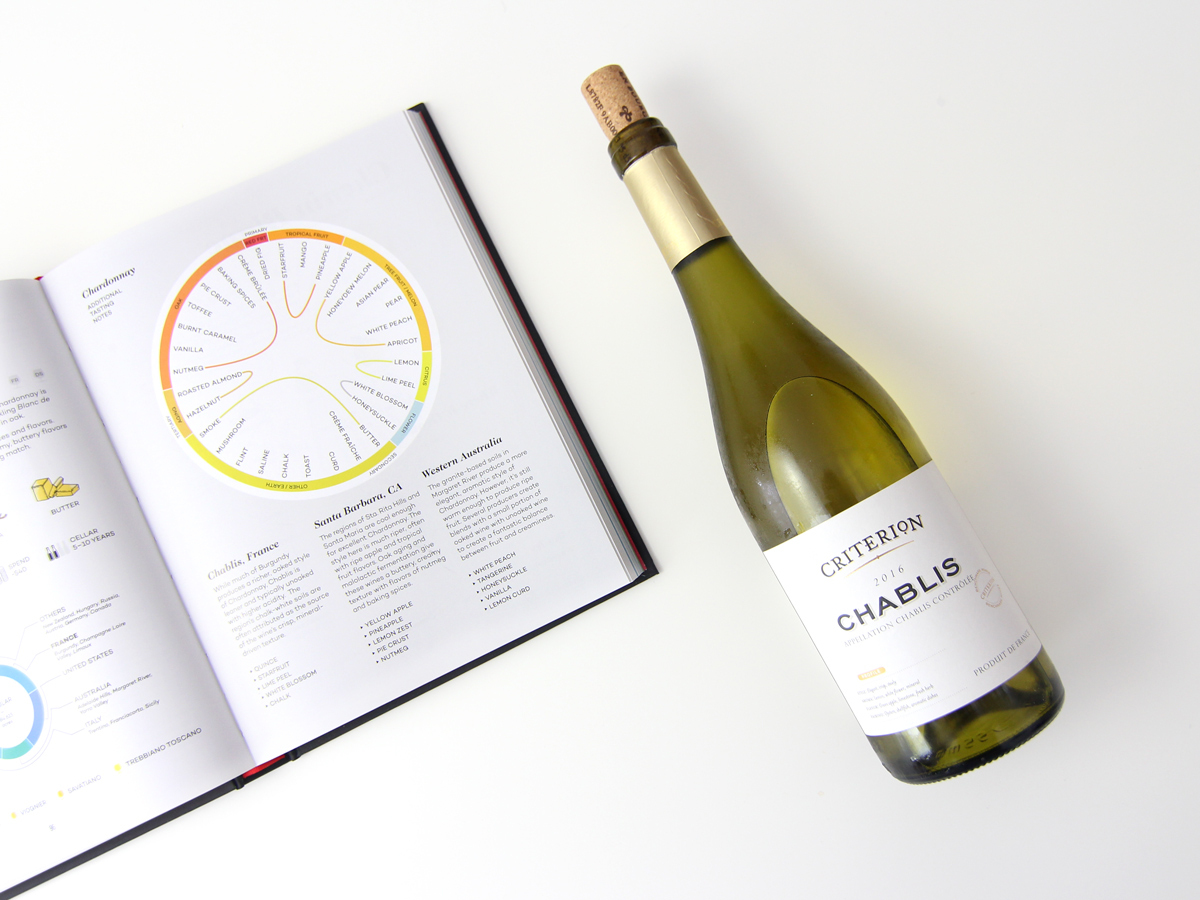 Criterion Chablis AOC 2016
pH: unknown
Total Acidity: unknown
Alcohol: 12.5%
Price: $22
Look: It appears as pale yellow with green flecks.
Smell: Smells like passion fruit, green apple, daffodils, and thyme flowers. The passionfruit could indicate reductive winemaking and high thiol content.
Taste: Lean and lithe with a burst of passionfruit that leads into tingly lime-like acidity. Overall, the length is not as long as the other wine, but still quite nice.