All you really needed to know about decanting wine in 2 minutes flat.
Decanting Wine
How Long Should I Be Decanting Wine?
Decanting wine can take as little as 5 minutes to about 2 hours. The action of pouring a wine from the bottle into a decanter does most of the work of decanting wine instantly!
High tannin wines such as Syrah, Barolo, Brunello di Montalcino, and Chianti benefit greatly from a little longer wine decanting.
So, how long should you be decanting a Syrah? 2 hours before drinking. Tricks to speed up decanting wine:
Speed decanting wine by pouring the wine once or twice between two decanters (or between decanter and the wine bottle with a funnel)
Swirl the wine in the decanter to increase the air/wine ratio.
Get a vinturi wine aerator they are fast.
Buy a bottle of white wine or champagne to drink while you wait. Time will fly!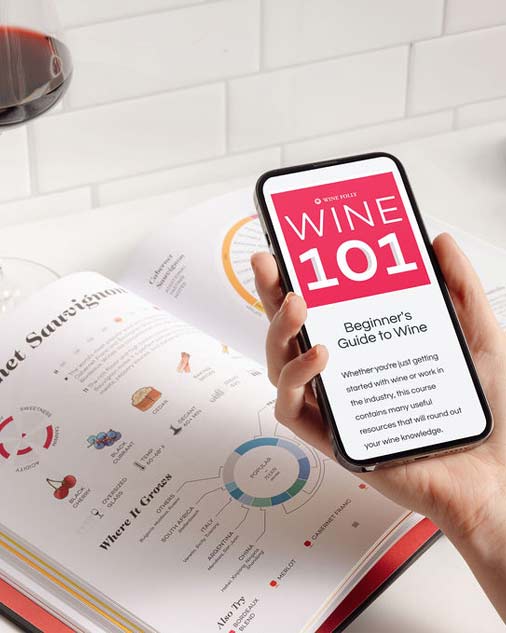 Buy the book, get a course.
Get the Wine 101 Course @ 75% OFF with the purchase of Wine Folly: Magnum Edition.
Shop Now
What Wines Should I Be Decanting
CHEAP WINES
Decanting any cheap wines because it makes them taste better. Cheap wines can have really awkward rotten egg smell sometimes when you first open them due to sulphur dioxide. Our noses are very sensitive to this smell (some more than others) and it can ruin a wine tasting experience. Fortunately, often this smell can burn off very quickly after decanting wine and the resulting value wine can be very tasty!
EXPENSIVE WINES
Decanting expensive wines, especially massive cabernet sauvignons, Italian wines such as (Barolo, Chianti, aglianico, Montepulciano d'Abuzzo, super-Tuscans etc), Syrah, Malbec, Petite Sirah, etc.
WHITE WINE & PINOT NOIR
You can decant white wine and pinot noir, however, most do not really need it. You can however decant a very acidic pinot noir if you find it to be too tart, decanting will help smooth out the flavor a bit and make it more palatable.
 
Are There Special Decanters For Different Wines?
The most practical advice I can give you about special decanters if you actually want to use them is buy something that is easy to clean. There are regular sized decanters for 750 ml bottles and also magnum decanters. In the wine-centric restaurants I've worked they have 2/3 as many 750 ml crystal decanters to 1/3 crystal magnum decanters.
Cleaning Decanters
Believe it or not most restaurants do not use soap to clean the inside of the decanters. It's too difficult to remove all the detergent and this adversely affects the aromas and flavors of wine. A deep clean is okay now and again, I use a hypoallergenic fragrance free soap. Wash the outside with hot water first and rinse the inside with cold water, this will keep the glass from getting foggy on the inside.
Most of all. I don't recommend putting your wine in a blender. I'll rant about this later.