Today we explore minerality in wine by going directly to the source. What does chalk, river stone and slate actually taste like? Learn the definition and see if wine sommeliers and wine experts are full of… chalk.
Minerality in Wine
I Tasted 3 Rocks So that you don't have to!
Slate in Wine
Slate is commonly associated with riesling and I feel this to be very true when actually licking a slate rock. I encourage you all to lick slate, it's delicious! Be sure to boil it to remove all the dangerous microbes. I don't recommend making yourself sick.
Chalk in Wine
Chalk feels like licking a hard sponge that sucks all the moisture out of your mouth. The flavor of chalk reminds me mildly of a very dry Champagne or Brut Zero (a Champagne with no added dosage..aka sugar). However the drying sensation reminds me more of Italian Wines with very strong tannins such as Barolo, Barbaresco and Chianti.
River Stone in Wine
River stone is supposed to remind people of chenin blanc, chardonnay, sauvignon blanc and pinot noir. The flavor of a river stone is so gross and offensive I don't feel comfortable talking about it. Please don't make me try it again. Oh! And! In case you're curious… You too can buy a bag of rocks for only $6 on amazon.com.
Getting Serious About Minerality in Wine
Minerality is neither a single compound or the vines ability to "suck the minerals out of the soil." It is in fact a combination of all of many different aspects including esters, trace minerals, acidity level and a wines' alcohol level. To define minerality is like trying to define why someone is tall, there's too many genes at play that affect someone's height. So, when wine writers write "Minerality" they are trying to put a name on a multi-faceted characteristic that science doesn't have a definition for. Instead, as a wine drinker focus more on what you like about a wine in particular and observe the following list of wines that are known for their mineral-like character.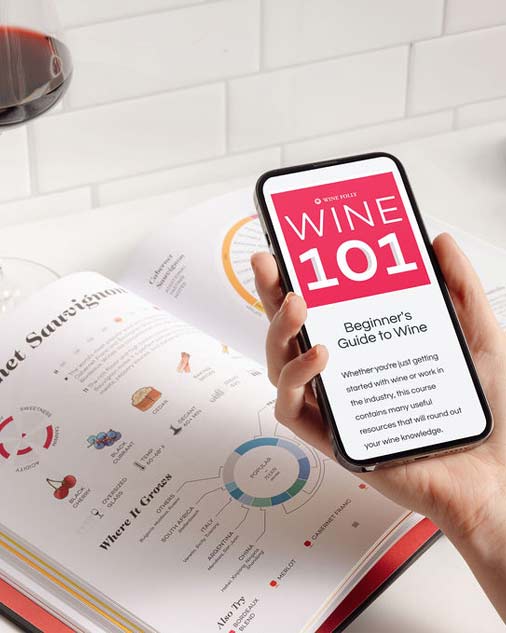 Buy the book, get a course.
Get the Wine 101 Course @ 75% OFF with the purchase of Wine Folly: Magnum Edition.
Shop Now
Riesling from Germany as "Flinty or Slatey"
Chardonnay from Chablis as "Chalky"
Sangiovese from Italy (aka Chianti, Brunello di Montalcino) as "Clay" or "Brick"
Assyrtiko from Greece as "Gritty" or "Concrete"
Red Bordeaux from France as "Gravelly"
Pinot noir from Burgundy as "Rustic" "Barnyard" or "Forest-floor"