Who can forget "Sideways"? Over the last decade since this movie's release, Pinot Noir plantings have grown by an area fifty times the size of Central Park! Also, most of us have now seen "Somm" on Netflix, but many of us are still scratching our heads pondering the fundamental question: "What is the deal with wine?"
"Can there be any other business where there is so much bullshit"

Carol P. Meredith, Grape Geneticist, UC Davis
The new documentary movie "Somm: Into the Bottle" will be out Summer 2015. Here's a preview of the wines and places featured in the film, as well as the people.
Trailer "Somm: Into The Bottle"
SOMM: Into The Bottle Teaser uncensored from Forgotten Man Films on Vimeo.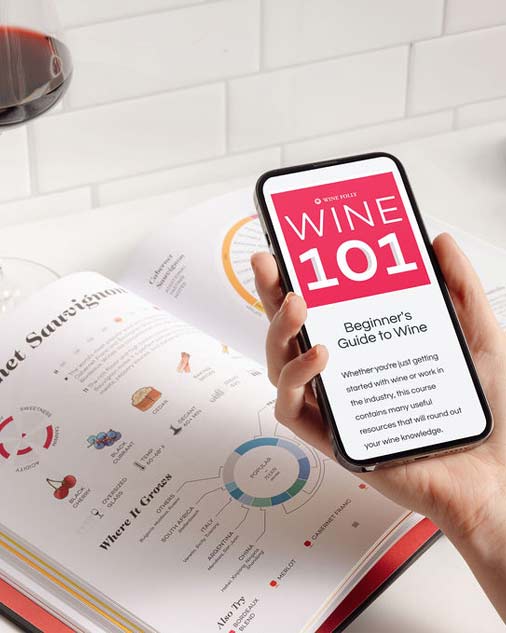 Buy the book, get a course.
Get the Wine 101 Course @ 75% OFF with the purchase of Wine Folly: Magnum Edition.
Shop Now
This film departs from the theme of a wine-movie-that's-more-of-a-story-about-life and seems to focus just on the juice. But the trailer goes by so fast it's hard to tell what's going on. Who are these people? And, where are these places? So, we're going to fill you in.
A big part of this film will be educational. We're definitely going to get to see what happens from grape to bottle, narrated by a wide range of professionals in the field. The film was created by Jason Wise, which, if you can remember, is the same guy who did Somm.
Highlights:
Dominique Moreau of Marie Courtin in Aube, Champagne instinctively reaches for the glass as it begins to tumble off a post.
Jean Trimbach, a 13th Generation winemaker whose family survived WWII, shares an Alsace Riesling with his son.
This is not just some dude in some vineyard. This is Jean-Louis Chave in Hermitage, a wine area of great fame and recluse of the Rhône.
Old men do love Chardonnay. Christian Moreau clips at "Les Clos," a Grand Cru vineyard in Chablis.
Great Cabernet doesn't come easy. A obsessive level of detail is exhibited on this sorting table in Napa.
Who said white wine can't age? Klaus, of Cantine Terlan in Alto Adige delicately holds a an ancient bottle.
Champagne is the most technical of all wines. Frédéric Panaiotis of Ruinart, en route to behead a bottle Blanc de Blancs.
A Chardonnay vineyard called Vaillons gets a haircut in Chablis.
---
The Tastemakers
There were a cluster of wine people interviewed to create this film, but who, really, were they? Many of them are Master Sommeliers and, unlike the first Somm film, there appears to be a wider variety of personalities. We linked all of the their twitter profiles for ease of internet-stalking.
So, I guess the question remains:
Is the world ready to learn about wine?