We made a one-minute video that shows how to use Wine Folly: The Essential Guide to Wine to find super awesome, yummy wine.
Wine Folly Book Trailer
Since the video goes by pretty quickly, here is an explanation of what happens:
Understanding Wine
Hey pals, this is the new Wine Folly book, we're going to show you one scenario for using it…
Ever take a picture of a bottle and have no freaking clue what wine you're drinking? Yeah, this used to happen to me too.
Turns out, not all wines are labeled by varietal, some wines are labeled by name, and others are labeled by the region where they're grown. In the video, we showed a wine that is labeled by a region called Priorat.
On the Spain page of the book you can find the region listed on the map.
It says on the Spain page that Priorat is a Rhône/GSM Blend, which brings us to the Rhône/GSM page.
Turns out this Priorat wine is a blend, and we can see that the blend is typically made with Grenache, Syrah and Mourvèdre. GSM blends are very popular and made all over the world.
Behind-the-Scenes Note:
The particular Priorat we chose for this video is called
Mas d'en Gil "Bellmunt"
and it's a blend of 60% Grenache (Garnacha), 20% Carignan and 20% Cabernet Sauvignon. So technically, one could argue that "Bellmunt" is not a proper GSM Blend. Despite this distinction, the major use of other common GSM grapes, as well as its taste profile, could be enough to categorize it as such.
Pairing Wine with Food
Let's try pairing this wine with food.
You can either learn the concepts behind food and wine pairing…
Or just see how this style of wine (GSM is a Medium-Bodied Red Wine) matches up on these useful ingredient infographics. The book includes infographics on cheese, meat, vegetable and herb/spice pairings.
Based on what the book recommended, we ended up trying it alongside a cumin-spiced beef dish with tomato, onions, eggplant and red pepper flakes.
Behind-the-Scenes Note:
I ate that dish shortly after filming and it paired really well! It was the first time trying "dry-farmed" tomatoes which were very rich in flavor.
Finding New Wines You'll Like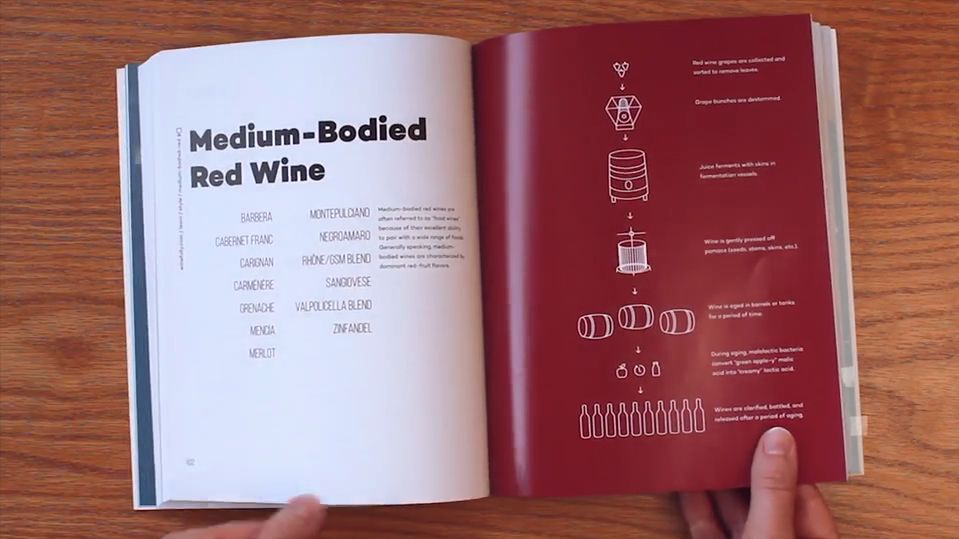 If you like Priorat, what other wines might you like? For this part, go to the section-header to see other wines with similar body. By the way, there are 9 different wine style sections in the book:
Wine style sections in the book
Sparkling Wine
Light-Bodied White Wine
Full-Bodied White Wine
Aromatic White Wine
Rosé Wine
Light-Bodied Red Wine
Medium-Bodied Red Wine
Full-Bodied Red Wine
Dessert Wine
We found the variety Carignan this way and compared its taste profile and common flavors with the Rhône/GSM Blend and found them to be very similar…
Turns out, Carignan is very undervalued and you can find it for great prices.
---
"There's a world of wine out there, it's time to start drinking."
---
Get the Wine Folly book
This book includes 230+ pages of infographics, wine maps, and detailed profiles of 55 different wines. Published by Avery Books and available in paperback and digital editions.