Welcome to the live video course experiment with wine expert, Madeline Puckette, exploring fundamental topics in wine through our sense of taste. Grab a glass, pull up a chair, and join us live.
Ruby Port vs Tawny Port
Learn about the different styles and aging processes in Port wine and taste how they affect the wine. The two styles with the most noticeable differences are Tawny and Ruby Port. You'll notice how oxidative aging adds a unique flavor in the Tawny wines and why Ruby Port is often described as more of a "fresh" wine.
---
The Wines
Cockburns "Special Reserve" Ruby Port
Page 164 Wine Folly: The Essential Guide to Wine
Color: Clear. Deep red semi-translucent center leading to a 1 cm wide brown ruby meniscus.
Aroma: Bold intensity aromas of raspberry Tootsie Roll pop, hoison sauce, cinnamon, wet paint and cranberry sauce.
Taste/Structure: Clean. Full-bodied. Bold, sharp flavors of sweet raspberry sauce, cinnamon stick and red hots. Acidity tastes high and persists through the finish along with the burn of high alcohol. Tannin is medium plus.
Alcohol: 20%
pH: 3.6
Acidity: 4.4 g/L
Residual Sugar: 105 g/L RS
Serving: Serve just below room temperature 65ºF (18 ºC). No need to decant.
Wine Tech Sheet Link: unavailable
Purchase wine: ~$18 find wine
---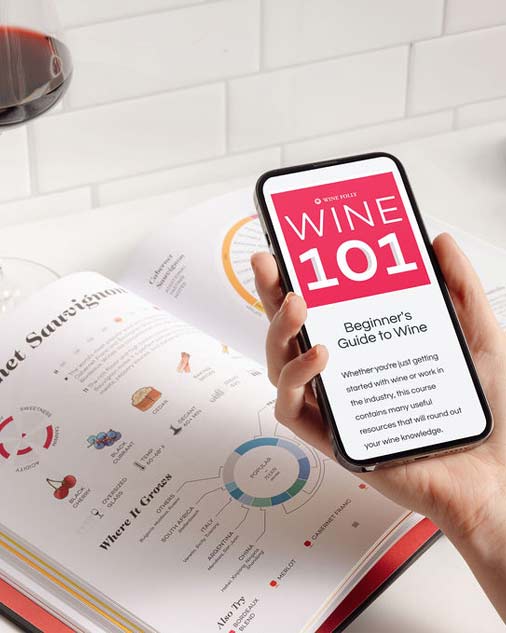 Buy the book, get a course.
Get the Wine 101 Course ($50 value) FREE with the purchase of Wine Folly: Magnum Edition.
Shop Now
Quevedo 10 Year Old Tawny Port
Page 164 Wine Folly: The Essential Guide to Wine
Color: Clear. Deep orange caramel leading into a 1.5 cm meniscus of orange to light tan.
Aroma: Clean. Bold intensity aromas of toffee, sweet cherry, cinnamon, sun dried tomato, caramel sauce, and vanilla.
Taste/Structure: Clean. Full-bodied. Initial flavors of cinnamon-spiced apple and sweet cherries leading into soft flavors of caramel and toffee and finishing with the tingle of cinnamon-spiced acidity and the warmth of high alcohol.
Alcohol: 19.5%
pH: 3.42
Acidity: 4.35 g/L
Residual Sugar: 111 g/L
Serving: Serve just below room temperature 65ºF (18 ºC). No need to decant.
Wine Tech Sheet Link: Quevedo Port Wine
Purchase wine: ~$22 find wine