Ever wondered what it's like to become a sommelier? Carl Villeneuve Lepage is a young sommelier in Montréal, Canada working at Restaurant Toqué! His story will motivate you.
This interview with Carl Villeneuve Lepage is part of a collection of interviews with people who've dedicated their lives to working in wine: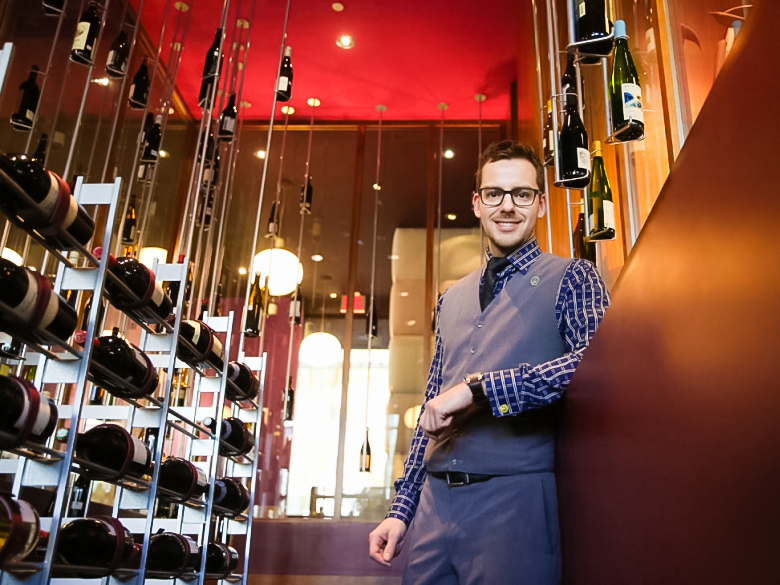 Carl Villeneuve Lepage became an advanced-level sommelier in 2015 and is currently competing in sommelier competitions internationally. Photo by Martin Chamberland, La Presse.
---
Did you know this is what you were going to do when you started?
---
I was inspired by the sommelier of the restaurant I worked for at the time. So, when I decided to begin the restaurant service school in Montreal (ITHQ), I knew I wanted to get to the wine specification. I felt I was able to communicate interesting things about wine to our guests.
---
What got you to commit?
---
I have worked for several years with Elyse Lambert MS and she became my mentor. She was a competition beast while studying for the Master Sommelier certification. I kind of followed her path and began to compete at the provincial level, then national, and in the Americas. I also pursued the Court of Master Sommeliers. Studying for the Court gives me the inspiration to dig as deep as possible in different subjects concerning wine.
---
How did it feel?
---
I never desired to ask myself questions about this. It's just like running a marathon, step after step, waking up in the morning, opening books, filling information in on the computer, trying to stay up to date, tasting wine every couple of days. It feels good, no stress…
---
Did you have any failures so far? How did you deal?
---
I've had a couple failures over the years: the kind of failures that bring people to move forward.
The most stressful moment up to now was the first time I sat for Advance Sommelier certification in Austin in 2014. I didn't feel as good about the tasting part of the exam as I felt about the theory part… You never know. Two days later I learned that I failed the tasting portion. What a feeling. I took the experience as advice to prepare differently. Which I did. The year after, I came back with the green pin. It was a great year, I did third on the Canadian Best Sommelier challenge and I participated in the semi-finals in Americas Best Sommelier. Not finishing first at those competitions was not a failure for me. It is more like one more experience to consider.
---
Any regrets?
---
I am working hard to convince myself to say: no regrets. I could have chosen to move and work in a different restaurant in the world, to work in a vineyard, or just work in an another industry… Well, no… I really like the life I am living. I wouldn't change anything.
---
What's the one piece of advice you'd give someone trying to become a wine sommelier?
---
Be serious in what you do without being a pretentious animal.
What it's like to work in wine
Ever thought about working in the wine trade? The wine industry is powered passionate individuals and there's always room for talented people. Here 5 stories of people who've broken tradition and have pursued a career in wine.