Get the low-down of how wine prices work, what you should expect, and some tips and clues on how to identify good cheap wine.
My best pal buys her wine like this: she goes to the aisle with the wine variety she wants (be it Malbec or Cabernet) and then finds the bottle with the biggest markdown. Her reasoning: Why would I drink a $12.99 wine when you could have a $24.99 wine for the same price?
I used to buy wine this exact same way until I worked on the other side of the business…
Dear Delicious Cheap Wine, Stop Lying To Me
How Discount Wine is Lying to You
1. Imaginary Discounts
It's very common for commercial producers to have inflated suggested retail prices for a wine and always mark it down.
This looks fantastic to us buyers, because we see a wine that we imagine typically retails for about twenty dollars offered for ten. What you might not realize is the non-discounted bottle next to it for the same price might actually be of the exact same quality.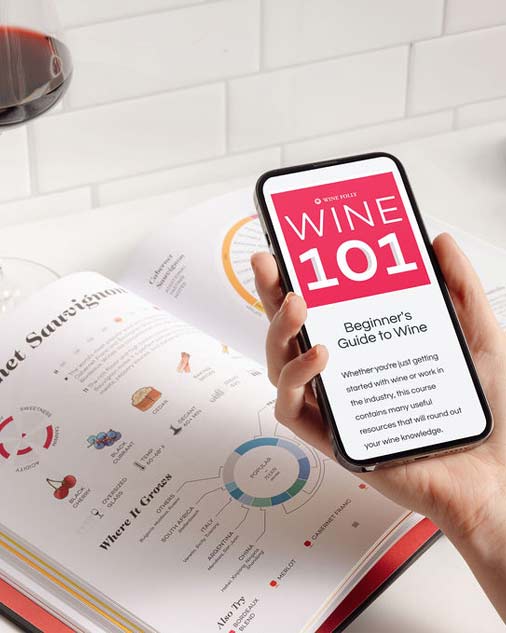 Buy the book, get a course.
Get the Wine 101 Course @ 75% OFF with the purchase of Wine Folly: Magnum Edition.
Shop Now
What to do about it: Try not to get swayed by big markdowns and focus on other information on the bottle. For example:
Where did the wine come from? The more hyper-regional the wine is, typically the better. For example, a wine labeled from "Clear Lake AVA" is more localized and specific than a wine labeled from "California".
What vintage is it? Sometimes, older vintages are sold at closeout prices, which is why they're cheaper. This can be good news if that type of wine ages well.
Who is the producer? Is it a well-known, respected producer or a mysterious label that doesn't even mention a winery?
---
2. Wines Pretending to be Something They're Not
At the supermarket I stumbled across two wines in the California wine section that I've always thought were California wines. Upon closer inspection, I realized they weren't even from the United States!
Not that there's anything wrong with wines from other countries, but the placement in the California wine section is misleading. Not only do the costs of land, labor, taxing, and regulation tend to be higher for American wines, but they also have their own flavor profile.
What to do about it: Check the back label. The TTB requires wines to list the origin and you can find all the pertinent information on the back if it's not on the front.
You can also look up the city where the wine was made. Most bulk wineries in California are located in the Central Valley and Lodi. And, while Lodi does make great Zinfandel and Port varieties, it's not the best place to grow Chardonnay or Pinot Noir.
---
3. Selling You a Beautiful Lie
How many times have you read these words:
"Our wine is made from grapes from some of the finest vineyards in California"
 
–or–
 
"Our family has been making some of California's finest wines for generations"
While all of these statements are quite beautiful, they can be a little misleading. For example, the world's largest wine producer happens to be a family business.
A good-tasting sub-$10 wine from the United States is almost always made in bulk. Of course, there's nothing technically wrong with bulk wine production.
Some bulk producers have state-of-the-art automation methods that make solid, clean, and consistent wines year-after-year. So look into the producer, and know what you are buying.
For example:
"Grapes used to produce our Cabernet Sauvignon were harvested from our family's vineyards in Lake County, California. Sugar harvest was 26 °Bx… 100% Malolactic fermentation in French Oak."
---
4. Exclusive Wine Brands
Don't recognize the label? -or- Does the wine only sell in a certain store? Some bulk wine brands make a wine product called "shiners."
Shiners are finished wines in bottles that are sold off to wholesalers without a label (they are literally shiny!). This is the origin of the infamous 'relabeled' wine. Shiners are quite common at supermarkets that sell exclusive brands, such as Trader Joe's and BevMo.
What to do about it: Shiners aren't necessarily bad, in fact, sometimes they're good values. However, it's useful to be aware of a few of their quirks:
Shiners and exclusives are rarely consistent year in and year out, so stock up on the exact same bottle (and vintage!) if you find something you like.
If there is a high rating (e.g. "91 Points!"), make sure the rating mentioned actually refers to the vintage on the shelf!
Shiners are most frequently bulk wine brands and not those fancy relabeled prestige brands we keep hearing about. The less info you have on the specific appellation, the more suspicious you should be.
Shiners tend to be better on good vintages, so stock up!
---
What About Closeouts?
There are real closeout wines. More often than not, these wines will be older vintages when a winery liquidates old, unwanted stock. Sometimes you'll find closeouts for wines that are out of season, such as a Rosé in winter.
Also, closeouts often happen with esoteric wine varieties that don't sell well (e.g. St. Laurent, Lemberger or Charbono). For these wines, it's good to educate yourself on how long certain wines cellar, so that you don't buy something past its prime.
Don't Worry, You Can Still Find Good Cheap Wine
There is still fabulous, consistent value wine out there.
Yes, it was made with grapes from commercial farms and, most likely, vinified in a large winery that uses cost-cutting strategies like automation. This is what you should expect when you spend $10 on a bottle of wine.
If you really only want wines from smaller US wineries, you should expect to spend at least $18–20 a bottle and consider doing your wine shopping at an independent retail shop that focuses on wines.