Why learn about wine? Well, because there're more to wine than house white and house red.
Highly Anticipated Wine Folly Book On Presale Now

The essential guide to wine for the 21st century. Out on Sept. 22, 2015
We're super pleased to announce the prerelease of a completely fresh, totally accessible, visual guidebook to wine. Wine Folly: The Essential Guide to Wine, published by Avery Books, will be out this fall and is available now on presale at booksellers nationwide.
Preorder Now for up to 33% Off.
See list of book sellers below
If you've enjoyed all the content on Wine Folly thus far, you will be delighted with this book.
A sneak peak inside the Wine Folly book: the Syrah page.
Uncomplicate wine–and drink like a pro
Designed with the novice in mind and the enthusiast at heart, Wine Folly: The Essential Guide to Wine is a fun-to-explore guidebook for everything wine. The book uses sleek data visualization and graphics to simplify complex information on how to taste wine, how to spot great quality, and how to find wines you'll love, no matter what the occasion. The book includes 230 pages of never-before-released wine infographics covering: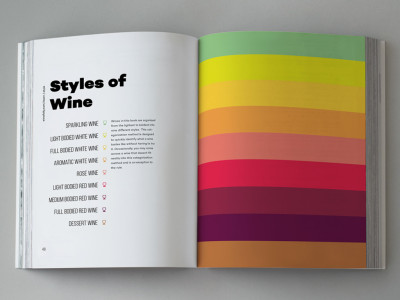 Wine Fundamentals: learn everything from what wine is to choosing wine glasses
Wine Profiles: A section of 56 wine profiles organized by style, including popular and under-the-radar wines
Food and Wine Pairing: A section on food and wine pairing
Serving Wine: Practical skills and tips for serving and storing wine
Wine Regions: A regional section with detailed wine maps of 12 countries
---
Where to Buy
A hip, new guide to wine for the new generation of wine drinkers, from the sommelier creators of the award-winning site WineFolly.com
Releases September 22, 2015
Where to Preorder
Presale Offer
Amazon.com

Paperback & Kindle Edition

$13.10
Barnes & Noble

Paperback & Nook Edition

$17.20
Books-a-Million
$25
Google Play

eBook

$18.99
iBooks

eBook

$19.99
IndieBound

Where to buy it locally

$25
Kobo

eBook

$19.99