Get the lowdown on wine in a can. We'll explore some of the top canned wine options today and show you how to serve these wines to improve the taste. Because cans are light-weight, beach-friendly and recyclable, we know that canned wine is here to stay.
All About Wine in a Can

A selection of the top wines in a can we tested for this article
Is canned wine good?
After tasting 5 different brands of canned wine, we observed good overall quality. Canned wines might not be the "crème de la crème" of wines, but for a wine that you toss in your pack and hike up the mountain with, they are awesome. Also, the best options aren't impersonal brands but independent family wineries (including Field Recordings, Underwood, and Dancing Coyote).
Geeky notes
If you're a wine aficionado you will note a few features of canned wines. For one, nearly all the wines we tasted had a small portion of residual sugar (we're guessing anywhere from 3–15 g/L RS). We believe this helps make the canned wine taste fruitier (as drinking from a can mutes the taste). Beyond this, the best performing canned wines all had elevated acidity, which gave the wines a longer tingly finish (almost like carbonation would in a soda).
Top picks 2016 (for each wine category of the wines tested)
Does a canned wine have metallic taste?
No. Like other products sold in a can (beer, soda, etc) the canned wine we tasted didn't have tinny flavors. Some producers use lined aluminum cans and others do not. Again, this choice didn't seem to affect the taste in either case. There was, however, a huge difference in the taste based on how it was served!
Matters of size
There are several different can sizes available. Here are the 3 most popular sizes:


A 500 ml can of wine contains 3.34 glasses of wine and is two-thirds the size of a standard bottle

A 375 ml can contains 2.5 glasses of wine and is the equivalent to a half-bottle of wine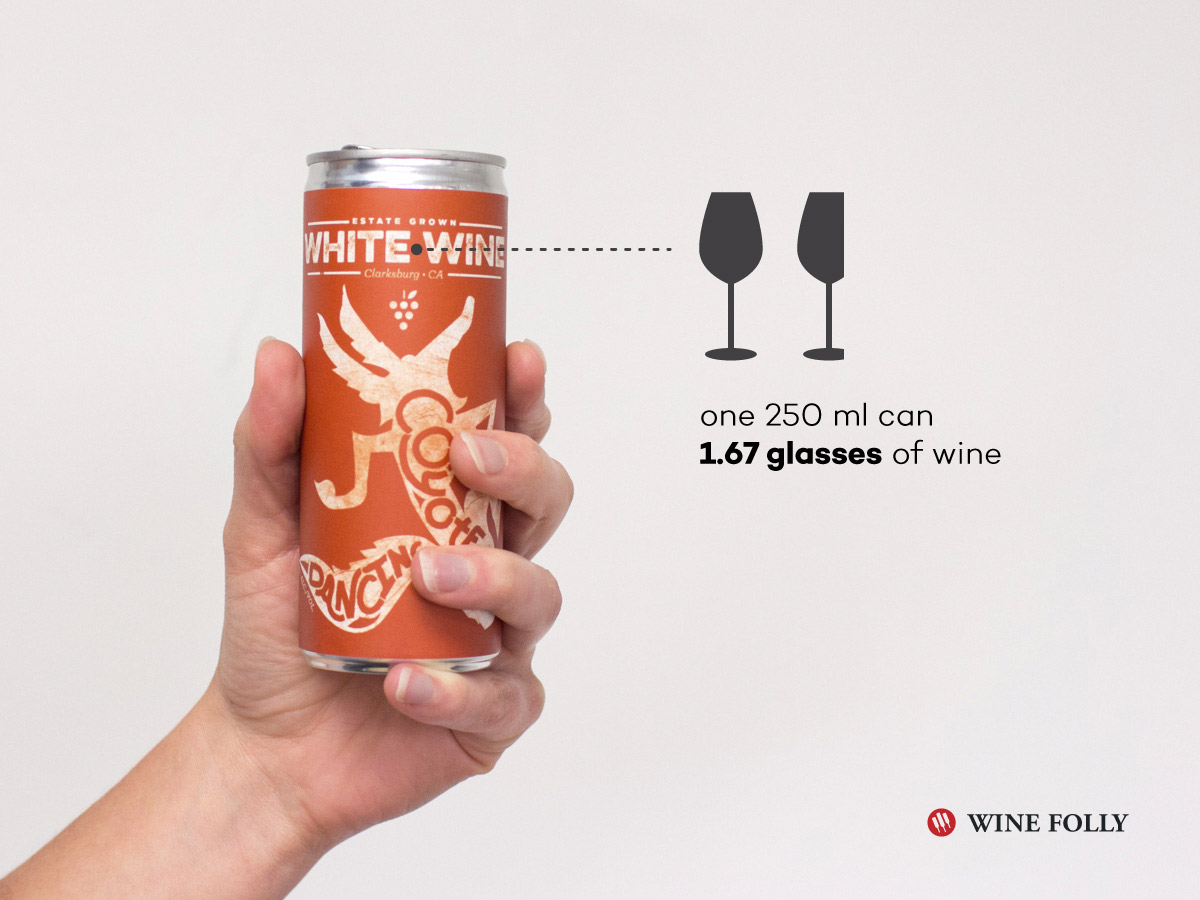 A 250 ml can contains 1.67 glasses of wine and is equivalent to 1/3 the size of a standard wine bottle
Serving recommendations
We tasted these wines both from wineglasses and directly from the can and here's what we found: Canned wine tastes substantially better when poured into a glass.
The problem with drinking directly from the can is that the aroma profile becomes completely muted. After tasting a few wines from the can, we noticed that it consistently ruined the initial burst of flavor and fruit profile of each wine. Beyond this, the wines tended to taste less complex coming from the can, and would generally taste more flat (even though the acidity was high on most of these wines).
Serving Tips:
Serve them chilled: All the wines we tasted were better chilled, even the reds.
Better served in a glass: Wines aroma profiles are greatly improved served from a glass.
Camping wine: Try Govino glasses or other unbreakable wine glasses.
How Long to Age Canned Wines? We don't recommend aging canned wines.