For those of you who have struck it rich and want something that's actually worth spending money on, it's time to own a real piece of history. Chateau Goulaine is looking for a new owner…
By the way, this estate hasn't been on the market for 1000 years.

Chateau de Goulaine was first built around 1000 AD
We previously talked about Chateau Goulaine after finding out it is one of the oldest operating winery-chateaus in the world. In fact, it might actually be the oldest, having first been established around 1000 AD. The current building isn't quite that old, having been built on top of the original medieval fortress in 1480. But underneath the chateau are all original vaulted cellars.
Maybe you can put your wine collection down there.
 

The chateau includes vineyards, fields, and wooded areas for Jane Eyre-esque strolling around the grounds. pic

This would be one of your new living rooms, there are 20 rooms in all pic
Based on the other Chateau prices on the site, we're guessing you can pick up this magical piece of history for about 7–10 million Euros… Or perhaps you'd prefer a cute little house with a single-car garage in SF for a little bit more? Your pick.
Ogle at the full listing here

Vineyards are on the northeast side of the Chateau, located within the Muscadet Sèvre et Maine appellation. image via google
The chateau is just outside of Nantes in one of the best Muscadet wine producing regions (in the world) called Muscadet Sèvre et Maine (btw. Muscadet is a delicious zesty white wine). So, if you're into white wine and seafood (and are okay with a little seasonal rain), this place is heaven.
Read more about Loire Valley wines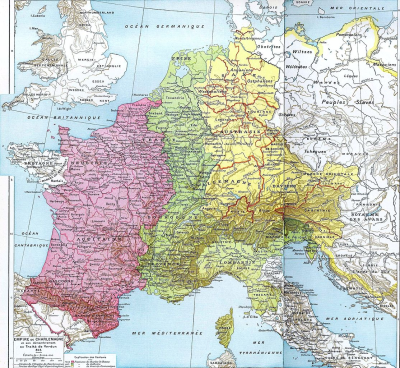 If you recall your French history, around the time that Chateau de Goulaine was built the region was part of West Francia and in a bit of a political tiff as the Carolingian dynasty came to an end. By 1000 AD and the death of the last Carolingian King–Louis V, who died at 20 in a hunting accident leaving no heirs, the great nobles of the area decided to elect a new king. This is when the lands on the southern side of the Loire largely ceased being part of West Francia. So, Chateau de Goulaine must have been reconstructed to be a gateway fortress-castle to the southern parts of the Loire. The election led to the Capetian dynasty, which is loaded with history of crusader kings. If you want to know what that was like, go watch
Monty Python and the Holy Grail.
Wine in the early days of Chateau de Goulaine may not have been Muscadet as we know it today. DNA parentage suggests that Melon (the Muscadet grape) is a natural cross between Pinot and the nearly extinct grape Gouais Blanc. This makes Melon a sibling of Chardonnay, Gamay Noir and Aligoté. The grape came from the east and was perhaps imported to the Loire/Nantes area from the Kingdom of Burgundy when it was part of the Holy Roman Empire (starting around 1000 AD). Of course, this just a theory, but the Holy Roman Empire did quite a lot to spread wine throughout Europe.
If you are iffy on the purchase of a Chateau these days, don't worry, you can still go see it (it houses a biscuit museum!), or you can even rent it out for a wedding. Let's hope someone awesome takes it over.
Find out more about Loire Wines
Find out more about the wines of the region where Chateau Goulaine is located.
Loire Valley Wine Guide