It's no secret that interest in wine is growing.
Maybe you like wine for the implied health benefits (i.e. keto friendly, antioxidants, etc). Or, perhaps you just love rosé! Whatever the reason, one issue many newcomers struggle with is consistently choosing wines they love.
This is particularly true with red wines because, stylistically speaking, they're very diverse.
So, here are four good red wines that aim to please. We call them crowd pleasers:
They are big on flavor and big on fruit. (aka fruit forward)
They're not too astringent (e.g. tannic) and have a smooth finish.
Compared to other varietal wines, they offer great value. (We call this QPR, for quality-price ratio.)
---
Zinfandel
All the fruit, all the time.
Fruit Flavors: Blackberry brambles, strawberry, peach preserves, cinnamon, and sweet tobacco.
What You'll Learn: How alcohol affects the taste.
The best Zins out there are traditionally pretty high in alcohol (definitely look for those with 14% or more by volume). Alcohol in wine is kind of like MSG; it magnifies fruit flavors and increases boldness.
To taste the alcohol level in wine, take a sip and slowly breathe out after you swallow: it tingles the back of your throat. (Pros can identify within a 1% ABV with this trick!)
Petite Sirah
A healthy dose of antioxidants.
Fruit Flavors: Sugar plum, blueberry, dark chocolate, black pepper, and black tea.
What You'll Learn: What "black wines" really look like.
The ancient Greeks referred to all red wines as "black wines." Today, black wines are a special class of super grapes with an exceptionally high antioxidant content. The antioxidants in wine are found in the skins, seeds, and stems of grapes and are generally called polyphenols, of which anthocyanin (the red color) is one type.
Grapes with high polyphenols have high tannin (that astringent, bitter, tea-like taste in red wine) and are often deeply colored. Of course, winemakers have learned how to manage bitterness in winemaking so that they taste bold and smooth. Petite Sirah is no exception!
Nero d'Avola
The gateway to Italian reds.
Fruit Flavors: Black cherry, black plum, licorice, tobacco, and red chili flakes.
What You'll Learn: The taste of terroir.
If you're boggled by Italian wines, you're not alone. Italy is one of the most challenging wine regions to understand, even for pros. To make things more complicated, many of the top Italian wines (like Barolo) are an acquired taste.
So, start in the south! Sicily and Puglia continue to offer some of the best values in the entire country. Nero d'Avola delivers bold, crowd-pleasing fruit flavors alongside Italy's trademark dusty, clay-like terroir.
Merlot
The unsung hero of Bordeaux.
Fruit Flavors: Red cherry, plum, chocolate, graphite, dried herbs, and vanilla.
What You'll Learn: Great Merlot gives Cabernet Sauvignon a run for the money.
Go to any wine store or restaurant and compare the prices of the higher end bottles of Merlot to Cabernet Sauvignon. Merlot is always cheaper (unless we're talking Petrus!) What's funny about this fact is that of all the grapes in the world, Merlot and Cabernet couldn't be more similar. They're even related.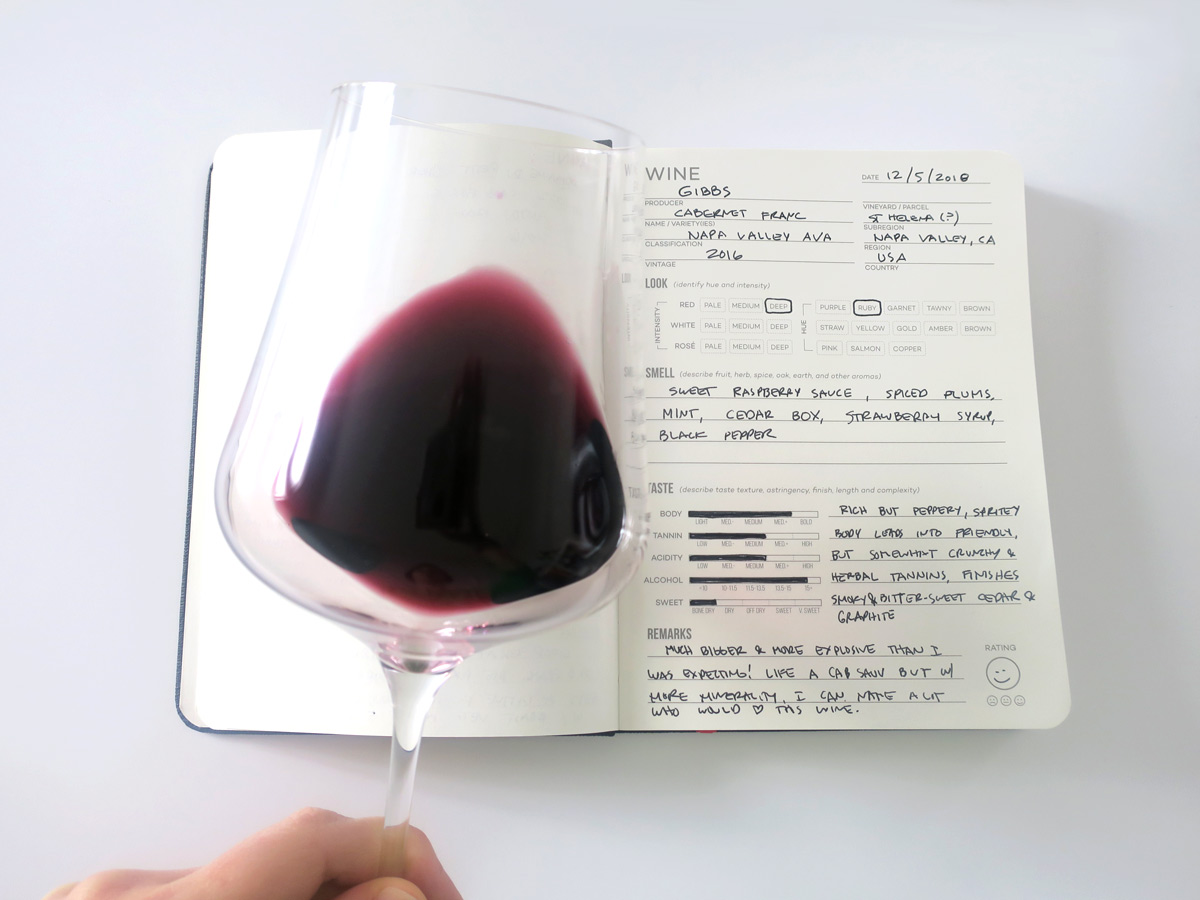 Take Better Notes
Next time you open a bottle of wine, try tasting it with the 4-step method. You'll be surprised how many more flavors you can get!