There's nothing not to love about deliciously lean, antique pink-colored rosé from Provence. However, if you dig a little, you'll find the region has some seriously respectable wines that are well worth drinking (and even collecting). Let's take a look at four wine styles that truly express the regional terroir of Provence.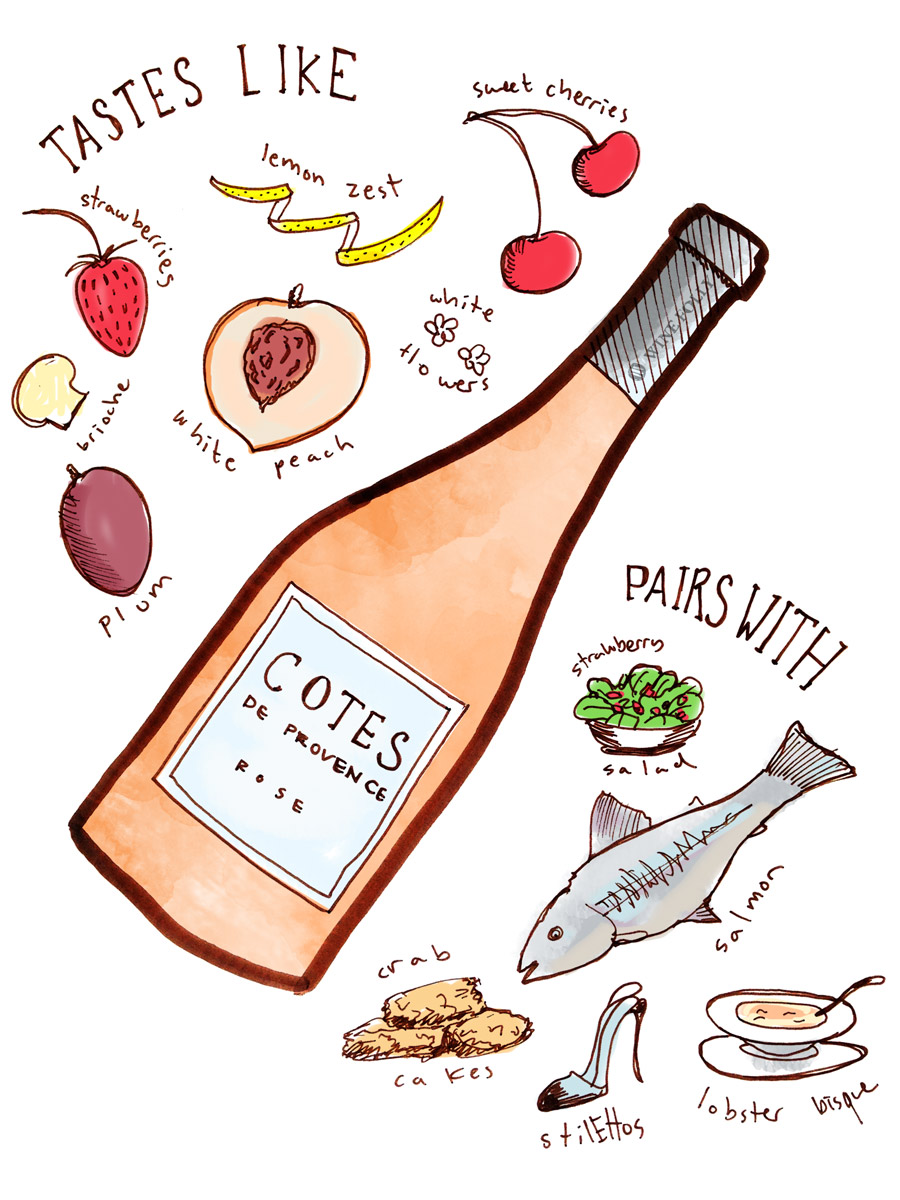 Côtes de Provence Rosé
Perfect for: Summer wedding anniversaries, hot dates, runway shows
Pairs with: Salmon, Strawberry and Spinach Salad, Lobster Bisque, Crab cakes, Stilettos
Taste Profile: Strawberry, Lemon Zest, Sweet Cherry, White Peach, Plum, Brioche, White Flowers
About Côtes de Provence: Serious appreciators of rosé look to Côtes de Provence for some of the best wines from the entire region. What is serious rosé? You might be surprised to know that on the high end, several producers will ferment their rosé wines in oak which lends to a much fuller body and weighty texture on the palate. When seeking a Côtes de Provence you'll come to realize that the appellation is large, so be sure to look into the four sub-appellations of Saint-Victoire, Fréjus, La Londe and Pierrefeu. One example producer to know (a darling of top Provence critics) is Chateau d'Esclans. Chateau d'Esclans Les Clans rosé is primarily a blend of Grenache and Rolle (aka Vermentino). Some might find it odd that a white grape is added to the blend, but Vermentino increases the wine's acidity to counter the richness of the oily texture.
---
Bandol Rouge
Perfect for: collecting, steak night, bold red wine enthusiasts, boss dinners
Pairs with: red meat, game trophies, leather club chairs, slow roasted pork, pondering life
Taste Profile: black cherry, blackberry, brambles, sage, black pepper, smoked chocolate, licorice root
About Bandol Rouge: Bandol is a small region that touches the Mediterranean. The region focuses on the Mourvèdre variety, with its opaque purple-black color and intense black fruit flavors. While the region is both famous for fine rosé and red wines, the highlight of Bandol is definitely her reds. These wines are often so intense upon release (with bold tannins and acidity) that they improve greatly with a few years of cellaring. If you ever have a chance to enjoy a 10 year-old Bandol, this is when the wines really start to shine. There are dozens of producers in Bandol, and perhaps the most well known (well-distributed) winery is Domaine Tempier, whose most exceptional blend, called "Cuvée Cabassaou", is nearly 100% Mourvèdre.
---
Tibouren Rosé
Perfect for: Dining under the stars, evening barbecues, lakeside picnics
Pairs with: Spice-driven cuisine, red paper lanterns, Indian takeout
Taste Profile: Orange Peel, Allspice, White Raspberry, Preserved Lemon, Saline
About Tibouren: Tibouren is one of Provence's more profound varieties that originally came to the region from just across the border in the Italian riviera. Tibouren is used for both red and rosé wines, but it's the rosé styles that will blow you away. This is one of those rare rosé wines that improves with a little bit of age (maybe about 3 years of aging). What makes this grape so fascinating are the distinct flavors of orange rind, melon and allspice that accentuate the wine's copper hue. While several producers can be found using a fraction of the grape in their rosé blends, there is a single producer called Clos Cibonne who specializes in Tibouren-dominant wines.
---
Cassis
Perfect for: Bistro dining, Sunday afternoons, City shopping breaks
Pairs with: Egg salad, Seared Ahi, Zucchini and Lemon Pasta, Sushi
Taste Profile: White Peach, Preserved Lemon, Yellow Apple, Honeysuckle, Hay, Salted Almond
About Cassis: The small region of Cassis runs right up to the sea and produces about 75% white wines. The primary grape varieties used in Cassis white wines include Clairette, Marsanne, Ugni Blanc (aka Trebbiano), and Bourboulenc. Because of the region's proximity to the Mediterranean, wines have a subtle saltiness and, for this reason, make a perfect match for light fish. One producer who's up and coming from this area that's well worth tasting is called Domaine du Bagnol . The whites from this estate are loved for their richer, more tropical fruit flavors.
---
Learn More About Provençal Wine
Learn more about the region of Provence with this useful guide on the varieties, sub-regions and wines.
 

Guide to Provence Wine