What do the most expensive wines have in common? It turns out, they're more similar than you might think.
They're made of popular wine grapes.
Just because a grape is very rare (or almost extinct), doesn't mean it will be worth something at auction. In fact, it's quite the opposite. The most expensive wines in the world are made from very common wine grapes.
Pinot Noir: Half of the 50 most expensive wines listed at wine-searcher are Pinot Noir wines from Burgundy.
Cabernet Sauvignon: 24 of the 25 most expensive American wines are Cabernet Sauvignon-based wines from Napa Valley.
Chardonnay and Riesling: The world's most expensive white wines include Chardonnay and Riesling.
This all means that you'll often find better value in lesser-known grape varieties.
---
The most expensive wines are still aged in oak.
While trendy wine bars sing praise for wines with little or no oak, this trend hasn't hit the fine wine auction market yet.
For example, take a look at the élevage ("aging programs") for the following popular wines: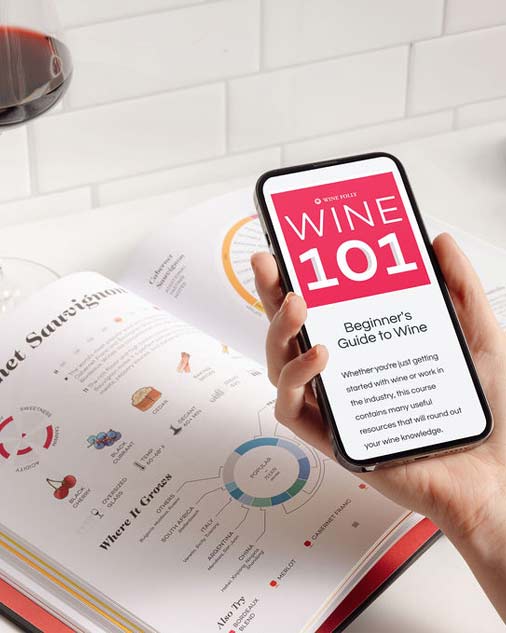 Buy the book, get a course.
Get the Wine 101 Course @ 75% OFF with the purchase of Wine Folly: Magnum Edition.
Shop Now
"65% new French oak for almost 2 years."
Screaming Eagle – A Cabernet Sauvignon-based blend from Oakville, Napa Valley.
"Aged for 16–20 months in 50% new or once-used French oak."
Château Petrus – A Merlot-based red wine from Bordeaux, France.
"Fermented in wooden vats and aged in 100% new French oak, including Coopers Cadus and François Frères."
Domaine Leroy Musigny Grand Cru – a Pinot Noir from Burgundy, France.
"Fermented and aged on the lees in 30% new French oak for 15 months."
Domaine Leflaive Chevalier-Montrachet Grand Cru – a Chardonnay from the Côte de Beaune, Burgundy, France.
Oak, and particularly French oak, is still the standard vessel of choice when it comes to élevage for fine winemaking.

---
They're made with perfectly ripe grapes.
Unlike other fruits, grapes don't continue to ripen once picked. The best wineries take harvest timing very seriously–picking in the middle of the night if it helps!
Ripeness looks a little bit different for each grape variety.
Chardonnay: The most highly prized Chardonnay wines are almost never over 14% ABV.
Cabernet Sauvignon: Top-quality Cabernet Sauvignon ranges in the mid-14s in alcohol by volume (ABV) and pH levels between 3.6–3.8 (BTW, 3.6 pH is pretty tart for Cabernet).
Pinot Noir: The most collectible Burgundy Pinot Noirs are lower in alcohol (usually between 13–13.5%) with higher levels of acidity (sometimes as tart as 3.3 pH!).
What's important to remember about ripeness is that as grapes become sweeter, they lose acidity. Low acid wines don't age well. Of course, it's possible to cheat with acidification (adding acids), but all high quality producers try to keep additives to a minimum.
---
They're site specific.
Choices made in a vineyard one year will affect that vineyard for years to come. So, having full control over how the grapes are grown is a key factor in quality.
Thus, many of the most expensive wines in the world are from single estates. Additionally, several top producers (particularly in Burgundy) practice biodynamics.
Kalimna Block 42: The grapes that go into Penfolds rare "Ampoule" wine come from a vineyard that was planted in the 1880s. These vines are thought to be the oldest Cabernet Sauvignon producing vineyards in the world.
Scharzhofberg: The grapes that go into Egon Müller's Trockenbeerenauslese (TBA) Riesling come from one of Germany's most famous vineyards in the Mosel-Saar-Ruwer region. Some of the plots on this small, south-facing, slate hill are ungrafted vines planted in the 19th Century.
Leroy: Maison Leroy was founded in 1868 but it wasn't until 1988 that 4th generation daughter, Lalou Bize-Leroy, converted all their Burgundy holdings to biodynamic viticulture and founded Domaine Leroy. This was the tipping point for Domaine Leroy and one reason why the 1990 vintage is so highly prized.
---
They're not made every vintage.
How does a winery manage vintage variation? Well, some of the most expensive wines are only made in exceptional vintages.
Petrus: Château Petrus (a renowned Merlot producer in Bordeaux) makes wine each vintage, but unwanted grapes are sold off as generic Pomerol AOC to keep quality of the main wine high.
d'Yquem: Bordeaux's most renowned sweet wine producer can't produce their famous Sauternes in a bad vintage. That happened just recently in 2012. It costs the estate millions in lost revenue when it does happen.
Unico: The famous Spanish winery estate, Vega Sicilia, produces their flagship "Unico" of mostly Tempranillo (and a splash of Cabernet Sauvignon) only in the best vintages. The wine ages for at least 10 years before being released.
---
Last Word: Think Outside the Box
The wines included in this article are essentially Veblen goods; the demand increases as the price increases. They're often purchased for the sake of conspicuous consumption, like many other luxury goods. That being said, you can find other great wines by fantastic producers for a lot less. You just need to know what to look for!
Hopefully, by learning a few shared traits of the most expensive wine out there, you can seek out new discoveries.
Bonne Chance!