If you're mostly a "New World" wine drinker, but want to start exploring European wines, Spain presents a clear bridge into the old world. The sun-kissed Mediterranean climate that influences most of the country gives many of the wines a juicy, fruit-forward flavor profile, while also containing the significant savory flavors that European wines are famous for.
Despite the high-end wine industry's attentiveness to France and Italy, Spain actually has more land devoted to vineyards than any other country in Europe. Spain is also quite mountainous, as well as being climactically and geographically dynamic, offering many different terroirs.


A multitude of the grapes popular in Spain are indigenous to the Iberian Peninsula and grow rarely elsewhere. Their esoteric nature robs them of global name recognition, but that can be to a savvy drinker's advantage. A grape like Prieto Picudo may be delicious, but it doesn't exactly have the same name recognition as Cabernet Sauvignon. The obscurity of these varieties means the wines rely on the quality of what's inside of the bottle, rather than just having a "brand name" grape variety on the label. Value abounds in Spain.
Let's take a look beyond Spain's most popular wine (Rioja and Ribera del Duero's Tempranillo) to several unsung varieties that are well worthy of your drinking budget. Keep reading to discover some of Spain's best-kept secrets.
Cava
Style: Sparkling Wine
Expect to Spend: $16–$25+ (for the good stuff)
Regions of Interest: Penedès
Try it if you like: French Champagne, Crémant, American Sparkling, Prosecco
Spain's answer to Champagne is made primarily with the Spanish indigenous grape Macabeo, along with some Parellada, Xarello and occasionally the originally-french Chardonnay. Cava offers serious-minded french Champagne-type bubbles at a fraction of the price. The really exceptional Cava wines can be found with the following classification system:
Reserva is aged for 15 months which by the way, is just as long as Non-Vintage Champagne (think Veuve Clicquot)
Gran Reserva is a special vintage-dated wine aged for a minimum of 30 months which is just 6 months less than vintage Champagne.
Cava De Paraje Calificado is aged for a minimum of 36 months which: on par with vintage Champagne.
---
Albariño
Style: Light-Bodied White Wine
Expect to Spend: $18–$25 (for the good stuff)
Regions of Interest: Rias Baixas
Try it if you like: Sauvignon Blanc, Dry Riesling, Grüner Veltliner
The Atlantic ocean creates a cool-climate pocket in the northwestern side of Spain, which is where you'll find the autonomía of Galicia and the Albariño wines of Rias Baixas (rhee-yus by-shus). Albariño at its best smells of tart-sweet citrus (meyer lemon, tangerine, lime zest) and underripe stone fruits (white peach and nectarine), contrasted with a briny, refreshing sea-spray savoriness.
Albariño producers often mature their wines "on the lees", a process whereby after the fermentation is complete, the wines are aged on the inactive yeast cells; lees-aging adds texture to these wines, and often a "cheese rind" or "lager-like" aroma. In quality wines, the aromatic focus will remain on fruit with the lees aging contributing a particular, savory dimension to the wine.
Seek out the 2018, 2015, 2012, and 2011 vintages
---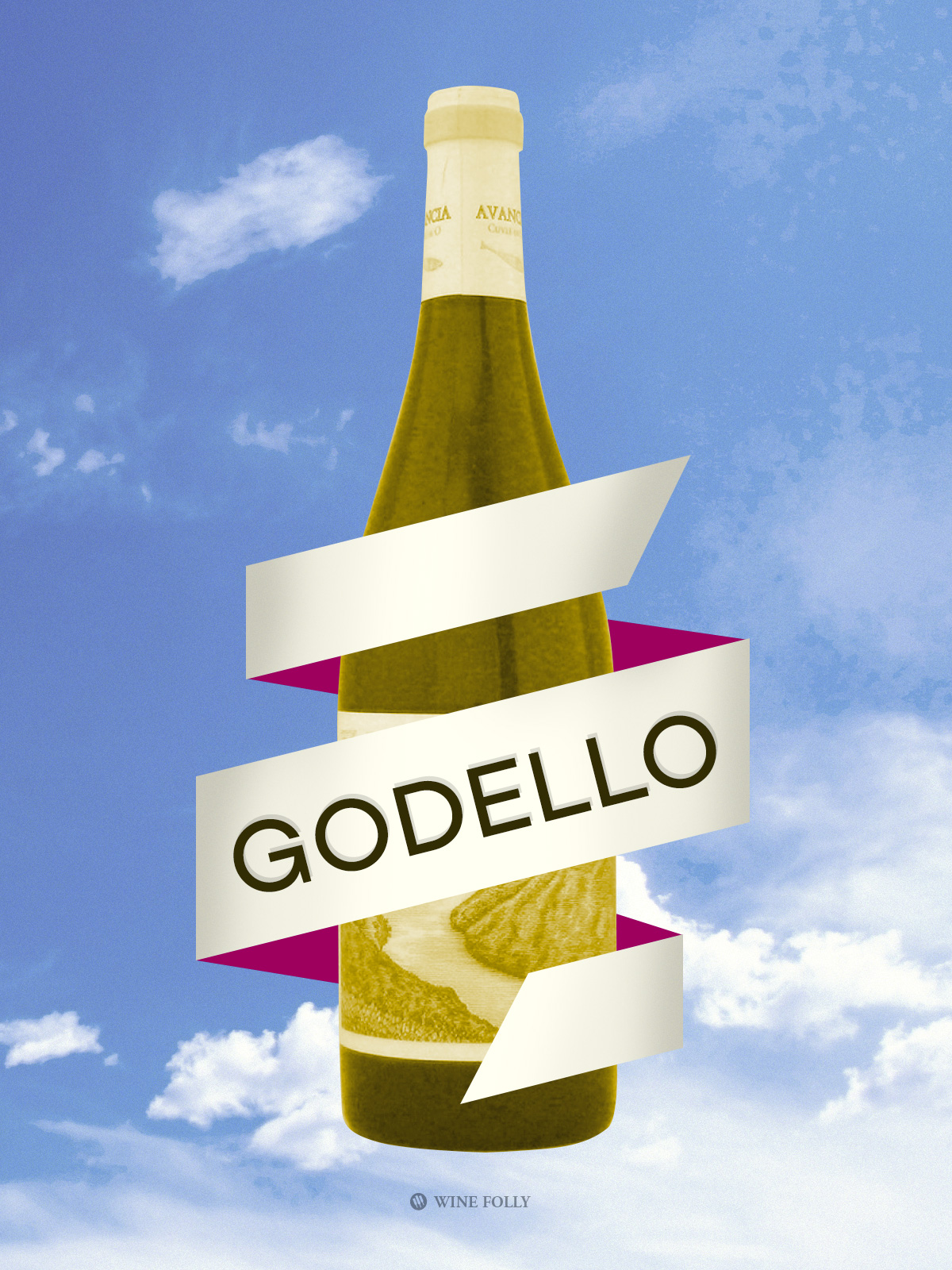 Godello
Style: Medium-bodied white wine
Expect to Spend: $18–$30+ (for the good stuff)
Regions of Interest: Valdeorras, Bierzo
Try it if you like: (lightly-oaked) Chardonnay, dry Loire Valley Chenin Blanc
Godello is an unsung favorite of Spanish wine enthusiasts. Like Albariño, Godello from Spain is most often found in Galicia, particularly in the sub-region of Valdeorras. These granite-and-slate-based vineyards produce highly aromatic wines.
You'll discover the best Godello white wines flavors center around ripe yellow fruit aromas (meyer lemon, golden apple, yellow plum, and pineapple), and (especially if expensive) often undergo barrel-aging in new French oak, giving a spiced tone to the wines. In short, if you like more richly-styled, textural white wines, you need to get some Godello in your life, ahora.
Seek out the 2018, 2016, 2012, 2011, and 2010 vintages
---
Viura
Style: Full-Bodied White Wine
Expect to Spend: $18–$30 (for the good stuff)
Regions of Interest: Rioja
Try it if you like: (richly-oaked) Chardonnay, Rhône whites, orange wine
Macabeo, the same grape found in Cava, gets a name change to Viura as the major grape of white Rioja. Traditionally fermented in (often American) oak barrels and frequently with many years of in-bottle maturation before release, white Rioja can be significantly oxidative (think hazelnut and almond flavors).
Dried yellow fruit aromas (dehydrated yellow pear, dried pineapple, and banana chip) are classic hallmarks of traditional white Rioja. These combine with a plethora of savory herbaceous (dill, coconut husk, white tea) , floral (dried white flower pot-pourri), and oak-derivative (cinnamon, cardamom, clove) flavors to create a heady, intense wine.
The best Rioja Blanca wines tend to be almost entirely Viura with Malvasia and Garnacha Blanca potentially added to the mix to adjust and compliment the Viura's natural nobility.
Seek out the 2016, 2015, 2012, 2010, and 2009 vintages
---
Prieto Picudo
Style: Medium-Bodied Red Wine
Expect to Spend: $18–$30 (for the good stuff)
Regions of Interest: Castilla y Leon (Vino de la Tierra)
This oddity is a fascinating wine to try. Prieto Picudo is an indigenous grape of Castilla y Leon that must be declassified to the Vino de la Tierra IGP as a single-varietal wine because it isn't allowed in the higher-tiered DO classification. Regardless of its lack of "official" prestige, well-made wines from Prieto Picudo offer sun-kissed black cherry notes, chocolate, dusty earth, and a spicy black pepper note that's supported with the wines zippy acidity. Prieto Picudo wines are rather hard to find, and usually a fantastic value when you do.
Seek out the 2019, 2018, 2016, 2013, and 2012 vintages.
---
Garnacha
Style: Medium-Bodied Red Wine
Expect to Spend: $12–$16 (for decent daily drinkers)
$30–$50 (for the good stuff)
Regions of Interest: Calatayud, Campo de Borja
Try it if you like: Zinfandel, California Pinot Noir, Cotes du Rhône
Many of us have come to adopt the French name, Grenache, for Garnacha even though the grape also has a long history in Spain. The Spanish version grows all over the country but Calatayud and Campo de Borja are regions you'll often find on store shelves. You'll note a stark contrast in tastes between the fresher, value-driven bottlings and the powerfully ripe, often oaky high-end wines.
The serious, riper Garnacha wines deliver deeper aromas of jammy black fruits (blackberry jam, boysenberry compote, brandied cherries) as well as oak-derivative aromas (woodsmoke and chocolate) as well as cracked black pepper aromas. They tend to be more on the full-bodied side, with softer tannins. The more affordable wines tend to play in the ripe red-fruit world (strawberry jam, candied ruby-red grapefruit, and red apple) and have more delicate red floral notes (hibiscus, rose). Depending on your preferences, both styles can be great.
Seek out 2014, 2013, 2012, 2009 and 2008 vintages
---
Monastrell
Style: Full-Bodied Red Wine
Expect to Spend: $10–$17 (for decent daily drinkers)
($30–$50) for the good stuff
Regions of Interest: Jumilla, Alicante, Yecla
Try it if you like: Malbec, Cabernet, or Shiraz
Monastrell (a.k.a. Mourvèdre, a.k.a. Mataro) produces inky red wines with tons of dried black and red fruits (chocolate covered cherries, black plum jam, blueberry syrup, and mulberry purée). Most Monastrell is grown in the hot, south-eastern Mediterranean-influenced autonomías of Valencia and Murcia.
The most serious examples of these wines can be absolutely enormous in the glass, and oak aging is not uncommon. On the high end, Monastrell wines add much more nuanced, savory (mostly herbal and meaty) aromas to their whack of huge fruit.
Seek out the 2013, 2012, 2011 and 2010 vintages
Vintage Notes
Do to the warmer climate in Spain, vintages tend to be more consistent. That said, there are some particulars to understanding how the vintage affected the wine:
2016 – Excellent
2015 – Excellent
2014 – Good: Many regions had rains at the end of harvest may have caused problems for late-ripening varieties
2013 – Average to Good – not particularly great for white wines
2012 – Great: Reds have higher tannin
2011 – Good: Reds have higher tannin
2010 – Excellent: Reds with higher tannin
2009 – Excellent: Reds with higher tannin
2008 – Great: Drinking well right now
2007 – Great: Drinking well right now
---
Explore Spanish Wine Regions
Learn about different Spanish wines with a map of Spain's many regions.


Spanish Wine Map