We'd all love to try new wines, but how to choose?
One way is to search for wines with a similar taste profile to something you know (and love). With over a thousand different wine varieties, there could be hundreds of wines that you'd love if only you knew about them!
Let's start with Syrah.
What is it about Syrah?
To understand what defines the "yumminess" of Syrah, we took a look at Syrah's taste profile in the Wine Folly book. Syrah wines have a wide range of potential flavors, but there are several characteristics that are fundamental:
A sweet smokiness when Syrah (aka Shiraz) is aged in toasted oak barrels.
A tendency to exhibit black fruit flavors (such as blackberry, blueberry, and even black olive).
Wines are typically full-bodied with balanced tannins.
We can use these basic tastes to find other great wines. Check it out: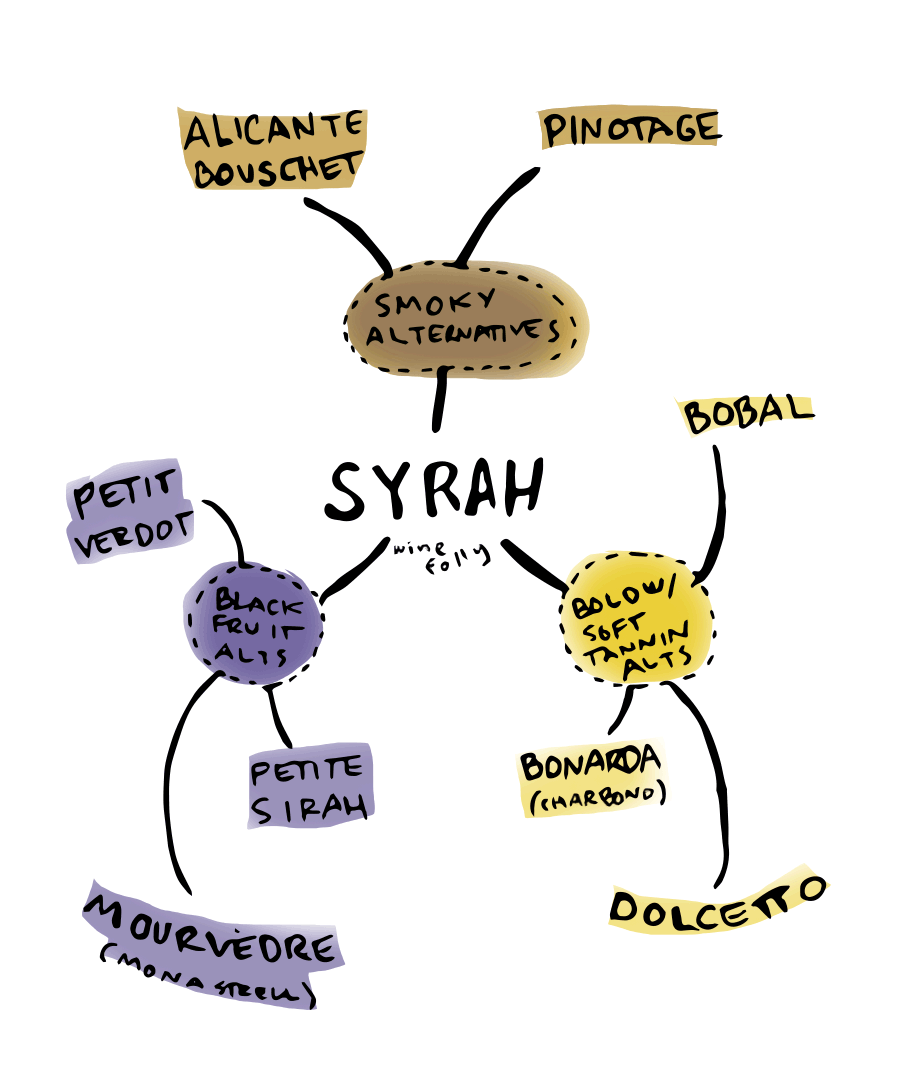 Smoky Shiraz-like Wines
Common flavors: sweet tobacco, cigar box, cedar, wood smoke, caramelized sugar, brown sugar, campfire, incense
Alicante Bouschet
Where to find it: Portugal
("olli-kahn-teh boosh-shay") Alicante Bouschet is a rare type of grape called a teinturier variety – both the skins and the flesh are red!
It produces wines with very intense color (high in antioxidants) and the wines have a full body. The regions that produce Alicante Bouschet with the most similarity to Shiraz are mostly likely Lisboa and Alentejo in Portugal. You've just got to check these wines out, they are incredible. (We picked up a bottle with a dog on the label for $12 –critter wine!– and it was outstanding.)
Pinotage
Where to find it: South Africa
("Pee-no-taj") It might sound like Pinot Noir in the name, but this wine is nothing like its progenitor (Pinotage is indeed a child of Pinot Noir and Cinsault).
Wines made with Pinotage have the boldness of Syrah with fruity flavors of black cherries, plum sauce and licorice and smoky sweet tobacco finish. Pinotage grows almost exclusively in South Africa and offers outstanding value for the money.
Keep your eyes peeled for Pinotage from the Western Cape sub-region of Stellenbosch. Suuuuper undervalued.
---
Black-Fruit Dominant Wines
Common flavors: Blackberry, blueberry, black currant, plum, olive, boysenberry, black cherry, açaí berry, elderberry
Petite Sirah
Where to find it: California
("peh-teet sear-ah") Petite Sirah is not actually the same as Syrah, but the wine definitely shares many of the same flavors. A great bottle of Petite Sirah offers up blackberry, sugarplum and jammy notes that are sometimes a bit savory, almost like kalamata olive.
If you're thinking this sounds a lot like Syrah, you're absolutely right! The grape originates from southwest France, where it's called Durif, but there are more vineyards of it in California than anywhere else in the world. Petite Sirah is incredibly high in antioxidants because it has such small berries (which increase the skin-to-juice ratio).
We've found secret stashed of these grape growing on Howell Mountain and they are F-A-N-T-A-S-T-I-C.
Taster's Guide to Petite Sirah
Petit Verdot
Where to find it: California, Australia, and Spain
("peh-tee vur-doe") Petit Verdot was once only used as a minor blending grape in Bordeaux. This is most likely because the grape never ripened properly in the cooler French climate and thus single-varietal Petit Verdot would have tasted too herbaceous and bitter.
But! When it was transplanted into Australia, California, and Spain, winemakers were shocked by the beauty of this lowly grape and started experimenting with it as a single-varietal wine.
Petit Verdot is noted for its aromas of blueberry, black currant and black cherry along with lovely floral aromas of violet and lilac. It's not easy to find, but well worth seeking. After sampling a Petit Verdot from Méntrida, we realized that Spain knows what they're doing with this grape.
Up-and-Comer Red: A Guide to Petit Verdot
Mourvèdre (aka Monastrell)
Where to find it: Paso Robles (California), Bandol (France) and Spain
("moore-ved") Mourvèdre has made a major comeback in France and, because of this, we're sure to see more wines made with this grape in coming years. The variety is commonly known in the South of France where it's used as a blending grape in red Rhône blends and also in Provençal rosé.
As a single varietal wine it's peppery and somewhat earthy with deep dark fruit flavors of blackberry, boysenberry, açaí berry and olives.
In all honestly, the best values for this wine are found in Spain where the grape called Monastrell. Keep your eyes peeled for wines from the Spanish regions of Jumilla, Bullas, Yecla, Alicante, and Valencia – they're delicious!
Diversify Your Taste with Mourvèdre Wine
---
Full-Bodied Red Wines with Lower Tannin
Common flavors: Supple, juicy, soft, round, smooth finish, lush, fine tannins
Dolcetto
Where to find it: Piedmont, Italy
("dole-chet-toe") Hailing from the same region as the highly acclaimed Nebbiolo grape (think Barolo), Dolcetto is the softer, more easy-drinking daily wine for Northern Italians. Most Dolcetto (meaning "little sweet one") will burst with fruit but finish dry with tannins (okay I lied, they have some tannin!).
This combination makes for a lighter body wine but the fruit flavors are still deep and dark, mostly of plums, black cherries and blueberries. One thing to pay attention to in looking for Dolcetto from Italy is the vintage.
A cooler vintage will often have more bitter and tart fruit flavors on the finish whereas a warmer one will taste sweeter. Because of the low acidity, Dolcetto wines are meant to be drunk within the first couple of years of release.
Bonarda (aka Charbono)
Where to find it: Argentina and California
The history of Argentine Bonarda is a bit confusing as the grape isn't actually the same as Italian Bonarda (which is what everyone thought!). Turns out, the grape originates from the Savoie region in France, where it's called Douce Noir. But, who really wants to call a grape "Doos Nwar?" It sounds like the name of a shady cult.
Bonarda has high acidity, relatively low tannin, and bursts with fresh fruit flavors of blueberries, black plums, and raspberry sauce. There is a tiny amount of this wine found in and around Napa where they call it Charbono. Since it's not that popular in America (yet) it's still relatively hard to find… so, keep those eyeballs peeled!
Bobal
Where to find it: Spain
One of the most planted grapes in central and southern Spain has only just begun appearing outside of its country of origin. These wines have delightful juicy blueberry and blackberry flavors with lovely floral aromas and a soft smooth finish. This is one of the few red wines out there that can be found with exceptional quality for around $10.
Yes, I said $10.
---
Last Word
Diversity isn't just a social thing, it's a survival thing.
The more diversity we have in our foods, the more likely they will adapt and survive in this crazy-ever-changing world.
Fortunately, as a wine drinker, all you have to do to contribute to this is to continue to explore and taste new wines. So, it's not so bad afterall 🙂
And… if you've made it this far, be sure to like us and subscribe to the newsletter below. Salut! 😉