What Are The Best Wine Books?
If you're just getting into wine, where do you start? Perhaps you'd like to find new types of wine to try, or better yet, you're shooting for a career in the drinks business. Either way, reading wine books will inspire you and help wrap your brain around the immense world of wine.
 
Discover the best wine books
recommended by pros who've read them all.
For this article we spoke with some of the most well-read wine geeks in the world and asked them what books to read. There are few things greater than curling up with a glass of wine and relaxing with a great book!

---
The Best Wine Books for Beginners
World Atlas of Wine
This book is a great start to understanding the basics to the world of wine. When you read this book you will explore the world of wine through a regional perspective with highlights on important areas and wines.
 
World Atlas of Wine $30 on amazon.com

Kevin Zraly's Complete Wine Course
A new release that covers the world's wine regions as well as answers some fundamental wine newbie questions such as "How do I buy –and drink– a red Bordeaux?" There is a lot of current data and newly important wine regions.
 
Kevin Zraly's Complete Wine Course $20 on amazon.com

"The best book I've read (and the most useful) is the World Atlas of Wine by Hugh Johnson and others. It is useful on so many levels, really gives you a whole other visual learning component that you just can't beat."

Rory Pugh , Advanced Sommelier
---
The Best Wine-Themed Pleasure Books
Billionaire's Vinegar
A novel about one of the largest scams the wine world has ever seen. The story gets interesting when an American billionaire drops over $100,000 on a single bottle supposedly owned by Thomas Jefferson.
 
Billionaire's Vinegar $15 on amazon.com

Comic Novel: The Drops of God
A treasure hunt for the 13 lost bottles of a deceased world-renowned wine critic. The story follows the critic's son, Shizuku Kanzaki, who is desperately trying to find the bottles before his competitor does.
Drops of God $15 on amazon.com

Adventures on the Wine Route
Kermit Lynch, one of the premier importers of French wine to the US, writes about his adventures trying to understand the nuances of French wine and people.
 
Adventures on the Wine Route $19 on amazon.com

Wine and War
The Nazi occupation of France was a flurry of destruction. Wine is the jewel of France and the Nazis had a lust for finery. During the 1940's, French winemakers came together to resist and protect their fragile world.
 
Wine and War $12 on amazon.com

Judgment of Paris
The Paris Tasting of 1976 was recently put to film in the movie "Bottle Shock." This is the book that tells the story of the first time the world realized that wine can be great –even from places-other-than-France.
 
Judgment of Paris $17 on amazon.com

---
The Best Wine Books for Advanced Learning
Wine Grapes
Over the years, Jancis Robinson has released several pocket guides on wine varieties. This book feels like the culmination of all of these works and details over 1300 different varieties. Wine Grapes is a serious reference book for a die-hard wine fanatic.
 
Wine Grapes $100 on amazon.com

Palmento: A Sicilian Wine Odyssey
After reading this book, you will wonder why you haven't booked a trip to Sicily yet. Travel and wine writer Robert V. Camuto manages to extract the details that we care about with wine –the people and culture of a magnificent place. Palmento is inspiring as well as educational.
 
Palmento: A Sicilian Wine Odyssey $15 on amazon.com

Great Domaines of Burgundy
Would you like to know, in exacting detail, the soil types, slope and nitty gritty details of the most exalted domaines of Burgundy? Thought so! Homage to writer Remington Norman, an expert in the minutia that defines a great wine.
 
Great Domaines of Burgundy $25 on amazon.com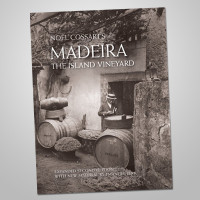 Madeira, The Island Vineyard
Perhaps you're a dry red wine drinker and Madeira doesn't register on your radar. However, once you learn how this tiny Portuguese archipelago in the middle of the Atlantic has affected Western civilization for the last 500 years, you'll be riveted with curiousity.
 
Madeira, The Island Vineyard $40 on amazon.com

---
Why do people seriously nerd-out about wine?
When you get into wine you realize it's a survey of the world and its people. Wine helps connect cultural history with the earth…and you can actually enjoy the fruits of your understanding!