If you're buying your wedding wines yourself, then you've already taken the smartest step forward by caring enough to find out more!
Learn what wines work best for events like weddings and how much wine to have on hand. Wine complements the wedding, so it's a great idea to find one that's right for you.
The Guide to Buying Wedding Wines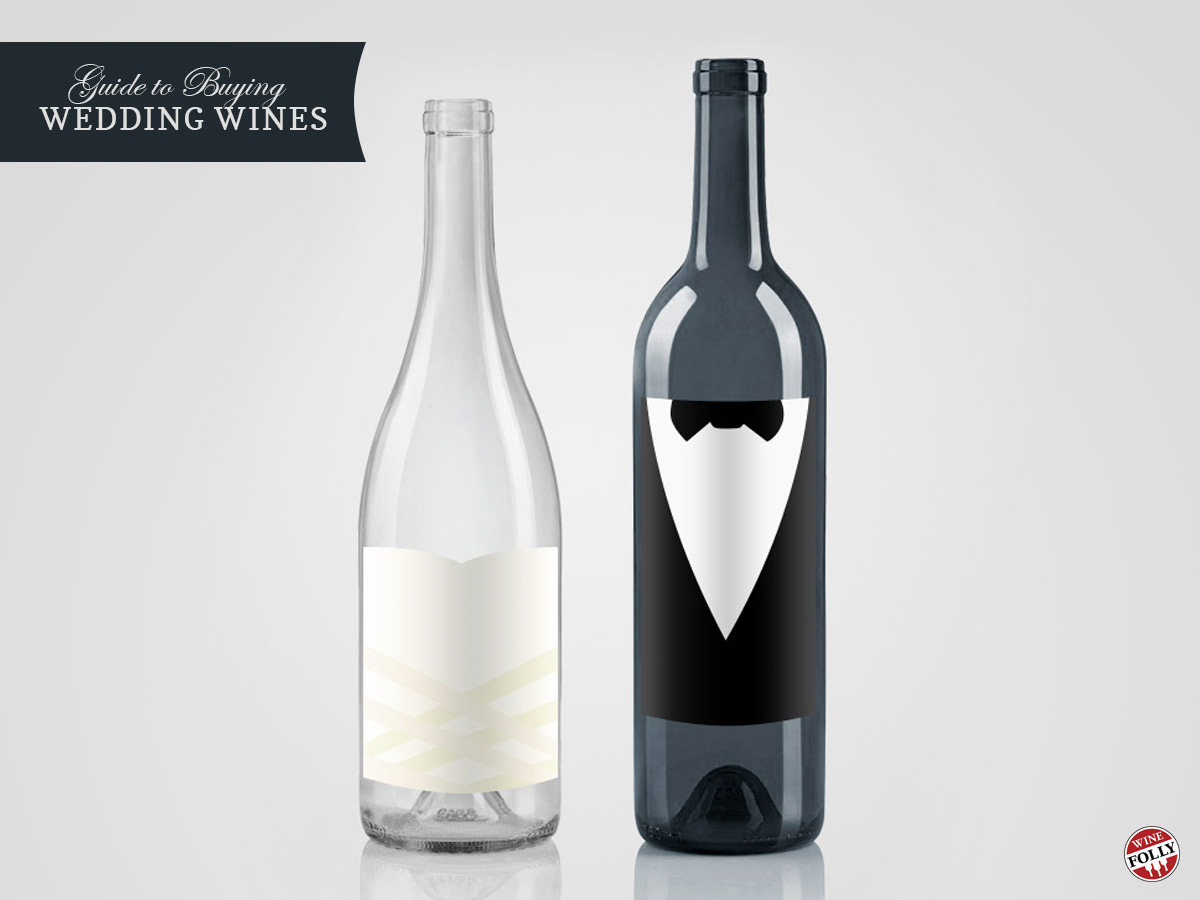 Every wedding has a budget, whether it's $3,000 or $300,000. Determine how much liquid wine you'll need, and then you can figure out how much to spend per bottle.
How much wine to buy for a wedding
So let's say the wedding will have 100 guests. If you divide the number of guests by 2.15, you should expect to get about 46 bottles of wine for the event. Make sure when you order to round up by the case. Just so you know, this works for all kinds of events.
For 100 guests, $15/bottle wines will only cost a total of $700 ($15 x 46 bottles). If you compare this number to a typical wedding flower budget, this is very reasonable! You'll have to ask yourself: what's more important: good wine or pretty flowers? This is entirely up to you.
Fall, Winter, and Spring weddings People tend to drink more red wine at indoor weddings in the fall, winter, and spring. Consider a mix of about 50% of red wine for this type of wedding.
Summer and Outdoor weddings Hot days will have people drinking more white wine. Consider a mix of 30% each of all 3 styles of wine. You might also think about serving rosé, especially if you're serving fish or seafood.
Buy 30% less if you're serving cocktails.
Ask About Case Discounts Most retailers offer a 10-15% discount when you buy cases.
How much wine for a Champagne Toast?
Divide your guest count by 7 to 9 (7 for sparkling wine fanatics and 9 for standard). This should give you enough sparkling wine to pour everyone a half-glass of bubbles for the toast.
---
What Kind of Wines Should I Buy?
There will be sparkling wine for the toast, but the rest of the wine is up to you! Consider the following:
Who's attending (non-drinkers, young people, older relatives)
If you're serving rich meats for dinner, consider a full-bodied red wine
If you're serving fish as the main, consider selecting a rosé or light red wine as your 'red' option
Think about the time of year and time of day and the theme (black tie, casual, tropical.)
---
The Red Wine
Red wine is a classic crowd favorite and will be about 50-60% of a wedding wine purchase. It's one of the wines where if you find you have a lot leftover, then you can just store it and enjoy it after the wedding. Choosing the perfect 'crowd-pleaser' red wine is a lot of fun. Here's what we recommend.
Buy 5 potential wines in your budget and taste test your wedding wines with your friends. Then vote for your favorite!
$10-15 Red Wine Options
Check out developing wine regions such as Chile, South Africa, Argentina, Portugal, Spain, and Australia for quality options in this price range. Think about alternatives to classic varieties like Cabernet Sauvignon, such as Nero d'Avola, Primitivo, Petite Sirah, Touriga Nacional, and Monastrell to get more bang for your buck.
 
$15-20 Red Wine Options
You can pretty much buy whatever variety you like in this price range. Still, consider developing wine regions (listed above) to find better quality wines. If you're looking for crowd-pleasers, keep your eyes peeled for Cabernet Sauvignon, Merlot, Syrah, and Malbec.
 
$20-30 Red Wine Options
High-quality American wines are easy to find in this range. You can start looking into serious Reserva level Tempranillo from Rioja, Chianti, Super-Tuscans, and aged wines from the southern parts of France (such as Corbieres or Côte du Rhône). These wines will all be delicious, so focus on a theme!
 
$30+
Select wines from your favorite regions and think carefully about how the meal will match with the wine.
The Champagne Toast Wine
As important as the Champagne toast is, most folks won't drink more than a half-glass of sparkling wine. So unless your wedding attendees are all bonafide Champagne hounds, you don't have to buy that much. You just need enough to fill glasses to halfway; about 1 bottle per 8-10 people. Use your leftover budget to afford higher quality wines!
If the toast happens during the day or outside, consider getting aromatic sparklers such as Prosecco, Cava, or sparkling Rosé.
If the toast is happening at night or inside, look towards richer styled sparkling wines such as Blanc de Noirs, Blanc de Blancs, Italian Metodo Classico, or classic French Champagne.
The White
Unless you're a fiend for bold, buttery, oaked Chardonnay, it might be wise to select a lighter, zestier white wine because they tend to be easier to pair with all styles of foods and better quality for the price.
Zesty White Wines
Look into whites wines like Sauvignon Blanc, Vinho Verde, unoaked Chardonnay, Verdejo, Pinot Grigio. These wines will please your crowd, and they are especially good for summer weddings.
 
Bolder Oaked White Wines
For the classic choice on a budget, seek out oaked Chardonnay from Chile or Spain for a great value. Otherwise, there are amazing Chardonnays from Hunter Valley Australia and Sonoma that will make you smile.
Summer Weddings love dry Rosé
Dry Rosé is one of the fastest-growing categories of wine purchases around the US. It's a great choice if your main entrée is salmon or if you have a seafood-friendly reception buffet. Additionally, rosé wines match with a wide variety of cuisines, including Mexican, Indian, Sushi, and Thai.