Uncover delicious wines you've probably never heard of with these data visualizations organized by wine style and price.
---
Using pricing data from wine-searcher pro, matched with Wine Folly's system of categorizing wines by style, I created four infographics that will help you find new wines to try.
"With over 1,000 wine varieties in the world, it's time to try something other than Cabernet, Chardonnay, and Pinot Noir."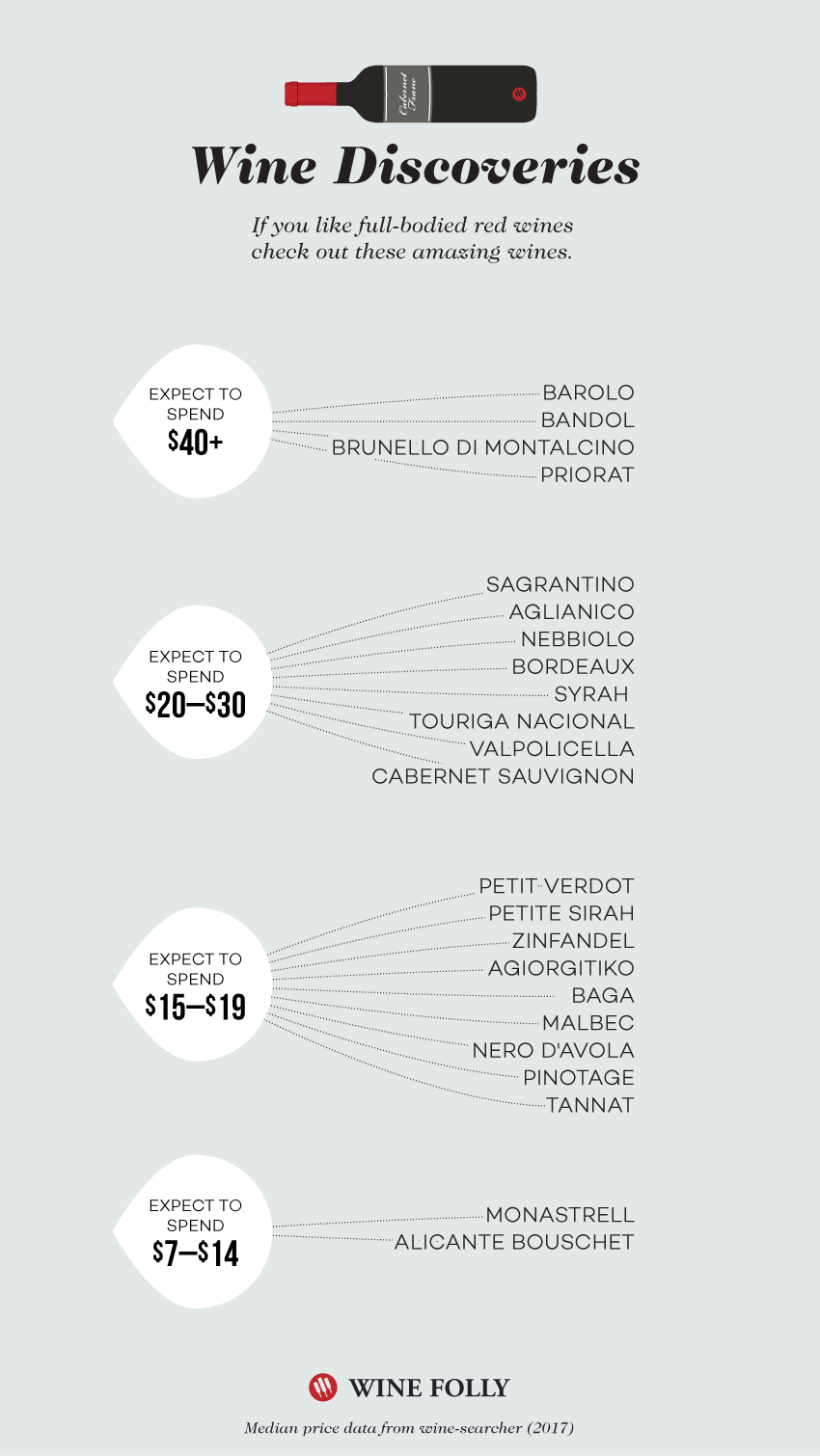 Full-Bodied Red Wines
This was, by far, and not surprisingly so, the most expensive style of wine in our research. Full-bodied red wines are more costly to produce because they usually require extended aging and the use of oak barrels. What's interesting is that there are several varietal wines that fly under the radar in this category.
If you love wines like Cabernet Sauvignon and Syrah, some affordable full-bodied wine alternatives include Tannat from Uruguay, Pinotage from South Africa, Monastrell from Spain, Zinfandel, and Petite Sirah from California.
---
Light-Bodied Red Wines
There are few familiar wines that mimic the style and pizazz of Pinot Noir. However, if you know your stuff, there are great lesser-known Pinot Noir alternatives, including Frappato from Sicilty, Schiava from Northern Italy, and Zweigelt from Austria.
The most affordable light-red option, including the sparkling red wine family, is Lambrusco, as well as a sweet sparkling red wine from Northern Italy called Brachetto.
---
Full-Bodied White Wines
I had to recheck my data for Chardonnay and use a larger sample size because I couldn't believe my eyes. Should we really expect to pay a minimum of $40 for a decent bottle of Chardonnay?! Certainly, the cost of producing a good bottle of oak-aged Chardonnay is much higher than the alternative, given that the wines are aged in oak, but this was a lot more than I was expecting.
So, if you are a lover of oak-aged whites, you might try looking at some alternatives to oaky Chardonnay, including Grenache Blanc, Viura from Spain, and Encruzado and Arinto from Portugal.
---
Light-Bodied White Wines
This group of wines includes popular choices like Pinot Gris and Sauvignon Blanc. However, if you're looking for value, you might try investigating some more esoteric varietal wines, including Catarratto from Sicily, Vernaccia di San Gimignano from Tuscany, and Picpoul de Pinet from Southern France.
The most expensive wines in this style include Chenin Blanc, which was surprising given that prices for great-tasting South African Chenin Blanc are usually quite affordable. That said, ratings tended to favor French Chenin Blanc, which is probably why the pricing seemed skewed. I was surprised to see a few rare varietal wines including Grüner Veltliner from Austria, Arneis from Northern Italy, and Assyrtiko from Greece at the top of the list. People are willing to pay more for these unique wines.
---
How Were These Prices Quantified?
To get this data, I used my pro subscription at wine-searcher and created searches for each wine listed. Then, I grabbed data (sample sizes from 25–300 per wine), sorted by popularity, and used only wines with a rating between 88–92 out of 100. Since there were extreme outliers in wine prices on the high end, I opted to use a median average to determine the average price. The median number appeared to be located right in the bell curve of the pricing on most wines. All of the data crunching happened on June 6th, 2017.
Data-Crunching Note
The goal of this article was to discover which wines are undervalued in their respective styles. That said, there were several varieties that were really hard to separate, including some of the more popular varietal wines like Chardonnay, Pinot Noir, and Cabernet Sauvignon. I did my best to clear out outliers and use substantially larger clusters of data (300 or more), but it was hard to be certain.
If you would like more content like this, let me know in the comments below!