Whether or not you're intimately familiar with the importance of vintages doesn't really matter as long as you hear this: 2015 was a great vintage in numerous regions around the world. What does that mean? It means that now is a great time to start drinking new wines.
Here's the rundown on 6 regions to drink, hoard, and cherish from the 2015 vintage:
Oregon
Drink: Pinot Noir Rosé
Hoard: Value-driven Willamette Valley Pinot Noir
Cherish: Site-specific and sub-regional Pinot Noir from Willamette Valley's sub-AVAs
"The Oregon wine industry experienced another extraordinary, nearly ideal growing season," said the Oregon Wine Board, after conducting a state-wide poll of wine growers. Oregon Pinot Noir is offering wines of particularly great value, thanks to an increased crop size. Within the Willamette Valley, you'll find several wine regions, including Dundee Hills, Chehalem Mountains, and Eola-Amity Hills, that produce some of the most distinctive Pinot Noirs.
---
Germany and Austria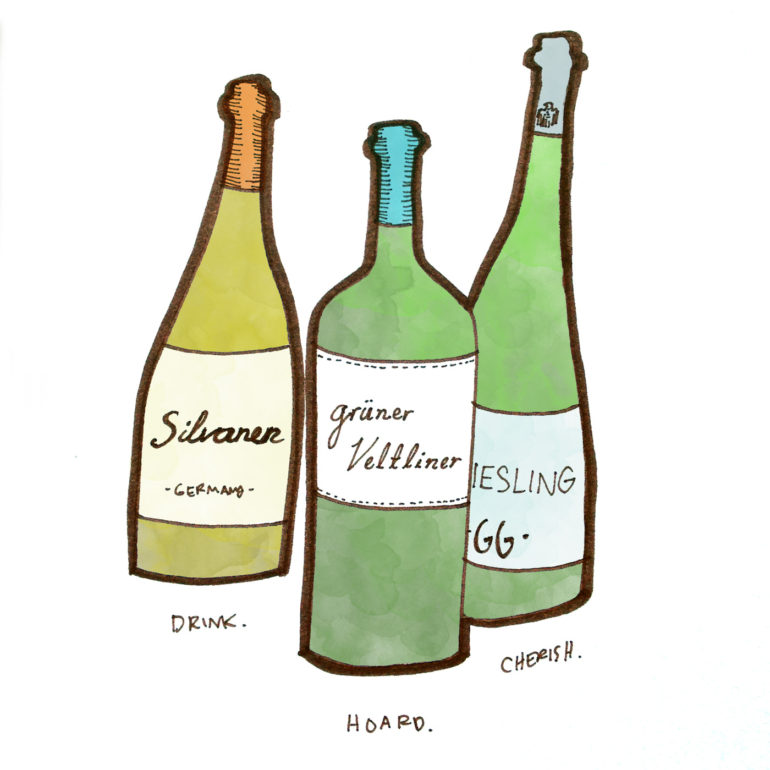 Drink: Silvaner (or Sylvaner) and Sauvignon Blanc
Hoard: Grüner Veltliner
Cherish: Riesling
"Simply the best," is how Jancis Robinson described the quality of the 2015 vintage in Germany and Austria. So, if you're a Riesling enthusiast or a lover of these two wine regions, this is definitely the time to dive in.
---
Central Italy
Drink: Montepulciano d'Abruzzo
Hoard: Chianti Classico and Chianti Superiore
Cherish: Rosso di Montalcino and Montefalco Rosso
The January evaluation of Montalcino's wines produced a report card that overflowed with praise: "5 Stars: An Outstanding Vintage." The regional consorzio (perhaps one of the strictest of Italy) had awarded the 2015 vintage the highest official rating and the world took note. Central Italy's regions of Tuscany, Umbria, Marche, and Abruzzo all produced outstanding wines made with Sangiovese and Montepulciano.
---
Bordeaux
Drink: Bordeaux Rosé and Clairet
Hoard: Right Bank Bordeaux and Bordeaux Superieur wines
Cherish: Left Bank Bordeaux Crus (Cru Bourgeouis, Cru Artisans, Grand Cru Classé)
"Several châteaux have arguably made their best ever wines," said John Stempfig, who was both extremely excited and somewhat skeptical about Bordeaux's 2015 vintage at the En Primeur tasting. The stilty-ness he noted in the wines came from the overall ripeness of this Bordeaux vintage, which is something that typically occurs only once a decade. Fortunately, in the early term these wines will be exceptionally delicious and extremely welcoming, especially for those who don't like too much tannin. Of course, great producers know exactly what to do to make age-worthy wines when a lucky strike vintage like this comes along and these wines should age well for several decades.
---
Burgundy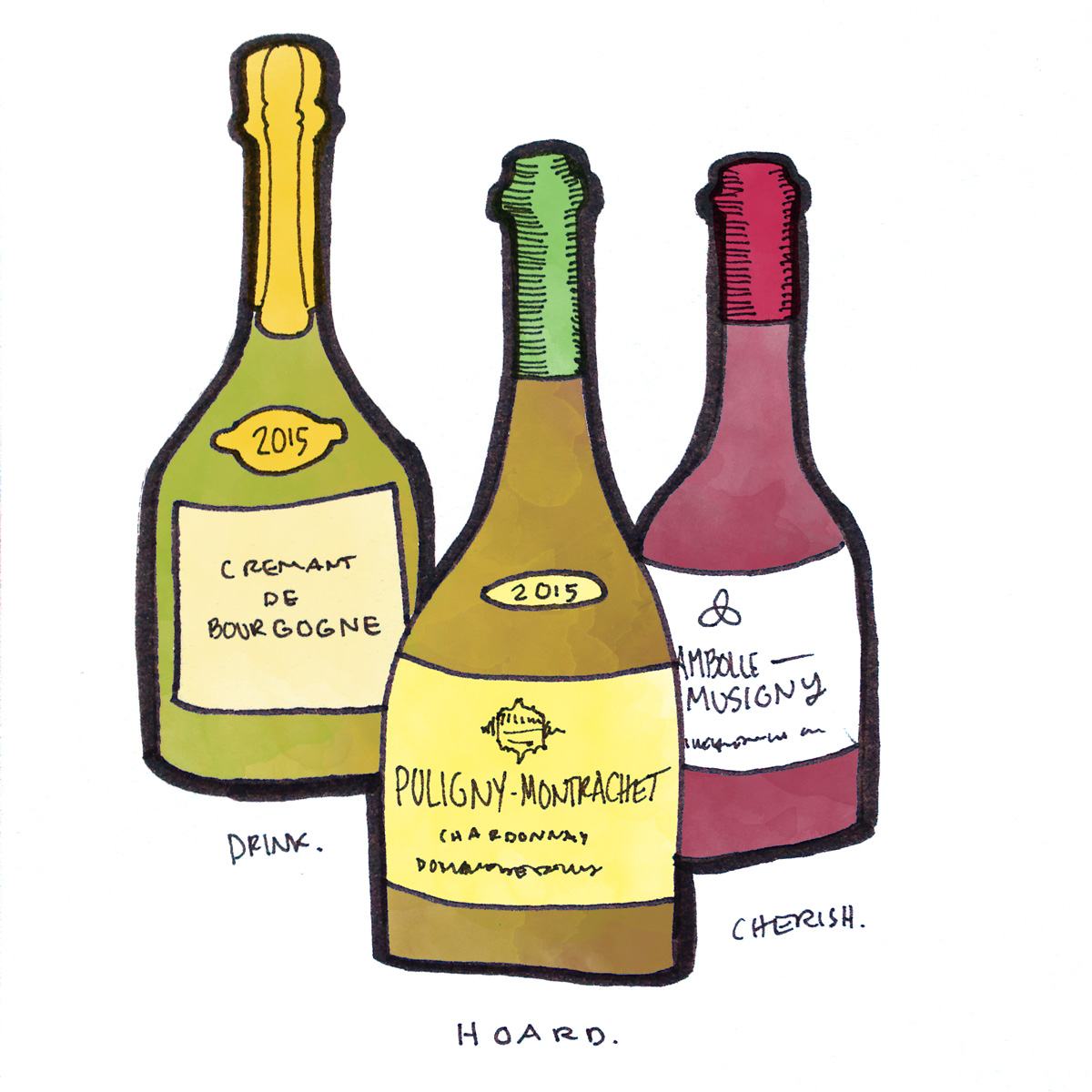 Drink: Crémant de Bourgogne (sparkling) and Mâconnais (Chardonnay)
Hoard: White Burgundy (oaked Chardonnay)
Cherish: Pinot Noir from Côte de Nuits
"Aromas in the cellars are intoxicating," attested Clive Coates, a Burgundy expert. Clive explained that the only trouble in Burgundy during the 2015 vintage was that on September 1st the skies parted and pummeled approximately 250 acres (100 hectares) in Chablis with hail stones the size of golf balls. Fortunately, for the rest of Burgundy, you'll find an exceptionally ripe and well-balanced vintage. Of course, because of the increasing international demand for wines from this region, you can also expect prices to be higher (perhaps moreso than ever before).
---
Southern France
Drink: Rosé and Côtes du Rhône
Hoard: Côtes du Rhône Villages and the Premiers Crus (Rasteau, Vinsobres, Gigondas, etc)
Cherish: Châteauneuf-du-Pape
"The 2015 looks like a very serious vintage," says James Moleworth about the southern Rhône region, home of one of the world's most famous GSM blends. The good fortune and great wines from this region have everything to do with ripeness, particularly stem ripeness. In an effort to make age-worthy wines, winemakers will often include the whole grape bunch (stems and all) in the fermentation tank. This is going to be one of those years where even the run-of-the-mill Rhône wines will deliver great taste.