Bordeaux is famous for one thing: expensive red wine, but this is a very small picture of the true output of the region. While prices for luxury wines like Château Latour and Petrus continue to soar, most of Bordeaux can be enjoyed for under $20.
New Guide: Dive deeper into Bordeaux's Wines and Region with Wine Folly's new Bordeaux Region Guide.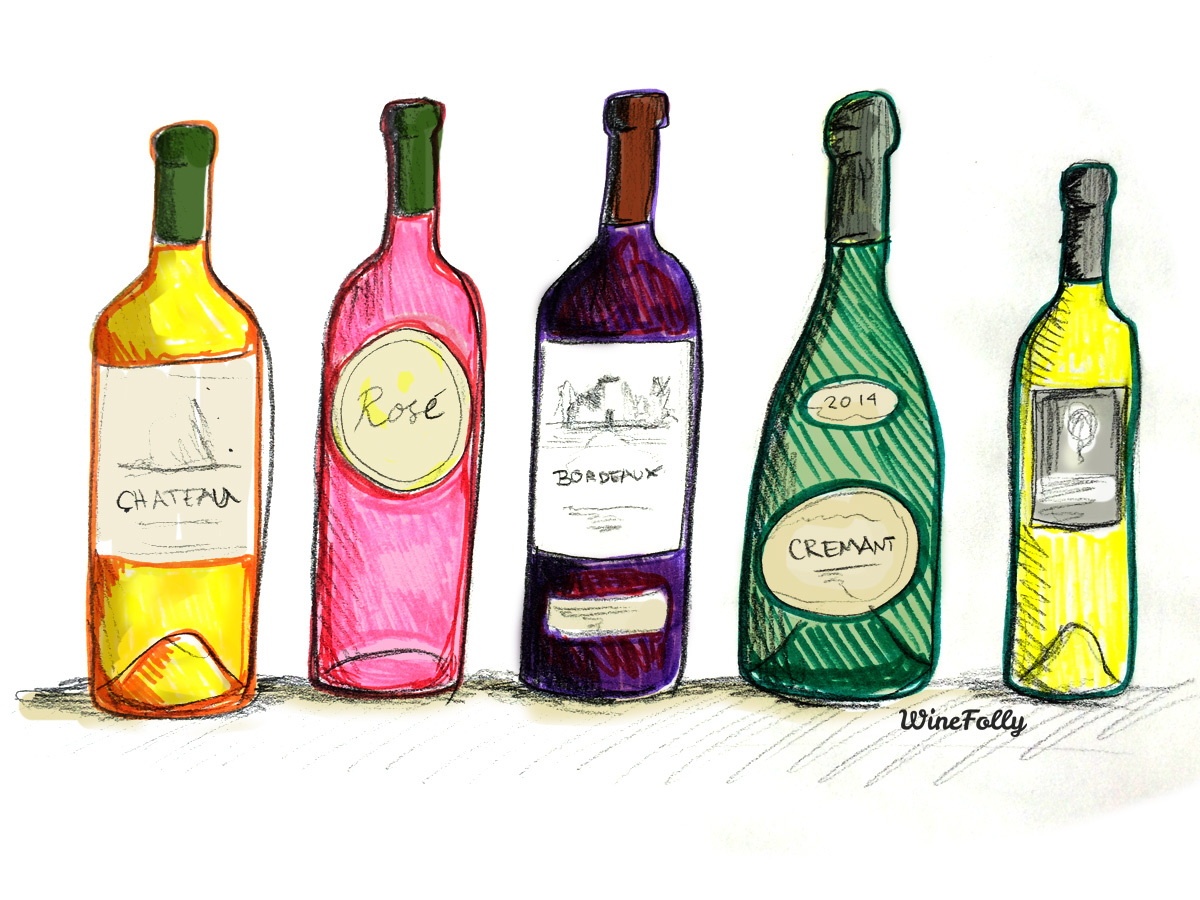 Explore Bordeaux Under $20
Let's take a look at these other wines of Bordeaux. You will discover that Bordeaux has an approachable side that's designed to be drunk. Onward!
The "Approachable" Styles of Bordeaux
There are 5 styles of wine coming out of Bordeaux that are quite affordable. And delicious too!
Zesty white wines perfect for afternoon drinking
Fruity and unctuous rosé wines perfect for evening drinking
Medium-bodied earthy red wines perfect for food pairing
Honeyed and floral sweet white wines perfect for asian cuisine or fine cheeses
Peachy and floral sparkling wines both white and rosé are perfect for celebrating
White Bordeaux
Look for Entre-Deux-Mers and Graves
'White Bordeaux' includes a blend of several grapes including Sémillon, Sauvignon Blanc and Muscadelle. When looking for quality, seek out wines that have been barrel fermented or aged, often the winemakers will age 'on the lees' which adds a thicker silky-creamy texture to an otherwise simple high-acidity wine.
TASTE: White wines around and under $20 from Bordeaux typically have high acidity with refreshing citrus, grapefruit and an occasional hint of tropical fruit. Generally, these wines are meant to be enjoyed young within a couple of years. Try White Bordeaux with ceviche, sushi or any other delicately flavored sea fare.
Grand Bateau Bordeaux Blanc $11
Lune d'Argent, Clos des Lunes Bordeaux Blanc $20
Château Peybonhomme les Tours "Le Blanc Bonhomme" $15
---
Rosé Bordeaux
Many top producers make outstanding rich rosé
It has been a practice for years in Bordeaux to bleed off a little of the grape juice while making red wine. This technique is called 'Saignée Method' (bled method) and makes red wines more concentrated. So, what happens to the leftover juice? Well, there are several rosé wines!
TASTE: Saignée rosé tends to be richer in style with bolder fruit flavors of cherry, iris, raspberry and watermelon as well as an unctuous oily texture on the palate. A few of the rosé wines can last several years, but generally you'll want to select a youthful Rosé Bordeaux that has maximum mouth-watering acidity. Try pairing this style with Mediterranean and Morrocan inspired foods; couscous anyone?
---
Red Bordeaux
Excellent value reds often found in under-the-radar appellations
While the whole world fights over wines from Pauillac, St. Julien, and Pomerol, the other 50+ sub-regions of Bordeaux go on producing great value wines.
In general, most sub-$20 Bordeaux have a large proportion of Merlot, save for Cru Bourgeois which are Cabernet-based. We noticed that the higher-rated wines in this group tend to have slightly higher alcohol (at 14% ABV).
A great way to find good tasting Bordeaux is to look for three seemingly arbitrary indicators on the label: Bordeaux Superieur, Cru Bourgeois, and "Grand Vin de Bordeaux."
Bordeaux Superieur AOP is an appellation that has more strict requirements for fruit quality and minimum alcohol level than just plain ol' Bordeaux AOP.
Cru Bourgeois is a classification system for wines from the Médoc (or Left Bank) that contains 245 châteaux who have achieved their Cru Bourgeois status based on quality requirements.
"Grand Vin de Bourdeaux" is not a quality standard at all, but something a producer typically uses for their best offerings.
TASTE: Red wines in this range lean towards the earthy side of the spectrum with tobacco, smoke and graphite flavors backed up with plum and blackberry. This is your classic steak wine or if you're in a veggie mode: mushroom barley stew.
---
Sweet Bordeaux
There are several sweet wine appellations besides flagship: Sauternes
Sauternes is the flagship appellation of several sweet white wine producing areas in Bordeaux. Sweet wines in Bordeaux are made when noble rot characteristically adds additional dimension by concentrating juice levels in white grapes. Generally, you'll find the sweet wine appellations close to the Dordogne river where morning fog causes the grapes to rot while still on the vine.
TASTE: The wines have vibrant honey, lemon and ginger flavors with a bright greenish-yellow hue. Most people enjoy these sweet wines on their own, it's been said that Thai curry and sweet Bordeaux is a thing. The other sweet wine appellations of Bordeaux include:
Loupiac
Cadillac
Cérons
Barsac
Graves Supérieures
Saint-Croix-du-Mont
Bordeaux Haut-Benauge
Côtes de Bordeaux Saint-Macaire
Sainte-Foy-Bordeaux
Perhaps give Chateau Loupiac Gaudiet a whirl at $13 (500ml)
---
Crémant de Bordeaux
Fruity sparkling wines in the same style as Champagne
Sadly it's hard to find much Crémant de Bordeaux in the US. If you do manage to find a bottle, expect fruity and slightly honeyed notes from the white and slightly sweet strawberry flavors from the rosé.