One classic white. One classic red. Plus, a few others for those looking to go beyond simple chèvre for goat cheese wine pairing.
Don't overthink goat cheese wine pairings! Just remember the following: What grows together, goes together. Goat cheese is the pride of the Loire Valley of France. So, try pairing it with wines from the Loire Valley. Sauvignon Blanc if you like whites. Cabernet Franc if you like reds. Here's why.
Goat Cheese Wine Pairings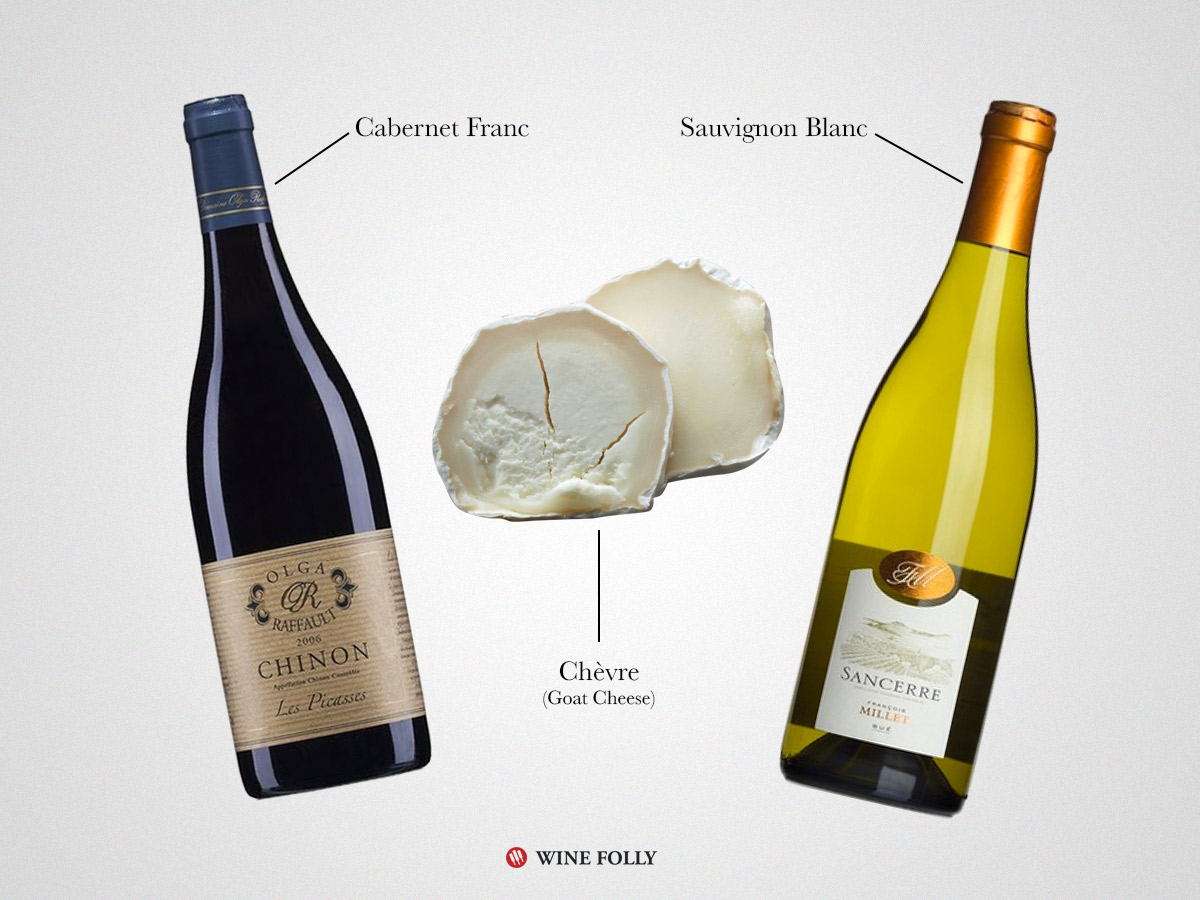 Best Option: Sauvignon Blanc
Going French? Look for Touraine, Sancerre, Pouilly-Fumé, Saint Bris or these regional names.
Why Sauvignon Blanc? Because your average piece of goat cheese is a blank slate, ready to be impressed upon. (A tart, earthy blank slate, but a blank slate nonetheless!) Sauvignon Blanc wines are the perfect chisels. Acidic, mineral-driven, and citrusy as hell, they impart all that goodness into the cream, giving it the extra herbal flavors you didn't know it needed to have. Plus, it preps the palate for the next bite, which is a given, because who does a "one and done" with this combination? Seriously.
Short on Sauv Blanc? Chenin Blanc, the Loire's most widely grown white grape is an excellent, excellent alternative. Look for white wines with Vouvray or Touraine on the label for standout examples.
---
Red Wine Option: Cabernet Franc
Going French? Look for Chinon, Bourgueil, Anjou, Coteaux du Loir, Saumur.
Why Cabernet Franc? Since you simply insist on red wine with your goat cheese, Cabernet Franc is a great choice. The Loire Valley produces lighter styles with more herbaceous notes and tart acidity. Bigger, fruitier wines may sound nice with this gamy cut of curd, but in practice, it overwhelms the soft, impressionable nature of goat cheese.
Cab Franc a little scarce? Red wines from cool-climates like (Gamay, Malbec, Merlot, and Syrah) are often a safe bet with their higher acidity and delicate flavors. To learn more and find great cool-climate wines yourself, check out this article!
---
More Goat Cheese Wine Pairing Options
So, you've tried the chèvre log. You love it and it will always a place in your heart (and in your fridge). But you've been there and done that. You know goat brie, gouda, and cheddar is where it's at. You're a full-blown Humboldt Fog enthusiast. (Respect.) Heck, maybe you just want a break from the Sancerre-chèvre connection. (Also respect.) Here are some more options:
Creamy and Spreadable Goat Cheese: Crémant de Loire
(Florette, Chavroux) Sparklers from the Loire region that are made primarily with Chenin Blanc, Cabernet Franc and Pinot Noir.

 


Standard Chèvre: Malbec
(Crottin de Chavignol, Le Chevrot, Buche De Chèvre) You know how Goat Cheese is often served with berry jam? It's like that, but better. Try Côt and Cahors from France for an earthier Malbec style.

 


Goat Cheddar: Pinot Noir
(Mt. Sterling Raw Milk Goat Cheddar, Redwood Hill Farm Aged Goat Cheddar) Loosen up this firm, funky interpretation with something equally earthy.

 


Goat Gouda: Syrah (Cool-Climate)
(Murray's Goat Gouda, L'Amuse Brabander Goat Gouda) Like people, firm and nutty needs a deliberate, delicate touch.

 


Herbed Chèvre: Vermentino
A surprisingly complex, affordable alternative to the same ol' Sauv Blanc.

 


Blue Goat Cheese: Natural Wine
(Humboldt Fog, Bleu du Chèvre) Might as well turn this pairing into a full-blown funk blast.

 


Aged Goat Cheese: Merlot
(Tomme de Chèvre, Aged Garrotxa) Deeper, earthier cheeses need a wine with bigger shoulders.