This guide will help you create and host your own wine tasting party including tips on planning, choosing wines, serving food, and ultimately making your get-together a great success.
How to Host a Wine Tasting Party

Wine tasting order: light and delicate to dark and rich
A wine tasting gives people the rare opportunity to compare and contrast wines with one another. Everyone will learn a lot about wine, including their own preferences.
Choose a selection of 4–6 wines that have a common theme
Enough wine glasses for each guest to taste 2 wines side-by-side
Serve wines in a well-lit room without too many distractions
A note on odors: Keep the tasting area as neutral smelling as possible–A wine will taste like bacon if the room smells of it.
Selecting Wines
Wine tastings that have a common theme are more educational and entertaining. Also, creating a theme will help you plan smarter. A wine tasting theme will focus on choosing the exact wines for your tasting. Here are a couple of classic themes to get you started:
Check out a few more wine tasting themes for inspiration.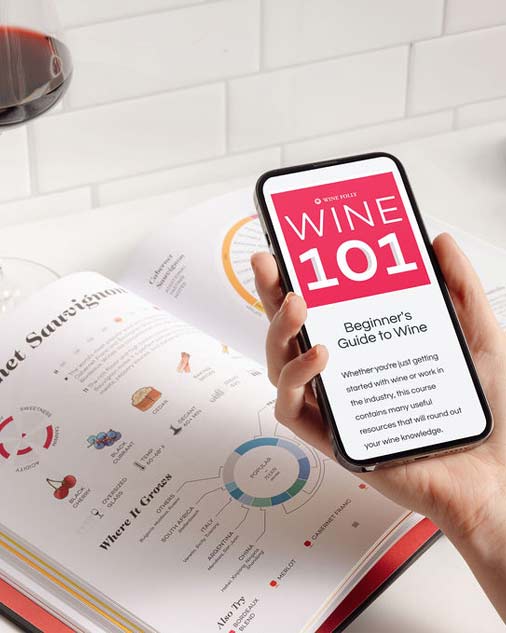 Buy the book, get a course.
Get the Wine 101 Course @ 75% OFF with the purchase of Wine Folly: Magnum Edition.
Shop Now
How much wine to serve?
A standard tasting pour is about half the size of a regular serving, at around 2–3 ounces (75–90 ml), and a bottle of wine contains about 10 taste servings. You might decide to have a little leftover just in case. For a party of 8–10 plan on buying 2 bottles of each wine.
Supplies
Wine
Wine Opener
Identical Wine Glasses
Water
Napkins
Wine Tasting Placemat (download)
Palate Cleanser (water crackers)
Personal Spittoon (red solo cup)
Dump Bucket
Polishing cloth
Decanter (for bold reds)
Wine bags (for blind tasting)
Setting Up The Tasting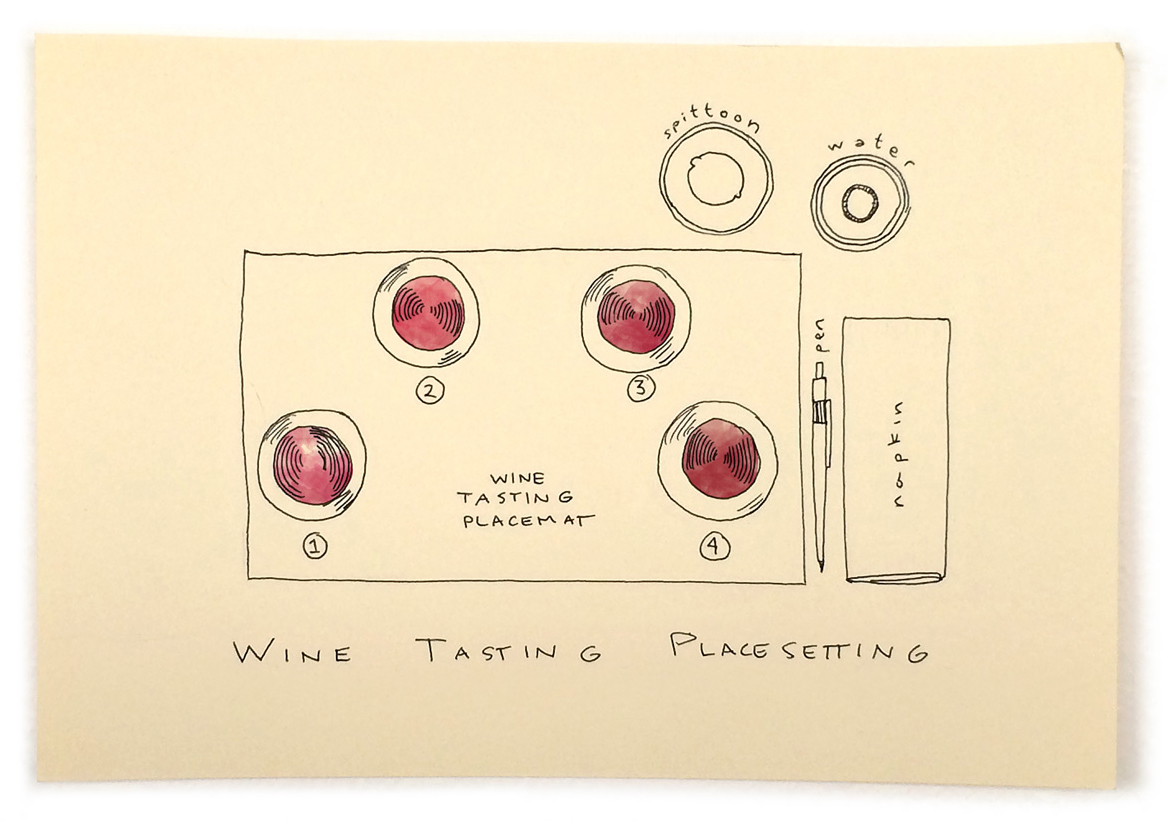 A typical place setting for a tasting
Before guests arrive you'll want to set aside some time to prepare your space. First of all, decant any bold red wines that need air. Then set the table, organize your appetizer display and, finally, get your aperitif wine ready (your party's "ice breaker" wine) as your guests start to arrive.
Tips
Rent glassware: If you're hosting for more people than you have glasses, definitely rent glassware. Wines glasses rent for about $1–3 (depending on the quality) and you don't even have to wash them. It will save you time, stress, and the headache of clean up.


A white background helps show the color

 
Start Simple: Professional wine tastings rarely include more than crackers (as a palate cleanser) along with a spitoon and a bottle of water. If they do offer food, it's usually in the form of a self-serve appetizer station.
 
Easy Appetizers: Choose appetizers that are single-serve and easy to hold and eat with a napkin. Four easy-to-prep foods come to mind: cheese, fresh fruit, bread and cured meats.
 
Start With an Aperitif: It seems odd to serve wine before a wine tasting, but it makes sense. Just a splash of some sparkling wine or a simple wine cocktail will relax your guests and get them into the spirit of the tasting. They also will be less inclined to hover over you while you're getting everything ready.
 
Stagger Wine Service: If you stagger pouring the wines into 15 minute intervals, people will take longer to analyze and get involved taking notes about each wine.
 
Wine Info Print-Outs: Print out the technical information of each wine (usually available on the producer's website). This info will come in very handy during the tasting when people start asking questions. And believe me, they will.
More drinking ideas
Need more inspiration? Here are 13 experiential dinner party ideas.
Wine Dinner Party Ideas