Everyone has their own taste preferences, and some of us prefer to avoid wines with high tannins. Tannins occur naturally in plants and in wine grapes. In wine, tannins are predominantly water-soluble polyphenols. Polyphenols have remarkable antioxidant properties, anti-carcinogenic properties, and antimicrobial properties. Still, though, some of us need to avoid them. Why?

Here are two valid reasons that you might want to avoid tannins:
You're a Supertaster
About 25% of the population has a heightened sensitivity to bitterness and this group is referred to as "supertasters." If you dislike bitter beers, kale, black coffee, and radicchio, you might fall into this category. Not all tannin is bitter, but the tannin found in the stems and seeds of grapes usually is.
You Have Tannin Sensitivity
Some people believe they have tannin sensitivity. While there is very little research available on this topic, one study does suggest that ingested tannin may affect energy metabolization, growth rates, and protein digestibility in lab animals. So, if your body is inefficient at digesting nutrients and you are highly sensitive to tea, coffee, red wine, cinnamon, and chocolate, this might be you.
What About Wine Headaches?
There is no evidence that suggests tannin causes wine headaches. It's possible that you are sensitive to amines in red wine, such as tyramine, which can cause inflammation. However, most folks simply don't drink enough water while tasting wine. Drink one glass of water with every glass of wine and your wine headache will go away for good!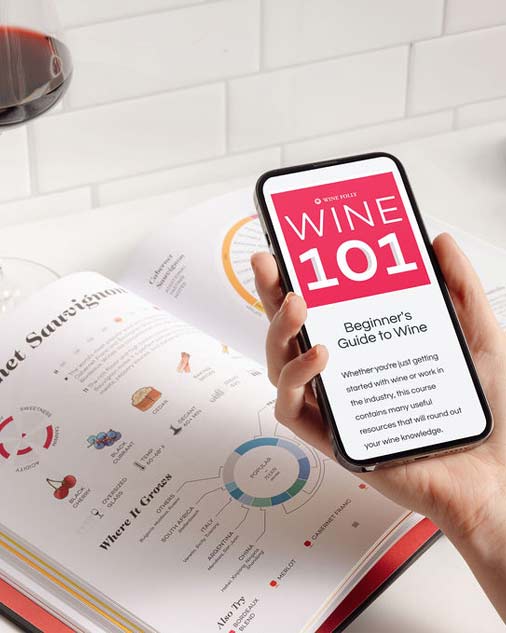 Buy the book, get a course.
Get the Wine 101 Course @ 75% OFF with the purchase of Wine Folly: Magnum Edition.
Shop Now
---
Now that we have a good overall understanding of the topic of tannins vs. health, here's a short list of wines that generally have lower tannins, along with several tips about each variety. Woot!
16 Low Tannin Red Wines To Try
BarberaThis lovely grape is primarily grown in Northern Italy and offers beautiful sour cherry, licorice, and brambly fruit tasting notes. People who are sensitive to bitterness might not like the Italian versions as much as the American and Australian ones. Read more about Barbera.BobalA fruit-forward option with low bitterness, Bobal grows in Central Spain. It's full of bombastic blueberry and raspberry notes.BonardaThis is specifically referencing Bonarda from Argentina (not Italian Bonarda), with bold, black cherry fruit, medium-low tannins (through winemaking), and a hint of bitterness. Read more about Bonarda.MalbecMalbec actually has moderate tannins, but due to it's fruit-forward nature, it doesn't taste particularly bitter or tannic. It's a good choice for those wishing to avoid bitterness. Read more about Malbec.Cabernet FrancIf you like Cabernet, this would be the least tannic of the Cabernets, but not without some bitter tannic essence! The Cabernet Franc from the United States, Italy, and Argentina has lovely red berry flavors and usually less bitterness than French Cabernet Franc.CarignanThis is a very fruity, punchy red, with dried cranberry, red raspberry, cinnamon, and subtle meaty notes. You'll find it mostly in the south of France in Languedoc-Roussillon, where it's a popular blending partner with Grenache.CiliegioloA rare red Italian grape that is actually the parent of Sangiovese, it has beautiful dried cherry-like flavors and distinct dustiness. You'll find it is mostly grown in the Liguria, Tuscany, and Umbria.CinsaultA pretty floral red, with raspberry, sour cherry, and violet notes and just a little bitterness, it's difficult to find as a single varietal wine as is often blended in Rhône blends (with Grenache, Syrah and Mourvèdre).ValpolicellaA region in Veneto that grows primarily Corvina grapes, these wines have sour cherry, cinnamon, and chocolate notes. There is a subtle carob or green almond-like bitterness to this wine, so spring for a Ripasso if you want a more fruit-forward style.FrappatoA delightful fruit-forward, light-bodied red wine from Sicily that has explosive aromas of candied cherries, dried strawberry, and clove. Usually Frappato has low bitterness.GamayA very low tannin red with tart red and blueberry fruit flavors, but also with a distinct bitter note (almost like peony or dandelion) on the finish. Read more about Gamay.Grenache/GarnachaThis is a beautiful fruit-forward raspberry fruit wine, with subtle notes of candied orange rind. Grenache can have tannins, but the more affordable versions (up to $20) usually display much less bitterness. Seek out Spanish Garnacha or Grenache-based blends from Roussillon in France.LambruscoA group of varieties from Emilia-Romagna in Italy, these make fruity, sparkling red wines. Generally speaking, Lambrusco Grasparossa has the most tannins and Lambrusco di Sorbara has the least. Read more about Lambrusco.Pinot NoirAn international favorite with red fruit flavors, it's often oaked to add a touch of vanilla.MerlotDefinitely not a low tannin red, but often made in a low tannin style (through winemaking), this wine usually displays very low bitterness.SchiavaFound in Northern Italy and Germany (as Trollinger), this wine is a fruity delight with a lot of similarities to Pinot Noir, but with more of a candied, perfumed nose (think cotton candy). Find out more about Schiava.
Tips on Finding Low Tannin Wines
Since tannin is considered a positive trait in wine, making the finished product age-worthy, you'll find that more expensive wines tend to have higher tannins. Of course, quality improves greatly with age as well, so tannins will usually be much less bitter in older wines.
Red wines that have "whole cluster fermentation" will have higher tannins because the stems are in contact with the wine. It's a common practice on lighter red wines (such as Pinot Noir and Grenache/Garnacha), to help create a more age-worthy wine.
Oak barrels are essentially straight tannin and will add a great deal of tannin to wine. Although, this type of tannin will be substantially "sweeter." Look for wines not aged in oak, aged in "used" oak, or for less aging time in oak for less overall tannin.
Generally speaking, more affordable wines tend to have lower tannin. There are several potential reasons for this. However, one of the biggest reasons is increased grape production in the vineyard reduces the polyphenol content in individual grapes.
Last Word: Drink More White and Rosé Wine
Since tannin is extracted from the skins, seeds, and stems of a grape, and these only come in contact in red wine fermentations (for the most part), the best way to completely avoid tannins in wine is to drink more rosé and white wine.