Sweet white wines make a wonderful accompaniment to many foods, particularly cuisines of Southern Asia and India. As these two cultures become more captivated by wine (there are vineyards in India, Thailand and Myanmar!), we will see an increase in popularity of sweet white wines.
So let's learn how to match this style successfully with food.

Flavor pairing is a practice of balancing the major tastes (bitter, fat, sour, salty, sweet, etc). A page from the Wine Folly book.
Pairing Sweet White Wines with Food
Sweet white wines to know
Any white wine can be produced in a sweet style (it's a winemaking technique, not a grape thing), however traditionally several varieties are made in this way and they include:
*Chenin Blanc and Torrontés are not always made in a sweet style. Pay attention to producer notes.
These wine varieties (save for Chenin) are called aromatic varieties due to a high prevalence of a certain type of aroma compound called terpenes.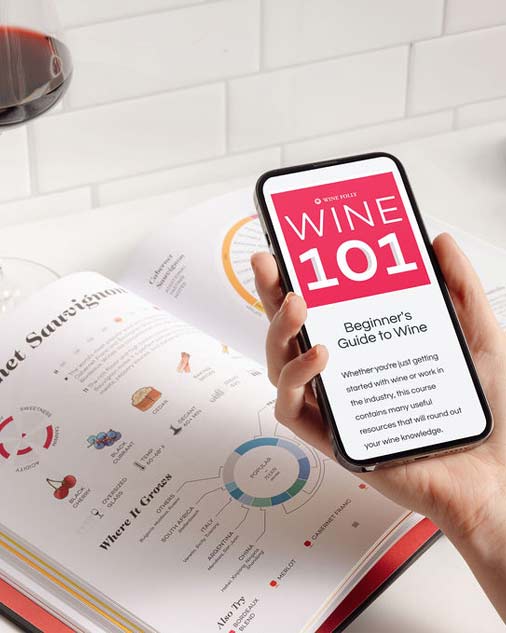 Buy the book, get a course.
Get the Wine 101 Course @ 75% OFF with the purchase of Wine Folly: Magnum Edition.
Shop Now
Terpenes give aromatic varieties beautiful sweet perfumed aromas. Just so you know, there are also several aromatic red varieties too including Schiava (aka Trollinger), Brachetto, Red Muscat and Freisa.
Pairing Theory
There is a simple test you can do to see if a food matches with a wine. Take a bite of food, chew a bit and then sip a little bit of wine. When the wine adds a positive congruent or complementary flavor then you've got a good pairing. For matching sweet white wines, you want to take note of their basic flavor components of sweetness, tartness (acidity) and medium-light intensity. Then, using these attributes you can combine them with the components of a dish.
Sweet white wine pairing tips:
Spicy Food: When served chilled, sweet white wines with low alcohol are a great match with hot and spicy food.
Salty Food: Sweet white wines combine with salty foods to produce a highly desirable sweet-salty effect.
Sour Food: Sweet white wines with high acidity (such as Riesling) can handle sour vinegar-based sauces.
Light Meats: Sweet white wines have light-to-medium intensity, so match them with light-to-medium intensity meats/tofu.
Sweet Sauces: Asian sauces with sugar, tamarind or honey match well with sweet white wines.
No Chocolate: Look for desserts with caramel, butterscotch, fruit, vanilla or coconut to match with sweet white wines.
---
Example Pairings with Sweet White Wines
Naturally, it helps to see some examples to help get you started thinking in the right direction. Here are a few awesome off-the-wall sweet white wine pairings to know:
Gewürztraminer Wine with Dim Sum
Gewürztraminer packs a little more punch than the others with a little higher level of alcohol and characteristically lower acidity. This will make it taste a little sweeter, even though most are technically less sweet than the other wines in this category.
For these reasons, poached/steamed dishes with subtle flavoring are a great route for Gewürz. You don't want to go too spicy with this guy, unless we're talking the brown spices of clove and anise.
The wine also does wonders with chives and green onions (Chinese green onion pancakes anyone?). BYO Gewürztraminer to your next Dim Sum and delight in the most amazing Sunday brunch.
---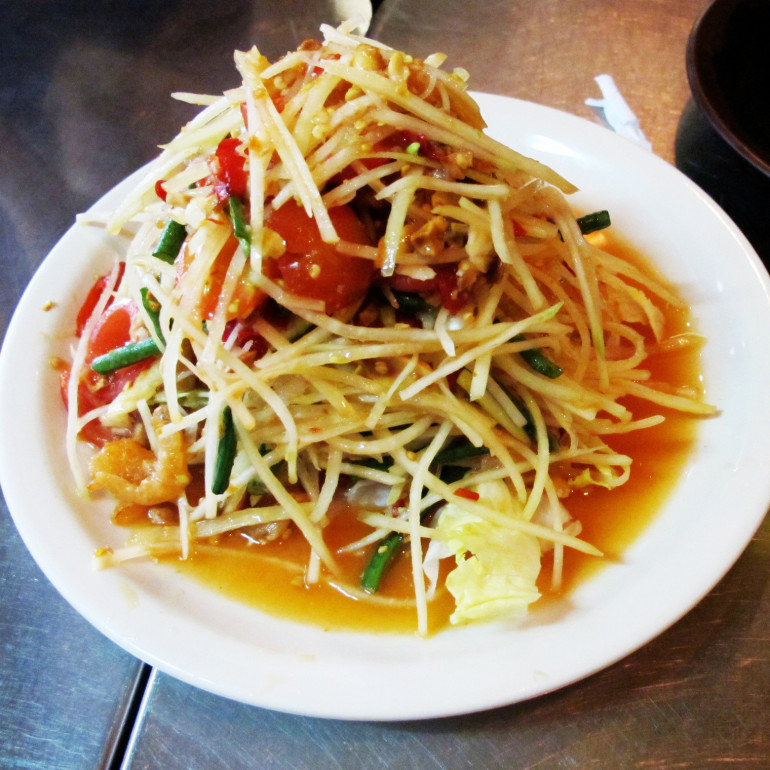 Riesling Wine with Som Tum (Green Papaya Salad) and Pad Thai
Sweet styles of Riesling may originate from Germany, but it seems they were always meant for Thai, Indian and Vietnamese food.
When you enjoy these foods in an authentic way, your mouth will start to burn and this is where Riesling's unique traits come in. The high acidity in Riesling will strip off the proteins and fats from your tongue and the sweetness will calm the fiery burn of capsicum (the spice compound found in red pepper).
Plus, if you're smart (you are if you're actually reading this), you will super chill the wine (for one hour in your freezer) before getting into your next dish of 5-star spicy Thai.
---
Moscato d'Asti Wine with Mascarpone Tart
Moscato d'Asti tips over the edge from the dinner category into dessert. This is because Moscato tastes sweeter than the others.
Average sweetness levels for a bottle of Moscato d'Asti range from about a 90–120 g/L RS–which is about as much as a coke, and since the acidity is lower than soda, the perceived sweetness of Moscato is higher.
The taste of the wine is also extremely delicate. It will disappear matched against a rich chocolate torte or whiskey bread pudding. So, match it with creamy, rich desserts with softer flavors such as caramel, vanilla, and coconut.
---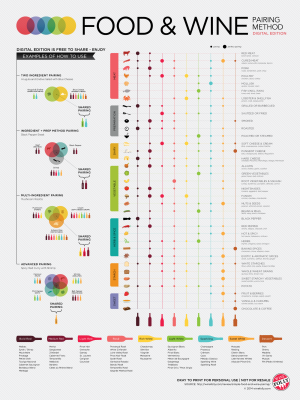 Pair Wine with Food Everyday
See the advanced food & wine pairing chart to match wines with different ingredients and preparation methods.