Time to expand your palate again, with the grape that put Germany on the map: Riesling. During the tasting challenge's 4th week, you'll learn about the careful partnership between sweetness and acidity that leads to a well-balanced wine.
What is the Tasting Challenge? The challenge is a way to improve your wine palate each week with 34 wines from 12 countries — The Wine Tasting Challenge.
Tasting Challenge: The King of German Wine, Riesling
If there's one thing Riesling is known for, it's that acid. Seriously: you could dissolve a penny in some of this amazing stuff. However, that mouth-watering pucker you get is the perfect complement to the sweetness that so many Rieslings display.
If you've tasted a German wine, the odds are it was a Riesling. After all, it makes up a quarter of all the grapes grown in the entire country.
And while the cheaper examples of Riesling tend to be sweet sugar-bombs, these grapes can produce everything from sparklers to dessert wines to elegant and dry still wines.
When it comes to Riesling, Germany's Mosel region is both highly accessible and very reputable. To make it even more interesting, we went with a bottle from Saar, a subregion that makes some of the best Riesling in the world, despite the fact that the grapes basically have to grow out of stony, slate-filled mountains.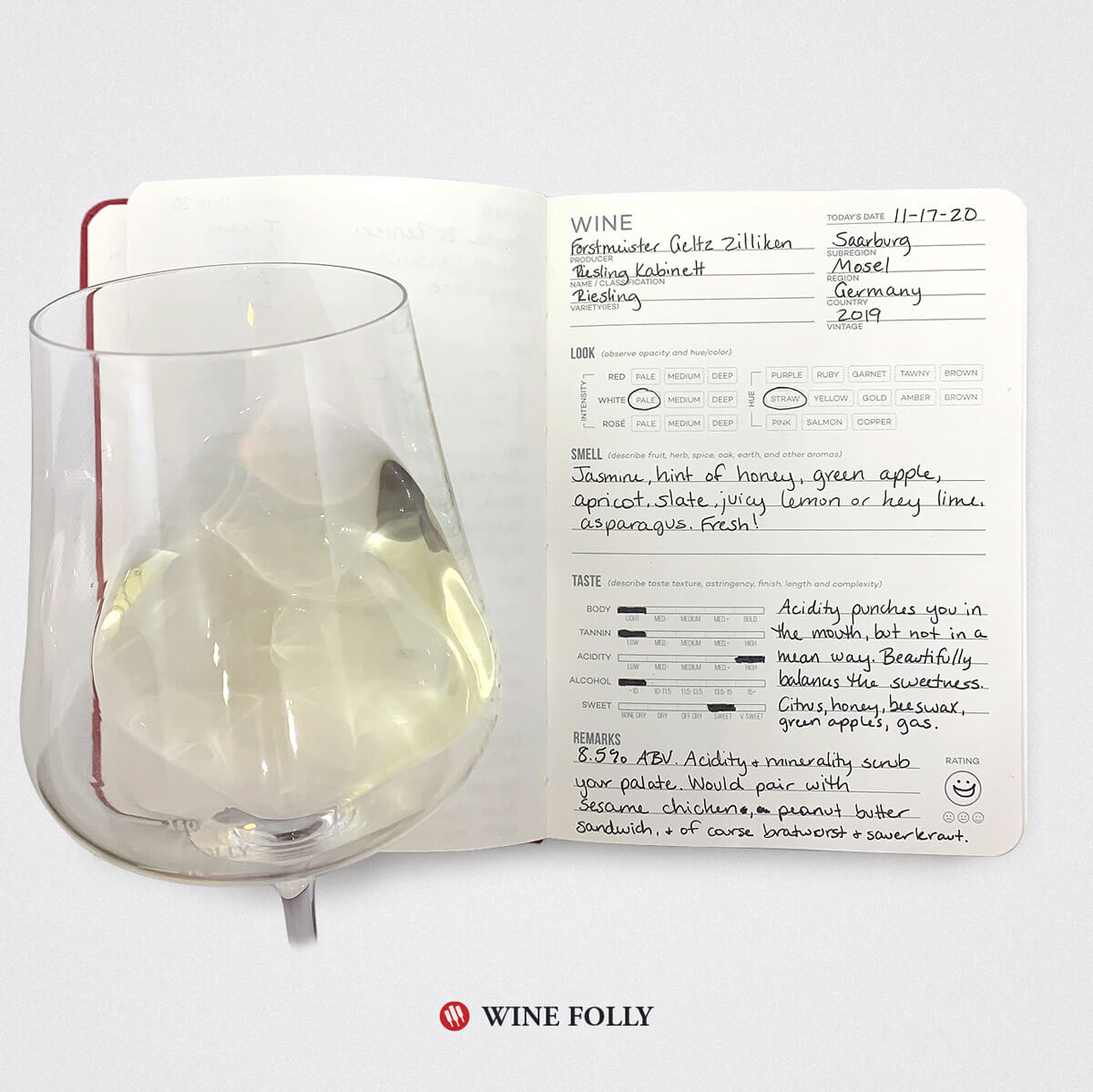 2019 Zilliken Saarburg Riesling Kabinett
Look: Light straw.
Aromas: Incredibly fresh smelling! Like a bouquet. Green apple, honey, jasmine, apricot, slate, juicy lemon, key lime, and a hint of asparagus.
On The Palate: Wow: that acidity punches you right in the mouth, but it balances the sweetness of the wine beautifully. Without that acid, this wine would taste like flat soda, and without the sweetness, that acid would be more than a little unpleasant. Some additional notes of citrus, honey, beeswax, green apples, and gasoline.
Food Pairing: What I wouldn't give to have a nice carton of sesame chicken to go with this wine. The fat and acidity of bratwurst and sauerkraut also come to mind, obviously. And honestly? A simple peanut butter sandwich would get a real upgrade with a glass of Riesling.
---
What We Learned About German Riesling
Whether you're talking about a sweet riesling or one that's bone dry, the key element that ties them all together is that acidity. And this is why Riesling does so well in Germany, where the climate is naturally cooler and therefore better at encouraging high acid grapes to grow.
Riesling is definitely the perfect wine for dyed-in-the-wool acid fanatics.
Helpful Hint: Having trouble determining whether or not your wine is sweet? Take a look at the AbV level. Remember, during the winemaking process, yeast eat sugar and poop out alcohol. So if there's a lower level of alcohol, the odds are there's plenty of sugar left that's sweetening your wine. The higher percentage of alcohol, the dryer the wine will be!
This bottle is a Kabinett, which, believe it or not, is on the lowest rung of the sweetness ladder for German Riesling. It makes you want to dig deeper into this Riesling rabbit hole and see just how sweet and dry some of these other wines are!
Like the previous wines we've tasted during this challenge, Germany has a wine classification system in place for quality levels of Riesling.
Unlike the others, what factors into the classification is sweetness. It's a bit complex, but totally worth knowing. Check out this our deep dive into German wine classification and its many, many syllables.
---
Last Impressions
When you hear about wines that are "well balanced," this is the sort of wine that comes to mind. Between the light body, the sweetness, and the acidity, it all comes together beautifully. If one of these factors wasn't pulling its weight, the wine wouldn't be half as good as it is.
---
What Riesling did you try? Sweet or dry? Did you try a Mosel Riesling, or something a little different? Tell us in the comments below!