Often when thinking of a specific wine region, certain grape varieties come to mind. Napa Valley? Cabernet Sauvignon. Oregon? Pinot Noir, of course. These wine region stereotypes aren't bad. In fact, they help wine regions grow. But for a small segment of winemakers in these places, the norm is not enough. Uncovering lesser known wines widely grown in certain areas tells a very different story about what's happening in that region.
Naturally, as the popularity of these grape varieties is less, finding out about the wines they produce is a bit more challenging. They're rarely rated, and many of them do not reveal the locality where they are made. Wine Geek or not, in order to grasp the greatness of these wine varieties, you need to be in the know, or talk to someone who is.
This is exactly what we did when we asked Carrie Wynkoop to tell us about what's happening in Oregon that's anything but Pinot. Her expertise comes from running an Oregon-only wine club (Cellar 503) since 2014. Here's what she had to say:
---
"Ever heard of Arneis or Melon de Bourgogne or Baco Noir?"
These are intriguing wines being made in small batches in Oregon by wonderfully obsessed winemakers dedicated to bringing unusual varietal wines to the table. Here are six varieties that show a very different side of Oregon wine.
Arneis
Arneis is a white variety that is known for producing light-bodied white wines with clean, crisp notes of pear, almonds, and citrus. This wine is scarcely known outside of the Piedmont region of Northern Italy. Lucky for you, Bill and Cathy Redman of Redman Vineyards are not afraid of the rascally nature of Arneis.
The folks at Redman make a little Arneis themselves but they sell most of their fruit to two of our favorite producers. Anne Hubatch at Helioterra Wines makes her Arneis as a lively wine with aromas of jasmine and orange blossoms and a juicy palate that offers lemon custard pie, kiwi, and papaya.
Patrick Taylor at Cana's Feast makes his in a decidedly unusual style by barrel fermenting it. You'll get aromas and flavors of toasted almonds, honey, ripe pear, and nutmeg. You'll also find a wonderful creamy and soft texture resulting from the barrel aging and the aging on the lees.
Melon de Bourgogne
Melon de Bourgogne is grown primarily in the Loire Valley region of France and is the primary grape in the French regional wine Muscadet. It's very rare on this side of the Atlantic – where those in the know just call it "Melon" – and grows in Oregon, Bainbridge Island, WA, and in Ontario, BC. In Oregon, it has a somewhat glum history. In the 1980s, quite a bit of Melon was planted here; but all mislabeled as Pinot Blanc. Once this was discovered, much of the Melon vineyards were torn out and replanted with actual Pinot Blanc. What little is left has quite a cult following here in Oregon, perhaps because it's one of the best wines to pair with seafood.
Chris Berg at Roots Wine Company makes an outstanding Melon, delivering soft citrus, peaches, and nectarines – and its creaminess and minerality give it the strength to stand up to grilled shrimp, fresh oysters, or carpaccio.
And not too far away, John Grochau of Grochau Cellars makes his Melon with an initial aroma of citrus and crushed stone, followed by a crisp and bright taste of green apple and herbs. As a former sommelier at Portland's famed Higgins Restaurant, John Grochau always wants his wines to stand up nicely to food – which means bright acid to create structure and open your palate.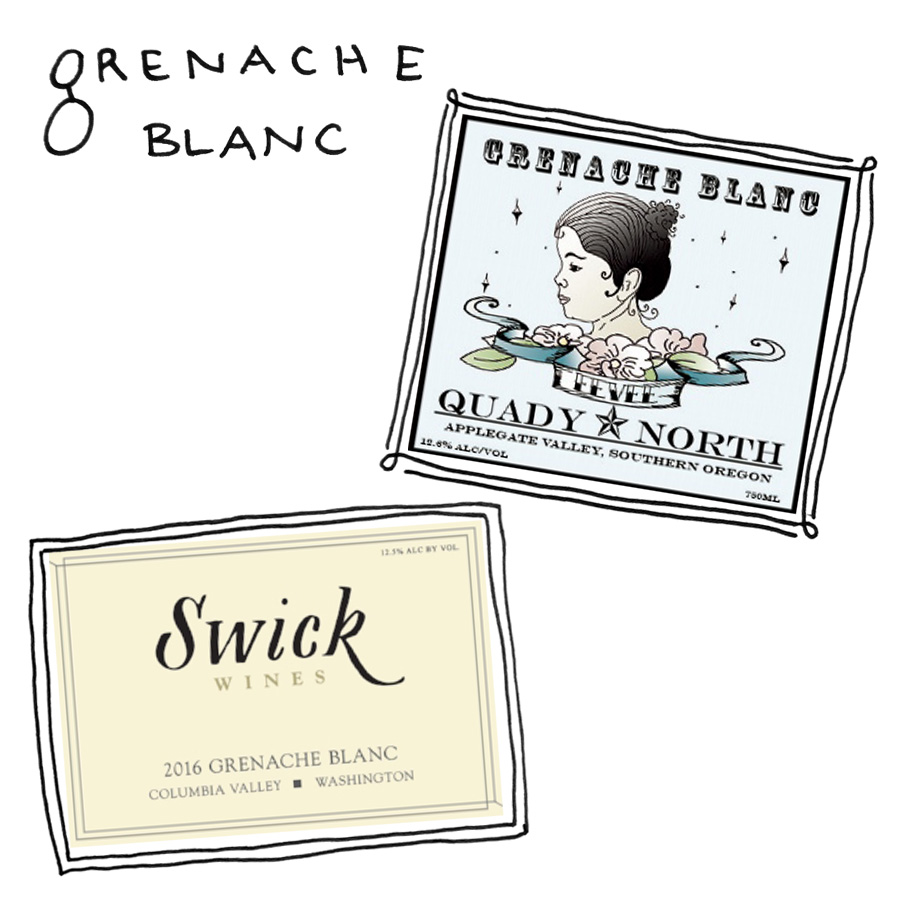 Grenache Blanc
Grenache Blanc is a white wine grape found in the Rhône region of France and in Northern Spain. Rarely found alone, it's traditionally blended with Roussanne, Marsanne, and Viognier. Grenache Blanc is a full-bodied white wine that can have intense flavors, higher alcohol content, and a plush style.
But Herb Quady of Quady North in Southern Oregon is always one to buck tradition. His Grenache Blanc is almost as clear as water. This crisp, light wine leads with aromas of peach and apple before proceeding to flavors of pear and lychee. Pair it with soft white cheeses, smoked salmon, and light fare –it might be the perfect thing for brunch on a lazy Sunday morning.
Joe Swick of Swick Wines also has a fabulous Grenache Blanc that is a little more on the traditional side. There are aromas of peach, apple, wet stone, as well as an underlying spiciness. It has mouth-watering acidity and a lovely texture that make this a wonderful food wine.
Baco Noir
In the late 1800s, an infestation of the phylloxera bug wiped out Europe's vineyards. Hard-pressed to restore wine production, vineyard managers cross-bred vines with native American vine species. One botanist, François Baco, managed to produce a hit – Baco Noir – a crossbreed of Folle Blanche (a white grape used in Cognac) and an unknown American vine.
Grown in cold-weather climates throughout the Midwest, New York, and Canada, Baco Noir was first brought to Oregon by Frenchman-turned-Oregonian Phillipe Girardet.
The Girardet Baco Noir is a dense, multi-layered red wine with a deep garnet color and flavors of cassis, blueberry, and plum that mingle with silky elements of spice and mocha. A long, lingering finish with smooth tannins and bright acidity keeps the taste light on the palate.
Tannat
Tannat is a rare grape that comes from southwestern France, in the foothills of the Pyrenees. It's also found in wines from Uruguay, transplanted by Basque farmers in the 1870s. Even today, it's very rare in the United States – accounting for less than 0.1% of all wine produced. Tannat is known for its exceptionally high antioxidants and subsequently, high tannins – the Seattle Times recently called it "the tannic monster" (as a compliment!). For this reason, Tannat is often blended with Cabernet Sauvignon to make the tannins more approachable.
Seven of Hearts winery makes a glorious, full-bodied and supple Tannat with lots of intense, ripe, dark fruit and notes of chocolate from the Rattlesnake Road vineyard on the Oregon side of the Columbia Valley.
Our friends in Southern Oregon, Troon Vineyard, also make a very popular Tannat. While still tannic, the granite soils naturally help round out Tannat's famously robust tannins producing a wine with a rounder tannic structure than Tannat produced in France. This is a wine that develops finesse and deep warmth of aromatics and flavors.

Cabernet Franc
Like the viola in a string quartet alongside a violin, a cello, and a bass, the red Cabernet Franc is rarely heard from alone. It is traditionally grown in the Bordeaux region in France and used as a blending grape to soften Cabernet Sauvignon and provide complexity to Merlot. It's a treat to taste unadulterated Cabernet Franc and even more rare to find it here in Oregon.
Corey Schuster from Jackalope Wine Cellars has made a name for himself with his Cabernet Franc. The grapes are from the renowned Quady North vineyard in Southern Oregon. The area's warm, dry weather creates very ripe fruit which imparts a rich, fruity character in the wine. This Jackalope displays the vegetal, green bell pepper and herbaceous flavors common in Cab Franc, while also shining with red fruits, spices, and a little pepper.
Leah Jorgensen Cellars has also come to be known for her Cabernet Franc – both the traditional red wine and a fabulously unusual white wine as well. As far as anyone knows, Leah is the first person to ever make a white wine from Cabernet Franc! It has delicate aromas of apricots, golden raspberries, and Meyer lemon, while the palate reveals herbal notes of tarragon, paired with hazelnut and holiday baking spices, rounding out this lovely and complex white wine from red grapes.
---
Drink Outside The Box
There is nothing quite like a well-crafted Pinot Noir that reflects the special terroir we have here in Oregon. Earthy, spicy, light bodied, and full of character, these are the reasons why this grape has captured the hearts and minds of Oregon winemakers and wine lovers alike. That said, alongside these well-known Pinot Noir wines, there are a plethora of unusual and extraordinary wines being crafted all over Oregon worth tasting and exploring. Hopefully, my passion for Oregon's wines has inspired you to drink outside the box.