Step aside Chardonnay and make way for the oddly unique, it-girl Sauvignon Blanc. You'll either love it or you'll hate it; there is no in between with this wine. Sauvignon Blanc is polarizing because it isn't like other fruity whites, it's savory. Flavors range somewhere in between green bell pepper and grass to kiwi and passion fruit. Sauvignon Blanc is like drinking the smell of a freshly mowed lawn.
A few wine regions have taken on this grape as their pet project and they're making the best wines in the world. Here is an introduction to these regions including where to look, and what to expect from a great bottle of Sauvignon Blanc.
Where To Find The Best Sauvignon Blanc
New Zealand
Unmistakable cool-climate Sauvignon Blanc from New Zealand

Sauvignon Blanc as far as the eye can see in Marlborough, NZ. by Luke Milliron
It's the unmistakable aromas of passion fruit (and sometimes verging on jalapeño) that make Sauvignon Blanc from New Zealand so distinct. In fact, it's the country's most planted grape variety, which says a lot about how much New Zealanders appreciate white wine. The region you'll see talked about the most is Marlborough, because it's the largest.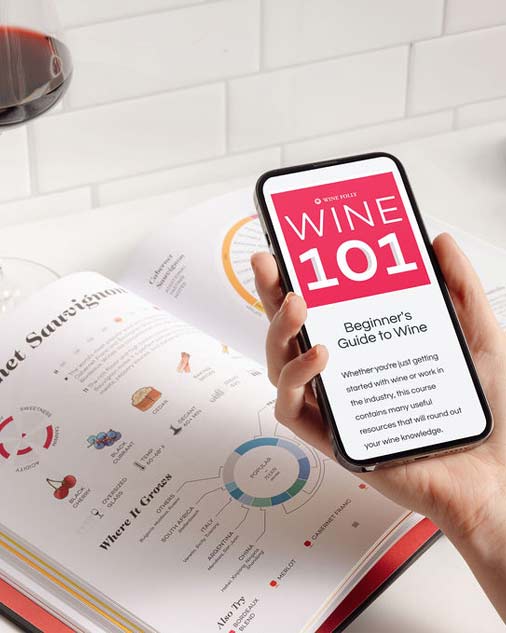 Buy the book, get a course.
Get the Wine 101 Course @ 75% OFF with the purchase of Wine Folly: Magnum Edition.
Shop Now
Regions of interest for Sauvignon Blanc: Marlborough, Nelson, Hawke's Bay
New Zealand is the 2nd largest producer of Sauvignon Blanc wines (after France)
77% of wines are made in Marlborough
---
Loire Valley, France
The original cool-climate Sauvignon Blanc region of France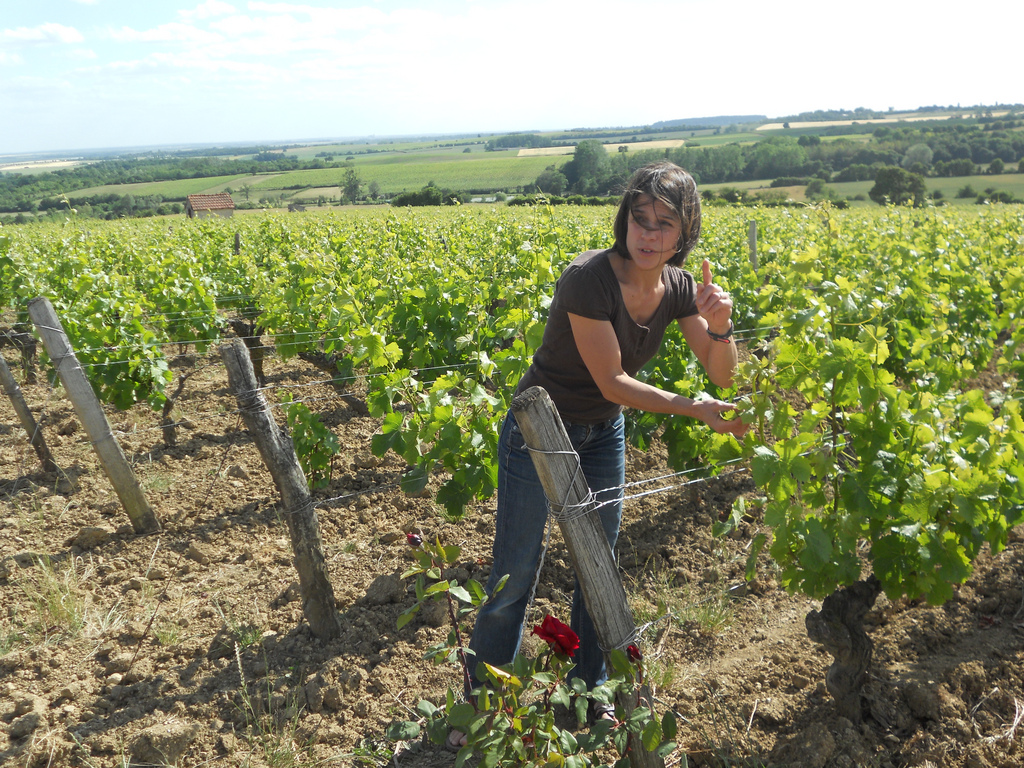 Roses and Sauvignon Blanc at Domaine Jean Teiller in Menetou-Salon (next to Sancerre) by Jameson Fink
French wines drop the varietal name (Sauvignon Blanc) and adopt the name of the village on the label. So when you buy a Sancerre (san-sare), a Pouilly-Fumé (poo-yee fume-aye), a Cheverny, or a Touraine, you are essentially drinking Sauvignon Blanc from the Loire. These Sauvignon Blanc wines are considered some of the best in the world and are known for their more herbaceous, lime-driven and grassy style.
Regions of interest for Sauvignon Blanc: Sancerre, Pouilly Fumé, Menetou-Salon, Quincy, Reuilly, Saint-Bris (in neighboring Burgundy), Cheverny, Touraine
Sancerre is the most famous Sauvignon Blanc appellation in the Loire Valley and produces minerally, citrus-driven wines from stony limestone-based soils (Kimmeridgian).
The neighboring region of Burgundy has one rare Sauvignon Blanc-only appellation called Saint-Bris that's worth investigating.
---
Chile
Cool-climate coastal regions produce the best value Sauvignon Blanc

This is where that tasty-affordable Chilean Sauvignon Blanc actually comes from (in Casablanca Valley) by CucombreLibre
If you like Sauvignon Blanc, Chile is a must-taste region. It's the third-most planted (and least talked about) super region for Sauvignon Blanc in the world. Wines from Chile gravitate towards the herbaceous end of the spectrum, with notes of tomato leaf, peas, grass and an almost saline-like quality. You'll find most of the quality vineyards are located in the Costa (Coastal) regions of Chile including Casablanca and San Antonio Valley.
Regions of interest for Sauvignon Blanc: Casablanca Valley, San Antonio Valley, Limari Valley, Colchagua Valley, Maule Valley
Chile offers some of the best values for Sauvignon Blanc wines
---
Alto-Adige & Friuli-Venezia Giulia, Italy
Bold and herbaceous wines from cool-climate Northern Italy

It really is this beautiful in Trentino-Alto Adige by Schimonski
The two regions of Trentino-Alto Adige and Friuli-Venezia Giulia in Northern Italy consistently make great wines with Sauvignon Blanc. One awesome thing about Italian Sauvignon Blanc is it has the richness of body found in New Zealand wines but the herbaceous-ness of French wines. You'll find aromas of passion fruit and peach mesh with herbal notes of sage and tomato leaf.
In Friuli, Sauvignon Blanc is often blended with a variety with more floral characteristics called Friulano (aka Sauvignon Vert.- oddly, this grape is not related)
Regions of interest for Sauvignon Blanc: Alto-Adige, Trentino, Collio Groiziano, Friuli Isonzo, Colli Orientali del Friuli
---
South Africa
Bold yet mineral-driven Sauvignon Blanc from South Africa's warm climate

Stellenbosch will not disappoint you. by Tim Snell
Usually found tucked away on the bottom shelf, the Sauvignon Blanc from South Africa deserves much more attention than it gets–especially for the price. The western cape region is found on 65 million year old soils and the Sauvignon Blanc gain this gravelly minerality that is unmistakable to those who've had it. Because of the plentiful sun, wines from South Africa deliver a combination of stone fruit combined with rustic herbaceous minerality.
Regions of interest for Sauvignon Blanc: Western Cape including Stellenbosch
North Coast of California
Pure, fruit-driven Sauvignon Blanc from warm climates in California

Mustard seed is planted in between the vines in Napa and Sonoma. by Robbin Gheesling
We know Napa and Sonoma for Cabernet and Chardonnay, but the North Coast also produces outstanding Sauvignon Blanc. Most of these wines experience some time in oak which increases the unctuous, oily rich quality on the palate. Flavors are more pure in fruit with nectarine, white peach and Meyer lemon zest, without the herbal-grassy notes common in all the other regions. Because of the California weather, most of these wines are best enjoyed in their youth although a few notable exceptions will age well for 5 or more years.
Regions of interest for Sauvignon Blanc: Napa, Sonoma, Mendocino, Clear Lake
Other Top Sauvignon Blanc to Seek Out!
From age-worthy wines of Bordeaux, to up-and-comers: Washington and Australia
Many more regions produce Sauvignon Blanc than are mentioned above. Hopefully, by experiencing a few of these classic Sauvignon Blanc examples, you'll be able to start branching out and finding others with great potential (Moldova, Romania and Spain, to name a few!).
While Bordeaux produces 95% red wine, the white wine of Bordeaux (typically a blend of Sauvignon Blanc, Sémillon and Muscadelle) is well-worth exploring. The two most famous white Bordeaux regions are Pessac-Léognan (often an oaked style) and Entre-Deux-Mers (unoaked and lean).
On the same parallel to Bordeaux, Washington State has also tried its hand (and succeeded) with Sauvignon Blanc. From Washington, the best producers mimic the richer oak-aged style of Pessac-Léognan in Bordeaux by blending in some Sémillon and using a touch of oak to produce a rich, almost Chardonnay-like wine.
Australia has a few cooler climate growing areas that have been quietly making Sauvignon Blanc. In South Australia, Adelaide Hills offers the echelon of Sauvignon Blanc on the mainland and the secluded vineyards in Tasmania have shown outstanding potential. We're excited to drink more "Sav-Blank" (as they say) from Australia.