Explore the wine color chart and understand what aspects of wine affect its color.
Wine Color Chart
---
What Different Wine Colors Mean
Ever wonder if a Chardonnay you're about to buy is going to be rich or lean? Believe it or not, the answer is right in front of your eyes. The clues lie in a wine's color. Many "buttery" Chardonnays are more extracted, which means they're usually a rich gold color.
A wine's color can also help you if you're interested in collecting wine. You can use wine color cues to determine its potential to cellar. For instance, a syrah that tinges blue on the rim has lower acidity. Acidity is one of the primary traits of wines that age well.
Expert blind tasters take serious note of the color of wine. Amongst these experts are advanced sommeliers who must be able to accurately blind taste 6 wines to earn their credentials.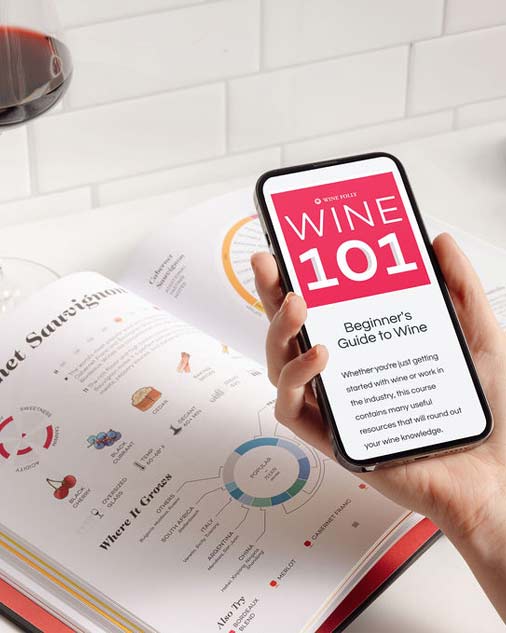 Buy the book, get a course.
Get the Wine 101 Course @ 75% OFF with the purchase of Wine Folly: Magnum Edition.
Shop Now
Whether or not you're aiming for a life in the restaurant industry, you can still use wine colors to better define favorites.
Red Wine Colors
Light-Bodied Red Wine
Light-bodied red wines tend to have a lighter and more translucent color. (you'll be able to see through them.) Hues range from from a bright purple to garnet. e.g. Pinot Noir, St. Laurent, Zweigelt, and Gamay
Medium-Bodied Red Wine
Medium-bodied red wines tend to medium-rich colors. This range of wines is diverse and includes Garnacha, Sangiovese, and Zinfandel. Discover more types of wine.
Full-Bodied Red Wine
Full-bodied red wines are often deeply colored and this indicates a possible presence of higher tannin. These wines are highly extracted and opaque. e.g. Syrah, Malbec, Mourvèdre, and Cabernet Sauvignon.
Old Red Wine
When a red wine is far past its prime it will be a dull brown color. Many wines will last 20 years or more without showing much color change. Merlot and Nebbiolo stain orange earlier than other types of wine.
Rosé Wine
Rosé wines are made with regular red grapes such as Mourvedre, but the grape skins aren't exposed to the juice for as long. The result is a much more pale red wine. Depending on the variety used, a rosé can range from pale salmon (Pinot Noir) to magenta (Garnacha).
Seeing Blue?
A bluish tint (towards the rim) indicates lower acidity (e.g. a higher pH).
---
White Wine Colors
Light-Bodied White Wine
A light-bodied white wine can range from clear to a pale yellow-green hue. Most of this style of wine is meant to be enjoyed young and ice-cold. e.g. Pinot Grigio, Albarino, Vinho Verde, Muscadet
Medium-Bodied White Wine
The majority of white wines fall into the medium-bodied category with a pale yellow-gold hue. e.g. Sauvignon Blanc, Unoaked Chardonnay, and Chenin Blanc.
Full-Bodied White Wine
A color of white wine that can be produced either by a free-run red wine such as White Pinot Noir or a highly extracted white wine. Often these wines have less acidity and use oak aging to add creaminess and vanilla aromas. e.g. Chardonnay, Viognier, and Marssanne.
Old White Wine
Very few white wines are made to last for more than a couple of years. Old white wines lose their sheen and become increasingly more dull over time. Because of light-sensitivity, white wines will become more orange over time.
---
Color of Wine Poster
Color of Wine is available as an 18×24 inch lithographic print. Printed on Forest Stewardship Council certified paper in Seattle, WA, USA and color corrected to sommelier standards. Poster ships internationally from Wine Folly.