There's a wine that truly represents the complex, collector-worthy reds coming out of Greece – Xinomavro.
Tasting Xinomavro packs a real punch – one of the reasons it's often compared to the far more expensive Barolo and Nebbiolo in general. But what makes it unique?
During this week's tasting challenge, we're going to find out what Xinomavro has to offer beyond just being a value version of one of Italy's most famous appellations.
What is the Tasting Challenge? The challenge is a way to improve your wine palate each week with 34 wines from 12 countries — The Wine Tasting Challenge.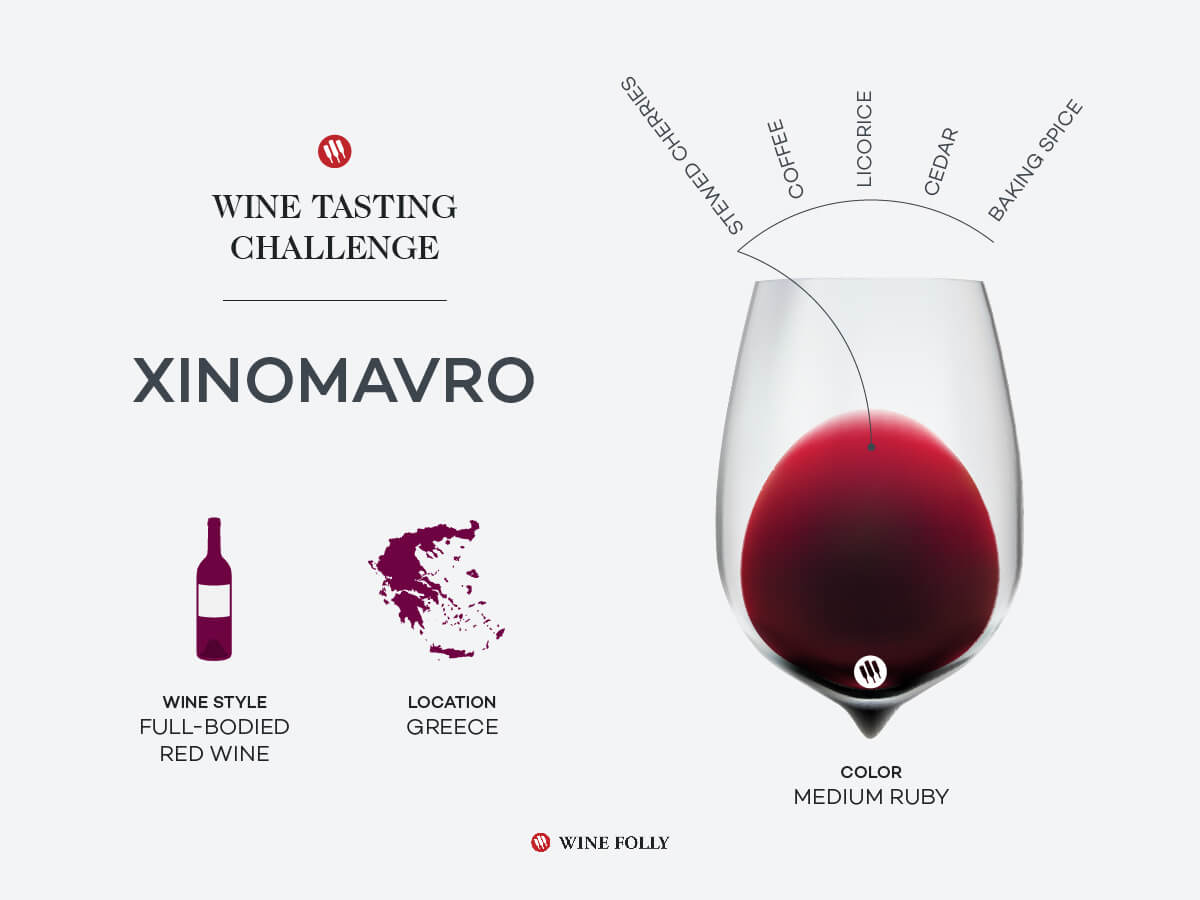 If you're looking for Xinomavro, your best bet is to start in Naoussa, one of Greece's most beloved wine regions, and where this wine absolutely thrives.
With snowy winters and dry summers, Xinomavro grapes have to work extra hard to grow. Fortunately, vine stress is exactly the sort of thing that makes for great fruit.
Combine that with the fact that Xinomavro is a very productive grape vine, and you've got all the right ingredients for a complex and memorable wine.
In order to get the most out of our first Xinomavro experience, we went with a wine from the Naoussa region of Greece.
While Naoussa is basically shorthand for "great Xinomavro," it's important to note that the region is geographically varied enough that individual wineries and crus produce wines that are unique to their terroir. So it'll be a lot of fun to see what effect this one produces.
Plus, this wine is a 2013 vintage! It's been waiting 8 years, which is exciting, considering this wine's reputation for aging well.
---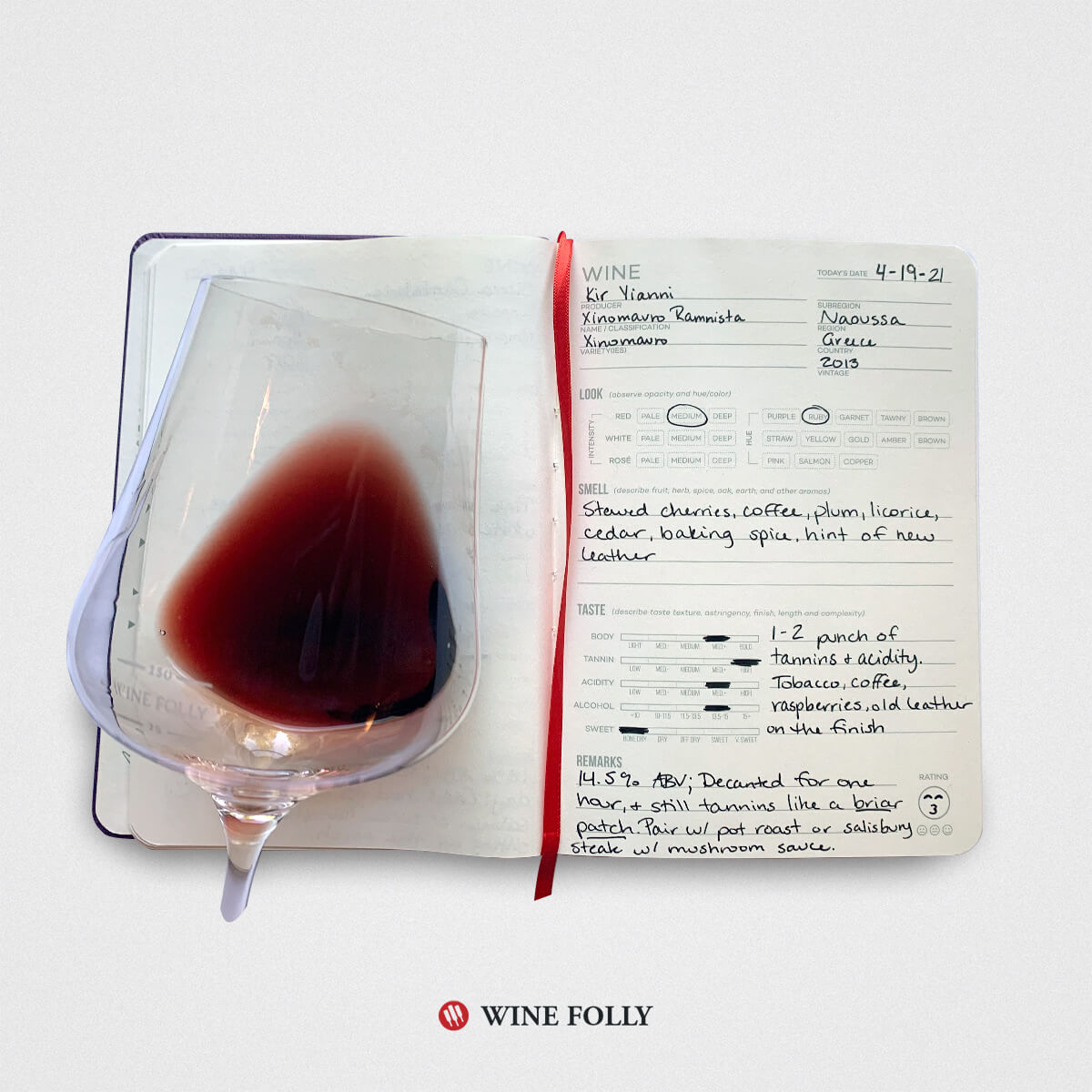 2013 Kir Yianni Ramnista Xinomavro
Look: Medium ruby.
Aromas: Stewed cherries, coffee, plum, licorice, cedar, baking spice, and a hint of new leather.
On The Palate: Wow! A huge one-two punch of tannins and acidity. Tobacco, coffee, raspberries, and some old leather on the finish.
Food Pairing: It's big and stewed, so something about pairing it with pot roast just makes sense. Possibly Salisbury Steak with mushroom sauce, and (of course) a lamb gyro.
---
What We Learned About Greek Xinomavro
Xinomavro literally translates to "acid black" and you only need a single glass of the stuff to find out where that name comes from.
Xinomavro is one of those wines that boasts both high acidity and heavy tannins. It does not mess around.
In fact, even after 8 years of aging and an hour of decanting, it still could have used some time to unwind. And with tannins and acidity being two of the most important factors in aging a wine, it's no wonder that Xinomavro is known for its ability to age.
These factors are the reason that Xinomavro is often compared to Nebbiolo, or more specifically, Barolo.
And while Xinomavro also displays the fruit and floral characteristics that Barolo is known for, our experience showed that it was a bit spicier and dustier in its flavors: like Rioja and Barolo had a baby.
This unique quality is what puts Naoussa on the wine map: in fact, Xinomavro is largely found in any place other than Greece!
Its versatility is intriguing as well, this grape is being used to make rosé in both still and sparkling style. We definitely need to see what those are all about.
---
Last Impressions
Too frequently, when many of us think of Greek wine, we're thinking about lighter whites with some salinity – the sort of bottles that are ideal for sitting outside a cafe in Santorini with a plateful of clams.
And there's absolutely nothing wrong with that.
But Xinomavro is the sort of powerhouse of a wine that reminds you that the potential for complexity and boldness is absolutely a part of the Greek winemaking tradition.
What Xinomavro did you go with? How did it compare to other bold reds you've had? Let us know in the comments!