In the past, wine courses have always taken place in a classroom setting. Or, in the case of Court of Masters intro, in a large hotel auditorium. That is not necessarily a bad thing. These are amazing wine course experiences. But they're expensive and hard to fit into your schedule.
So, for those of us who are getting into wine and aren't ready to foot the $600+ bill on a traditional wine course, there are some great alternatives. We here at Wine Folly are happy to offer you one of them!
The Wine Styles Tasting Course is designed to be taken in the comfort of your own home. What makes this course unique is that instead of just watching videos, you taste six regional wines while exploring fundamental concepts. (Plus, the price-point is substantially cheaper than the traditional model).
What the Wine Course Covers
When it comes to wine, there are some fundamental concepts that everyone (who drinks wine) deserves to know. The easiest way to grasp these concepts is through wine tasting in a structured way.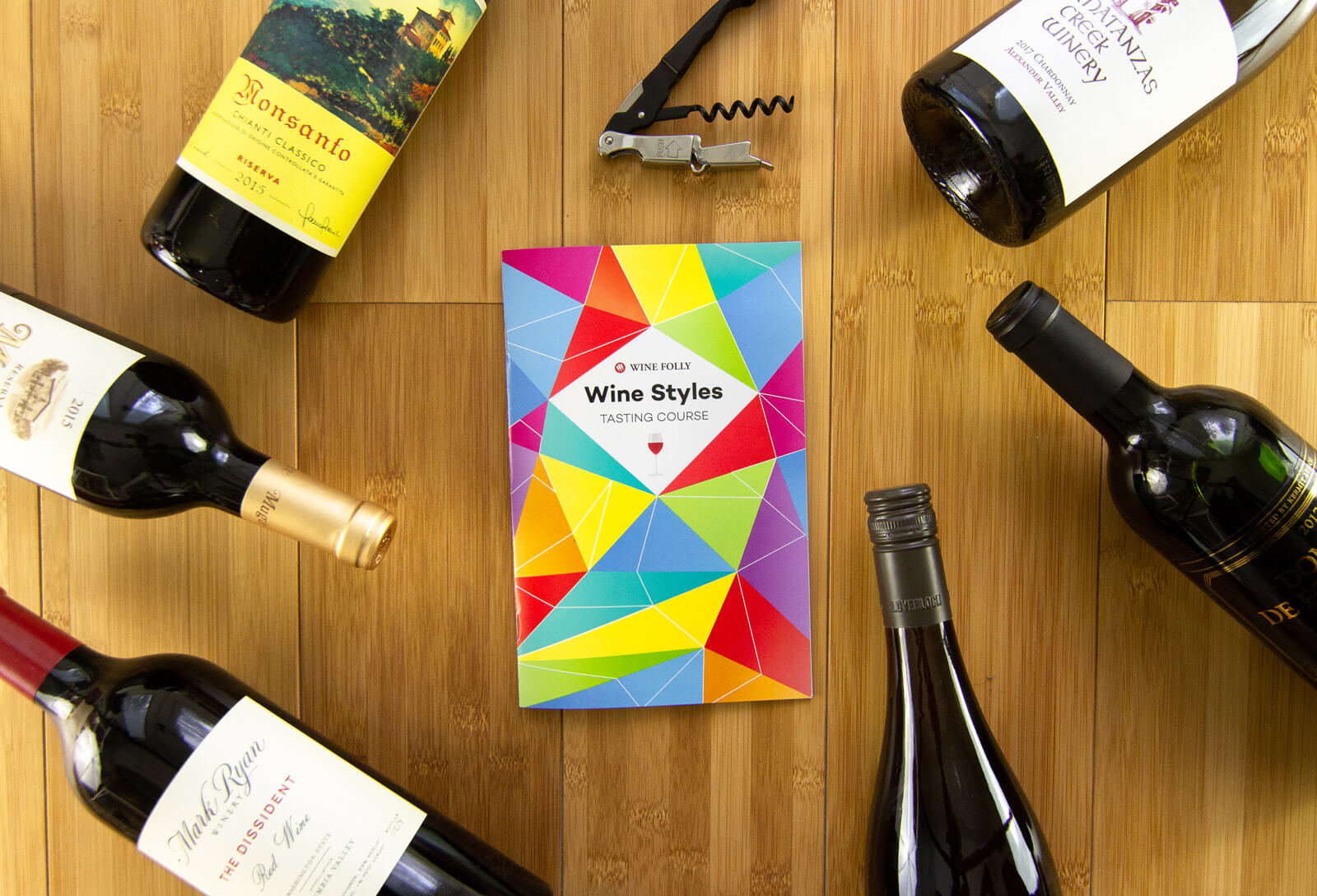 To really know wine you must understand your own sense of taste.

The first foundation is learning how to taste wine with a layer of awareness. We call it the 4-Step Tasting Method, but essentially, it's a simple process of observation. Once you know it, you will better know what you like (and don't like) about wine.

Buy the book, get a course.

Get the Wine 101 Course ($50 value) FREE with the purchase of Wine Folly: Magnum Edition.

Shop Now

Wine tastes better when you spend more time smelling it.

Most flavors in wine are from the aromas. Thus, taking time to smell wine is an important step. Once you learn how to smell wine properly, you'll discover it applies to everything you consume! This course gives you time to tune your palate.

There are thousands of grape varieties but only about nine primary styles.

Even the most esoteric wine variety (Schioppettino anyone?) can still be organized into just nine primary styles of wine (with a few rare exceptions). When you taste all nine styles, your perspective broadens to the diversity of what wine has to offer. The wine course includes four of the nine styles of wine.

Wine = grapes + winemaking.

The winemaker's touch has a huge effect on how wine tastes. There are a couple of tools on a winemaker's tool belt (including harvest timing, oaking, and fermentation management) that are critical to a wine's flavor profile. Once you know these secrets, you can read between the lines to find what you like. In the course, we compare six unique winemaking strategies.

The climate is a clue to find wines you like.

Wine starts with grapes and grapes are an agricultural product. Grapes that grow in warmer climates tend to produce bolder and fruitier wines. Grapes that grow in cooler climates tend to produce lighter-bodied and more earthy wines. In this tasting course, we'll explore those differences in six regions around the world.
Wine is complex, but it isn't hard to learn.
The topic of wine goes as deep as you're willing to dive. It's one of the reasons why there are exclusive titles like "Master Sommelier" and "Master of Wine." That being said, there's a lot you can learn on your own before diving down one of these in-depth paths.
In fact, you can put your knowledge immediately into action, exploring new wines more confidently. Additionally, you won't feel the same pull towards pretty labels because you'll know what information to look for.
So, if you're one of those individuals who has always wanted to know more about wine, there has never been a better time to dive in!
Salut!