The hottest food trends show our taste preferences are rapidly evolving. It's time to pair wine more intelligently with newly inspired tastes.
It's time to go beyond "white wine with white meat and red wine with red meat."
6 Trends in Food Call For Off-The-Wall Wine Pairings
Fortunately, new trends in cuisine give you the opportunity to try different wines that you may not normally select. For example, dishes like Pad Thai and Vietnamese shrimp fresh rolls match well with an off-dry German Riesling. This wine makes the dish really pop.
Upscale Comfort Food
Cabernet Franc & Carménère: Both of these wines have a distinct bell pepper or green peppercorn flavor that is caused by an aroma compound group called pyrazines. These herbaceous flavors will match surprisingly well with the common use of cream and bitter greens in Southern cuisine. Despite their 'green notes' when matched with classic Southern dishes such as creamed spinach, corn grits and collard greens, Cabernet Franc and Carménère taste incredibly fruity. These wines are lighter and brighter (ie., more acidic) than Cabernet Sauvignon and will lighten up the richness of classic Southern food.
---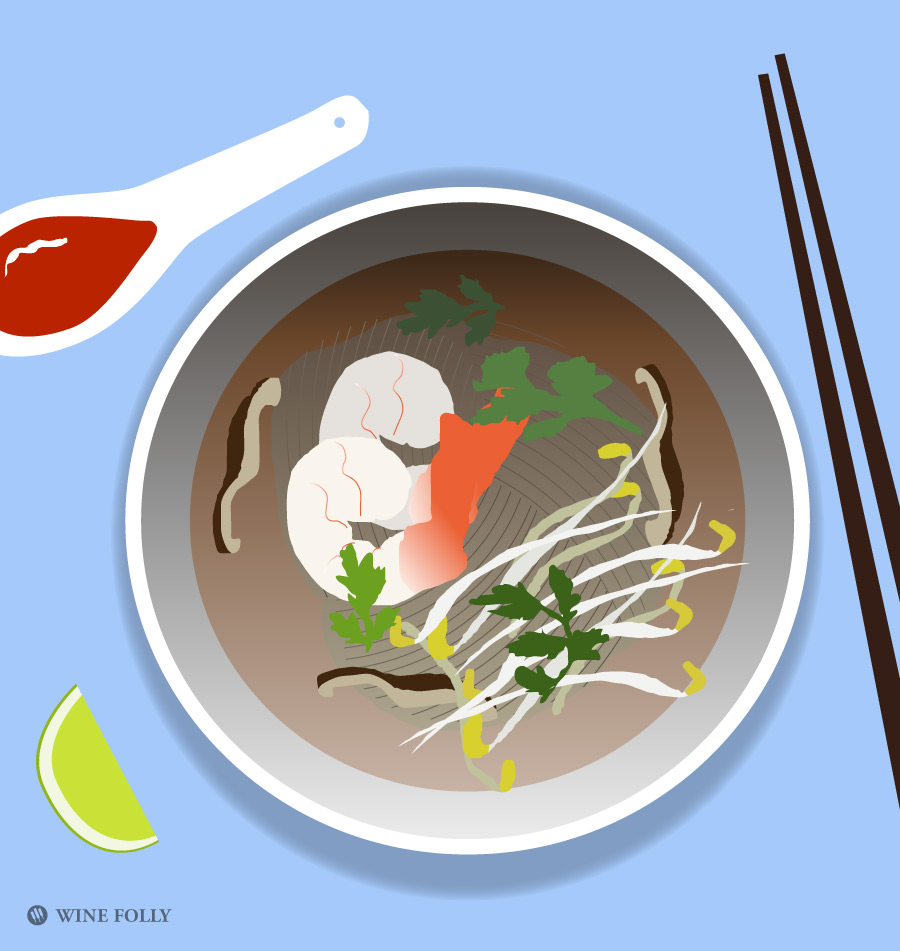 Vietnamese Cuisine
Add spice by pairing sparkling rosé with Vietnamese pho.
Crémant d'Alsace or Another Sparkling Rosé: The use of exotic spices like star anise and richly sweet hoisin sauce make a sparkling Rosé a great choice for Vietnamese fare. The ginger-like kick of sparkling wine adds an additional flavor component to Southeast Asian foods and you'll find Rosé wines tend to pair better with a wider variety of meats (or tofu). A Rosé Crémant d'Alsace from northeastern France is a great choice in the realm of bubbly Rosé due to its subtle flavors of orange rind; it will make your shrimp fresh rolls taste like heaven.
---
Midweek Vegetarian Dining
Dry Rosé: With its nuanced flavors of strawberry, honeydew melon and celery, this is a great counterpoint to the subtle flavors in vegetarian food. Since it's served cold, you'll find that it acts like a refresher course and it won't taste 'off' when matched with a sweet-sour teriyaki-style sauce.
---
Nuts Instead of Bread (Gluten-Free Starter)
Trust Me: Dry Sherry and Roasted Nuts:
Dry Sherry & Sercial Madeira: These wines might not be your usual main pick as an aperitif for dinner. However, if you start imagining them more like a fine whiskey, you'll start to realize that Sherry and Madeira are amazing cocktail alternatives. These two wines pair up perfectly with roasted nuts and salty olives.
---
Perfect Fried Chicken
Perfect Fried Chicken Wine Pairing:
Brut Cava: Fried food and bone-dry sparkling wine is a match made in heaven. We chose Cava because it's so affordable that you might find it to be an analog to an ice cold beer. It certainly has the same appeal, and a measure of a degree more classy.
---
Food Truck Fish Tacos for Dinner
Fish tacos used to be only be a lunchtime affair, but now you can find hip food trucks that are open late, so wine is definitely an option! Authentic fish tacos have big flaky pieces of lightly fried, delicately flavored white fish served on tiny corn tortillas with queso fresco, cabbage, onion, lime and cilantro sprinkled on top.
The Perfect Fish Taco Wine Pairing:
Sauvignon Blanc, Verdejo or Grüner Veltliner: All three of these wines have green herbaceous notes to them which sometimes even taste of jalapeño. Because of their grassy, gooseberry and jalapeño flavors, they are best friends with any fish or chicken taco. Keep your eyes peeled for a Spanish Verdejo or Sauvignon Blanc if you're looking for a wine to match to the theme.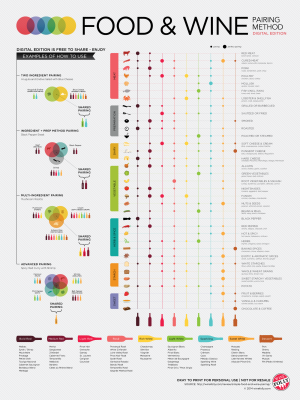 Pair Wine with Food Everyday
Get the advanced food & wine pairing chart to make smart wine and food pairings.