Indian cuisine tends to be intensely flavored and heavily spiced. Dishes are usually complemented by an array of curries, chutneys, and sauces, which create an even more complex flavor profile. Since it's so complex, Indian cuisine begs for a beverage with simplicity in order to balance out the overall tasting experience. This is the main principle behind pairing wine with Indian cuisine.
Wines with simple, well-defined flavors are able to create balance with complex Indian cuisine.
Here are the considerations to have in mind when selecting a wine:
What is the sauce?
How spicy is the dish?
Pairing Wine with Indian Cuisine
Top Picks
When in doubt, there are a few wines that match exceptionally well with a wide variety of Indian dishes. You really can't go wrong with these four wines:
Riesling (sweet or dry)
Sparkling rosé
Spiced Curries and Tomato-Based Sauces

Chicken Vindaloo by Robyn Hanson
Examples: Vindaloo, Masala, Jalfrezi, Baingan Bharta
In these dishes, tomatoes and curry paste are blended together to create a highly spiced tomato gravy. You'll find this sauce profile on many popular dishes including chicken masala, vindaloo lamb and vegetable jalfrezi. The key to pairing wine with this dish is to respect the spice level by matching it with fruity wines that can be served cool or cold and to complement the red tomatoes with a red or rosé wine.
Wine Pairing Ideas
Sparkling rosé, still rosé, super fruity light- to medium-bodied reds including Gamay, Pinot Noir, Zweigelt, Garnacha, Carignan or GSM Blends
---
Cream-Focused Sauces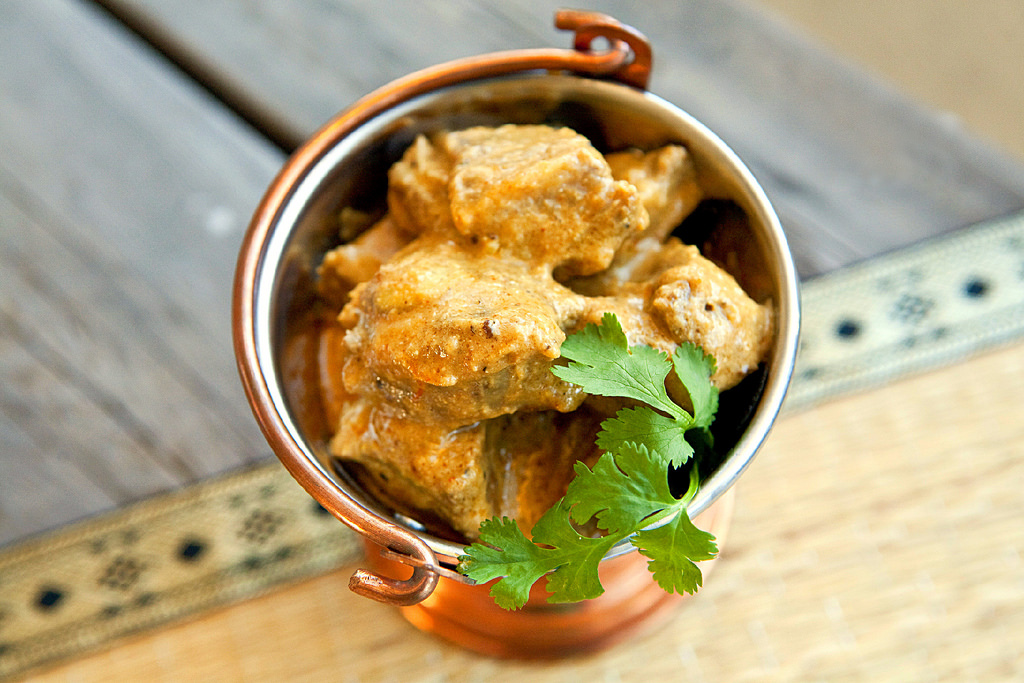 Taar Korma (Mutton Korma). See full recipe by Michelle Peters
Examples: Korma, Pasanda, Makhani (Butter Chicken), Tikka Masala, Malai
These dishes use heavy cream, half-and-half, yoghurt, or coconut milk to soften rich spices and form a thick sauce. These are great dishes for those new to Indian cuisine because the fats in the cream absorb and diffuse the high level of spice, bringing the focus to the texture in the slow cooked meats. Also, the cream makes it easier to pair these dishes with deeper red wines with medium tannin. Wines that seem to pair well with creamy Indian dishes have subtle brown baking spice flavors and an elegant tart fruitiness.
Wine Pairing Ideas
Deep colored rosé wines (Saignée Rosé, Clairet or Tavel), sparkling rosé, Lambrusco and spice-driven medium-bodied red wines including Sangiovese, Zinfandel, Garnacha, Carignan, Cabernet Franc, Barbera and GSM Blends
---
Green Sauces

Palak Paneer with Kale by Liz Mochrie (see full recipe)
In these dishes, leafy greens are slow cooked with creams, onions, and spices to create a rich herbaceous sauce. Also, you'll find a fresh green chutney made with green coriander (AKA cilantro) that goes on pretty much anything (it's amazing). Although there may not be a wide variety of dishes made with this sauce profile, it's one of the most exciting sauces to pair with wine. White and sparkling wines with a lean green profile will highlight the herbal element in these dishes.
Wine Pairing Ideas
Extra-brut sparkling wine, Sauvignon Blanc, Grüner Veltliner, Vinho Verde, Verdicchio, Silvaner, Albariño, Muscadet, dry or sweet Riesling and dry Chenin Blanc
Counter-balancing Spice

The best wines to counter-balance the burn of capsicum are wines that have these 3 traits: they're served cold, they have lower alcohol, and some sweetness. It's not surprising then that Riesling is found on most lists in Indian Restaurants… it fits the bill perfectly.