Wine with pizza is like beer with fish and chips… it's just meant to be. Whether you're eating midweek delivery or dining at a fancy pizzeria, there are a multitude of wines that will match your meal. Here are 8 classic pizzas paired with wine.
Wine with Pizza
1. Cheese Pizza
WINE:

GSM or Montepulciano

WHY: Cheese Pizza Wine Pairing

A classic slice of cheese pizza with red sauce is the quintessential New York slice. The red sauce becomes the focal point of the wine pairing because of its acidity and intense flavor. A GSM will work great —by the way, GSM is the acronym for the blend of Grenache, Syrah and Mourvèdre. Montepulciano d'Abruzzo is another great choice, it's a grape that is grown in Abruzzo, a region east of Rome.
---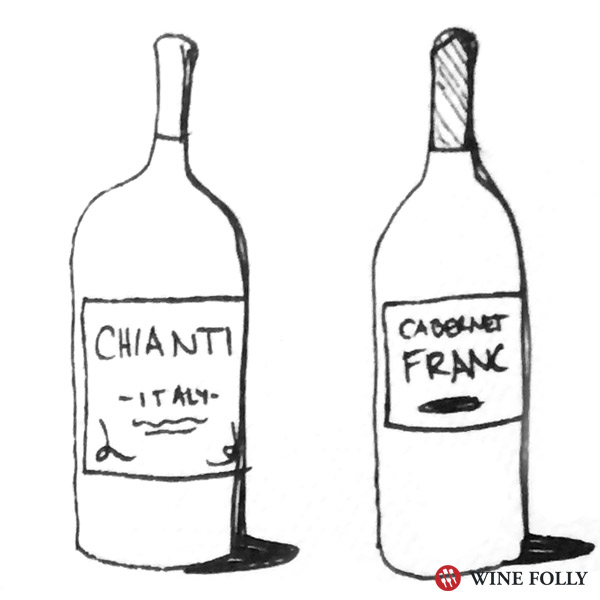 2. Pepperoni Pizza
WINE:

Sangiovese or Cabernet Franc

WHY: Pepperoni Pizza Wine Pairing

Pepperoni is a very strong flavor and in America it is made with cured beef and pork mashed together with a variety of spices including cayenne pepper, anise, garlic powder, paprika and sugar. Because of the fat content of pepperoni, it imbues its flavor throughout the cheese on every slice. You'll need a strong wine with intense flavors to counterbalance 'the pepperoni effect'. Sangiovese is a classic choice as the most popular red grape of Italy, and Cabernet Franc is a surprisingly good alternative.
---
3. Margherita Pizza
WINE:

Garnacha or Dry Rosé

WHY: Margherita Pizza Wine Pairing

With its aromatic notes of fresh basil and the use of other lightly flavored fresh ingredients (tomatoes and buffalo mozzarella), a rosé is the perfect Margherita pizza wine pairing. Of course, if you're a red wine-only type of drinker, Garnacha is going to work well too. When deciding whether or not you're going to have a red, white or rosé, sometimes it's more about your environment. Still, with something lightly flavored like a Margherita Pizza, stick to lighter reds as a starting point.
---
4. Sausage Pizza
WINE:

Syrah or Pinotage

WHY: Sausage Pizza Wine Pairing

Are you a sausage pizza lover? If you are, chances are you might also like bolder red wines too, so it's lucky that they go so well together. The reason full-bodied wines like Syrah and Pinotage work well with rich meats like sausage has to do with the spices used (including fennel, anise, thyme and oregano) and the flavor intensities. Both Syrah and Pinotage will greet you with their intense dark fruit flavors of blackberry, olive, plum and blueberry which should work well with a fennel-driven sausage.
---
5. Hawaiian Pizza
WINE:

WHY: Canadian Bacon and Pineapple Pizza Wine Pairing

A slightly sweet Riesling will match surprisingly well with Canadian bacon. Don't worry, the Germans have been pairing their Rieslings with all kinds of meats so it's no surprise that this is a great pairing. The acidity in the Riesling acts as a palate cleanser and the sweetness of the Riesling will elevate your ham pineapple experience to a new level. If you can't find a Riesling that will make you happy, pick a fruitier or sweeter red such as Zinfandel, Primitivo or Lambrusco.
---
6. White Pizza
WINE:

WHY: White Pizza Wine Pairing

White pizza divorces itself from the traditional red sauce and opens you up to two terrific wines that love the 'white stuff'. Cream-based dishes elevate the natural 'creamy' notes to both Pinot Noir and Chardonnay (which, by the way, is brought about through a secondary fermentation called Malolactic). Of course many wines go well with cream, but both Pinot and Chardonnay show some particularly good affinities to the green herbs (like tarragon) that are often scattered on top of your pie.
---
7. Barbecue Chicken Pizza
WINE:

Malbec or Touriga Nacional

WHY: Barbecue Chicken Pizza Wine Pairing

Barbecue is many things but on a pizza it has this sweeter smoky kick which Argentine Malbec and Touriga Nacional (a Portuguese wine) will pair really well. I pick these two wines because they tend to be fruit forward which is what you should be looking for when pairing with a sweeter style BBQ sauce.
---
8. Salad Pizza
WINE:

Sauvignon Blanc, Verdejo or Grüner Veltliner

WHY: Salad Pizza Wine Pairing

A new style of pizza that's growing in popularity for its presumed 'healthiness' is definitely the Salad Pizza. Just imagine a salad on top of a thin pizza. Popular greens on these salads include spinach and arugula which are topped with tart vinaigrette. Go for a wine with even more tartness and 'green' flavors such as Sauvignon Blanc, Verdejo or Grüner… yum.
---
Am I missing your special pizza? Name it below and we'll try to pair a wine with it.