The perfect pairing for the ultimate toga party
Even though the college fraternities pay homage to ancient Greece, togas are definitely a Roman thing. As the national costume of ancient Rome – worn by both men and women for a time – the toga gradually became so voluminous and costly that it was used only at formal occasions.
So, the next time you find yourself wrapped up in a bed sheet with a wreath atop your head, here are some Roman foods and wines to explore to make your toga party more legit!
Roman Food and Wine Pairings
Jewish Fried Artichoke & Grechetto
Food: Carciofi alla Giudìa – Jewish Artichoke (with lemon, garlic and mint)
Jews have inhabited Rome for over 2,000 years, initially drawn into the city by the merchant trade between Rome and Alexandria (on the coast of Egypt). One of the top favorite Jewish-Roman dishes is Carciofi alla Giudìa (Jewish Artichoke). Most recipes will tell you the artichoke is fried in olive oil and served with a slice of lemon, but I found several accounts explaining the old Roman recipe is sautéed with olive oil, garlic, and mint with lemon. I like this recipe better because the mint makes it perfect for pairing with a glass of Grechetto.
Wine: Grechetto
Grechetto is a white wine that's also a dominant grape in the blend of Orvieto, which is made in the corner of Lazio that touches Umbria close to Montefiascone. The wines have a distinctly more mineral edge to them (somewhat like those Northern Italian Pinot Grigio), which makes them perfect to cut through the intensity of Artichoke.
Carciofi alla Giudìa
I found a fantastic recipe that uses fresh spring-harvested artichoke and includes an awesome guide on how to clean artichokes (you will never be intimidated by this flower again).
---
Carbonara & Lazio Bianco
Food: Spaghetti alla Carbonara – Pasta with Guanciale and Egg
This dish is a popular choice from Rome today, even if it only came to be during the beginning of the 20th century. The best part is Carbonara is that it's so easy to make. The dish combines egg, black pepper, Pecorino Romano, and pieces of dry-aged bacon (aka Guinciale) stirred together in hot pasta. The secret to the greatness of this dish is its rapid preparation off the heat so that the egg stays gooey. Because of Carbonara's sticky richness, a lean white wine is the perfect choice and what better than Lazio's top white: the Malvasia-Trebbiano Blend.
Wine: Malvasia-Trebbiano Blend
Rome has a longtime love of white wines and the Malvasia-Trebbiano blend is the most planted and produced wine of Lazio. The profile varies based on where it's grown, but typically you'll find it to be dry with white peach and lemon zest flavors, along with a slightly bitter green almond note and chalk-like minerality (a reflection region's volcanic landscape).
Carbonara
Carbonara is very easy to make, you can even use dried pasta. Thanks to Yasmina at The Weekend Kitchen, for providing a simple recipe and instructions for this delicious dish.
---
Garganelli alla Coda & Cesanese
Food: Garganelli alla Coda – Rolled Pasta with Oxtail
Garganelli alla Coda Garganelli is a rolled tubular egg pasta made by rolling squares of dough around a wooden stick (like the handle of a wooden spoon) on a grooved gnocchi board. It's very easy to make with a standard pasta roller and if you don't have a gnocchi board (who does?), you can use a bamboo sushi mat (if you don't have a bamboo sushi mat…).
As the story goes, Garganelli came to be in 1725 when the overwhelmed chef of a Cardinal (Cornelio Bentivoglio d'Aragona to be exact) decided to scrap her goal of making stuffed tortellini due to the growing dinner guest list and the lack of supplies. Since she had already cut the pasta into little squares, she opted to roll the pasta over a wooden stick to make little tubes instead. These tubes are marvelous, especially when they soak up the broth from a classic Roman Oxtail Stew.
Wine: Cesanese
We were able to test this pairing a while back and found Cesanese needs rustic "Fifth Quarter" meats (offal, etc.) to bring out the wine's fruitiness. Sans meat, the wine is intensely rustic with bold fruit flavors of plum and pomegranate, enveloped by notes of wild game and iron. However, when you add the meat dish, it becomes soft and fruity. No wonder the Italians are so adamant about food and wine pairing!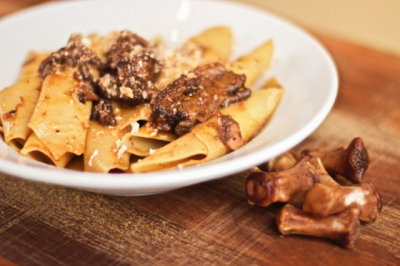 Garganelli alla Coda
This dish is inspired by what Mike Easton made at Il Corvo requires the most prep because you'll need to make the pasta and slow roast the meat. Check out this recipe on oxtail: Coda alla Vaccinara, as well as some great Garganelli-making tips.