Pairing wine with Thai food is no simple task. Salty, sweet, sour, and spicy, all working in perfect harmony. We're hunting down the ideal wines to pair with all that… ready?
Thai cuisine is unique. Take a moment to see if you can sum it up in one sentence.
No, seriously, try it. We'll wait…
Time's up! Not so easy, is it?
What goes into your favorite Pad Thai or curry isn't a random assembly of ingredients. It's a complex blend of ancient spices and a riot of parts.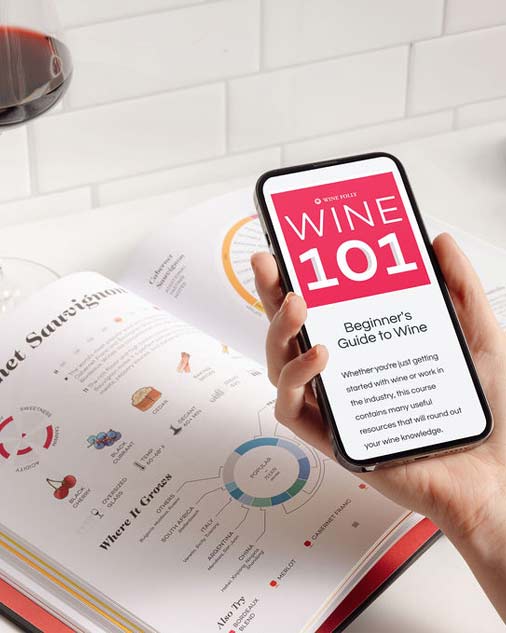 Buy the book, get a course.
Get the Wine 101 Course @ 75% OFF with the purchase of Wine Folly: Magnum Edition.
Shop Now
Wine Pairing with Thai Food
Is there a wine that can pair with such intricate fare? Naturally! We've got several for the next time a Thai craving strikes.
Best Option: Riesling
If Thai cuisine is all about harmony, an off-dry Riesling is a welcome addition to the chorus. It's almost too perfect: dynamite tropical fruit flavors with acidity and sweetness to cut the spice. There are even some Rieslings that feature jasmine in their bouquet! Plus, if you're sensitive to heat, the low ABV will ensure the fire doesn't get too out of control.
Great Alternatives
So, maybe you're anti-Riesling. Fortunately for you, there are plenty of alternatives. There are even a few reds that work well if you're not all that into white wines.
Pinot Gris/Pinot Grigio

A viable alternative to Riesling, Pinot Gris has less-intense tropical fruit flavors and more subtle acidity. Seek out one from Alsace for spice notes of clove and ginger, as well as a long, tingly finish.

Chenin Blanc

Inherently sweet, with medium-high acidity, Chenin Blanc-based wines were born to pair with Thai cuisine. Seek out dry, off-dry, and sweet examples for an especially flavorful combination.

Grenache Blanc

Flavors of Asian pear, unripe mango, lime zest, and lemongrass make this a knockout combo with Thai food. Just watch the ABV: it's often 13-15% and will make the capsaicin in chilies burn extra bright.

Grüner Veltliner

Light, zesty, and acidic food deserves a light, zesty, and acidic wine.

Sparkling Rosé

We love pairing Sparkling Rosé with one dish in particular (found below), but fizz, fruits, and sweetness play nicely with all kinds of popular Thai dishes.

Pinot Noir

Fruit-forward and acidic characteristics aren't limited to just white wines. If you can't stand any of the above, Pinot Noir will be your godsend.

Zweigelt

Sweet, sour, and spicy, with a thirst-quenching character, we highly recommend this light Austrian red wine for Thai eats.

It's hard to go wrong with wines like Riesling, Grüner Veltliner, Chenin Blanc, Sparkling Rosé and Pinot Noir…
Thai Food Flavor Palette
Thai cuisine has several base ingredients that will inform you of its flavors. Read the guide on flavor pairing to create your own wine matches with the ingredients below.
Sweet: Palm Sugar, Cane Sugar, Sweet Chilies, Tamarind
Sour: Tamarind, Kaffir Lime, Lime Leaf, Tropical Fruit
Salty: Fish Sauce, Sea Salt
Spicy: Hot Chilies, Peppercorns
Bitter: Bitter Melon, Bok Choy, Various Vegetables
Aromatic: Cilantro, Lemongrass, Galangal, Ginger, Thai Basil, Holy Basil
Thai dishes are also a careful blend, one that emphasizes the balance of ingredients instead of having one standout star. (Here's looking at you chili peppers! Not all Thai food is or needs to be that spicy.)
---
Specific Thai Dishes

by Thanakrit Gu
Pad Thai and Off-Dry Riesling
These sweet-and-sour noodles need no introduction. Place your order and pair it with a classic Halbtrocken (or Feinherb) German Riesling and take your tongue on a wild ride.

---
Pad See Ew and Pinot Noir
We're thinking red wine for this wide noodle, umami-driven meal. Pinot Noir from Oregon or Marlborough, NZ, has the right blend of elegance and freshness to round out this more savory alternative to Pad Thai.

---

by Cindy Kurman
Red Curry/Green Curry and Gewürztraminer
These two different kinds of curries traditionally have the same base of coconut milk, with the color of the chilies being the key separator. While they may differ in spice, they don't differ in fragrance. Where there's fragrance, there needs to be Gewürztraminer.

---

by Jules
Massaman Curry and Carignan
It may be a Thai curry, but it's nothing like it's red and green cousins. With ingredients like carrots and potatoes and spices such as cardamom, cinnamon, and cumin, this rich curry needs something with a little more muscle. A Carignan from Languedoc-Roussillon is more than up to the task.

---

by Dan Lundberg
Thai Spring Rolls and Sparkling Rosé
Crunch and bubbles make for one hell of a one-two punch. The rosé sparkling wine style imparts the right amount of fruit and sweetness for the delicious bitter vegetable filling.

---
Thai Fresh Rolls and Torrontés
Featuring more freshness and crunchy vegetables than other dishes on the list, you'll want something a little different: Argentine Torrontés. Especially from Salta. Sweet smelling, but drier than you'd expect, it's the lean, mean pairing you want with this healthy option.

---

by Julia
Thai Fried Rice (Kao Pad) and Brut Nature Champagne
Honestly, our first thought for this messy bit of deliciousness was a cool, crisp Singha. But this isn't Beer Folly. So instead, go for the next best thing: an impossibly minerally and dry sparkling wine with no added sugar.

---

by Lummmy
Tom Yum Soup and Grenache Blanc
This pairing is so good, we've written about it before.

---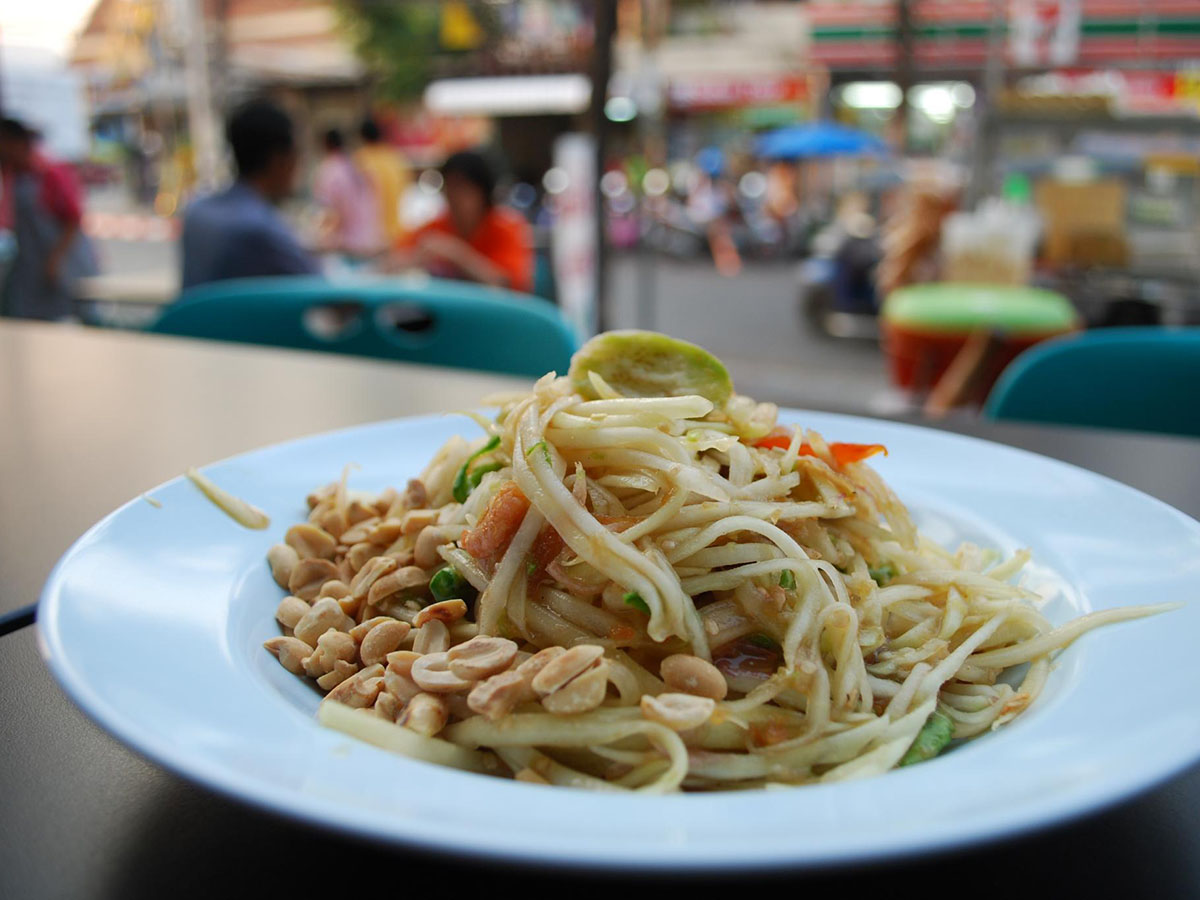 by Alpha
Green Papaya Salad and Grüner Veltliner
Sweet and sour. Fruity and savory. Crisp and firm. Green Papaya Salad (or Som Tum) showcases what Thai cuisine is all about. Riesling is the #1 stunner, but the unripe fruit flavors in Grüner make us want to stop writing and revisit this pairing right now!

---

by Stu Spivack
Mango Sticky Rice and Late Harvest Riesling
"Nuts to harmony," you say, "I'm all about that sweetness." The popular Thai dessert of sweet mango and creamy rice has an excellent pairing partner: late harvest Riesling from Germany, New York, and Washington State. Expect aromas of lemon, ginger, and jasmine, and stimulating acidity.

---
Last Word
If you DO come up with the perfect sentence to describe Thai cuisine, leave a comment and we'll wallow in its glory.