The spring harvest invokes images of greens, tart salads and crunchy fresh vegetables. Yum! But how do you pair spring foods with wine?
Traditionally, greens are the enemy of wine. The bitterness and sulfur-like flavors in artichoke and asparagus are often considered the antithesis of a 'wine food'. Not to worry, there are a few great tips to get you drinking well with the spring harvest. There are even a couple of under-the-radar solutions for the perfect wine with artichoke.
Wine with Spring Foods
Wine with Leafy Greens
If the salad section on the menu is the first place you look for an entrée, you might call yourself a 'salad hoe'. Take these tips to heart when pairing wine with salad:

Think Acidity: The wine should have more acidity than the salad so it won't taste flat. Perhaps steer away from that Chardonnay or Viognier unless you're having a delicate cream dressing
Balancing Bitterness: Generally speaking, most leafy greens have a bitter note to them, so make sure your wine is lacking bitterness. Perhaps save the red for later and try a white wine.
What's the meat? Steak salad throws you into that middle area where you can drink a red wine. Perhaps select a lighter red wine with less tannin.
'Green' Wines: White wines with 'green' flavors such as gooseberry or bell pepper will shine. Try Vinho Verde, Grüner Veltliner, Verdejo, Sauvignon Blanc and Albariño
---
Wine with Fresh Fruit
If you're a strawberry lover or a professional orange eater then you might want to consider the following ideas when pairing wine with dishes that include fresh fruit.
The Wine Should be Sweeter: If your food is sweet, it's smart to pick a wine that's sweeter, as this will ensure the wine doesn't get lost in the sweetness of the food. Keep this in mind especially if you're having dessert. Perhaps try a Moscato, Riesling or Gewürztraminer.
Think Floral: Wines with floral aromatics have an affinity to fruit. The floral aromas in the wine will be more present when you try them with foods that use fruit.
Acidity: Remember the tip above about wines having more acidity than the food? Keep this tip in mind with fruit as well.
Savory Foods: Rosé wines work very well with savory foods with fruit. Match the intensity of the wine with the intensity of the food. (i.e. Pinot Noir Rose with a delicate savory strawberry cream and a Sangiovese Rosé with Moroccan Cuisine). Also check out Schiava.
---
Wine with Spring Root Vegetables

Spring vegetables including carrot, beet and bell pepper work well with wines when they are roasted and spiced. By spices, we mean those exotic ones that most people put into baking. Grab a Garam Masala spice blend, some cinnamon and turmeric and go crazy.
Think Spice: Root vegetables and wine need a common theme. Look for it in the spices you add to the dish and the inherent spice flavors of the wine.
Pairing Wine with Artichoke
The trickiest foods to pair with wine include artichoke, asparagus, broccoli and brussel sprouts. This is because they have a 'sulfur-like' meaty flavor to them that makes most wine taste really nasty. Strangely enough, wines that have been oxidized (on purpose!) actually taste good. The oxidation adds a nuttiness which pairs well with cruciferous foods.
Check out a Sercial Madeira (on the dry side), Manzilla Sherry or even a fine Marsala for the task of pairing these foods. BTW, finding a fine Marsala will be a challenge unless you live in a major US city or can buy wine online.
---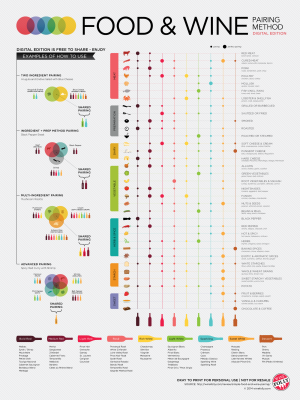 Get The Advanced Tool For Wine and Food Pairing
Food and wine pairing is a pretty advanced topic that takes into account both our sense of smell and taste (texture, acidity, sweetness, etc). Select the best tasting wine for the food you're eating with this chart.
 
See Infographic

---
Visit our Pinterest!
Find these images on the Wine Folly Pinterest board if you want to save them to yours!
 
Visit the Wine Folly Pinterest