Champagne didn't used to be the elite drink it is today. During the art-deco era and the industrial revolution, Champagne was cheap so the maisons (Champagne houses) commissioned poster artists to give the drink a needed boost.
The goal, of course, was to inspire the Parisian bourgeoisie (a new middle class) to choose Champagne as their celebratory beverage.
The campaign worked so well that over 100 years later sparkling wines have become the emblem of holiday parties. Oddly enough, sparkling wines are a near perfect food wine, matching with a wider variety of foods than even red wine.
Why are sparkling wines so great with food?
Very simply, sparkling wines pair so well with foods because they lack tannin and have high acidity. These two components give sparkling wines a palate cleansing effect similar to soda or beer. One could even say:
"Champagne is the beer of wines.."
Yes to pairing sparkling wine with the main dish
Sparkling wine has finally moved to the main course. Here are 4 classic dishes that work wonders with a bottle of bubbly.
Smoked Turkey with Vintage Champagne

As Champagne ages it gains these additional aromas of hazelnut and smoke that are keystones to what makes vintage Champagne so popular. You can bring these aromas to the forefront by pairing these wines with nutty and smoky foods, but you don't want to get too bold. The subtle smokiness in a freshly sliced turkey will do the trick especially when matched with a touch of cranberry sauce and gravy.
Pork Roast and Spice Apple Purée with Crémant Rosé

There are many regions in France that make sparkling wine in the same style as Champagne that are called "Crémant de Something," from Crémant de Limoux in Languedoc-Roussillon to Crémant de Bourgogne in Burgundy. These are usually exceptional quality for the price. For this pairing, a Crémant d'Alsace Rosé will be perfect as it's a Pinot Noir Rosé and will work wonders with the spice flavors.
Roast Ham with Lambrusco Amabile

The perfect roast ham always has a touch of sweetness perhaps with pineapple or maple–something,–to make it taste impeccable. Because of its subtle sweetness, this dish is actually better suited for a bubbly with a touch of sweetness too. Prosecco is a good choice, but Lambrusco is the wine that will take this dish to the next level. It sounds crazy, but there are several producers making incredibly high quality Lambrusco wines. The term "Amabile" means just sweet and, if you want to do a bit lighter, spring for a Brut level which is just dry.
Fish and Chips with Cava

There are many regions that make sparkling wine in the style of Champagne including Spain which produces a bubbly called Cava. Cava is the perfect everyday sparkler (because it's so affordable) and pairs wonderfully with salty fried foods or richer slow-cooked meats. What better pairing than Cave with a perfectly crispy basket of fish and chips. Each bite will be quaffed with a beautiful bubbly.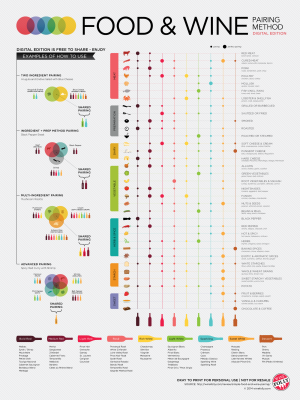 Pair Wine with Food Everyday
See the advanced food & wine pairing chart to match wines with different ingredients and preparation methods.