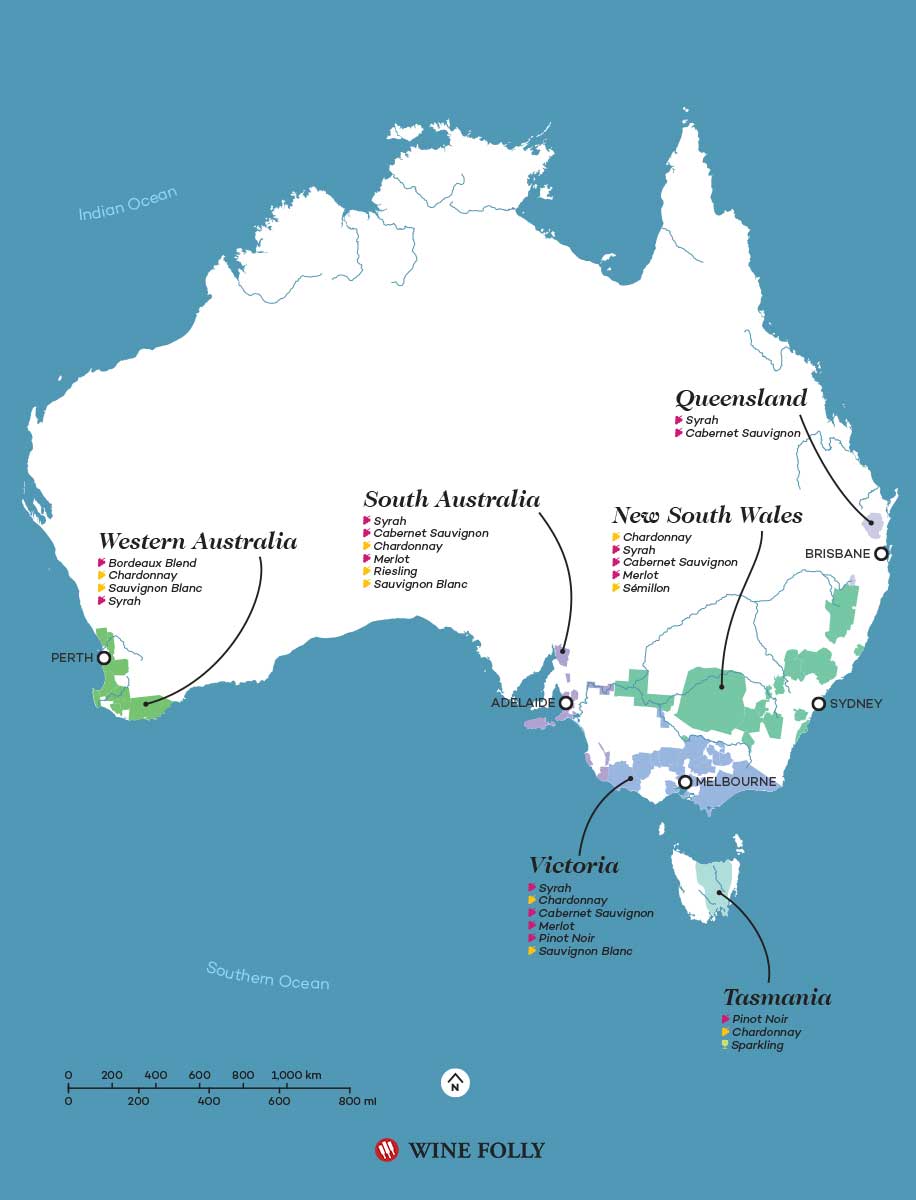 Australia
Uncover the vast winemaking landscape of Australia, with nearly 340,000 acres of planted vineyards, producing award winning Shiraz unlike anywhere else on earth.
Table of Contents:
Introduction
All hail Aussie Shiraz.
Australia's warm, dry climate matched with the ingenuity of its people make for wines that stand on their own. For example, Australians coined the name Shiraz in order to highlight the unmistakable and unique taste of their Syrah wines. The Australian wine industry constantly innovates and drives technology. One intriguing result is that nearly all Aussie wines are stoppered with screw caps (aka "Stelvins")– even the super premium bottles!
All hail Aussie Shiraz.
Australia is a large country and each geographical area specializes in different wines. Here are some popular choices from Australia's most important growing regions:
In South Australia's flagship region, Barossa Valley, there is a focus on Shiraz and Riesling.
In Western Australia's Margaret River, you'll find a predominance of unoaked Chardonnay and elegant Bordeaux blends.
In Victoria, there are many cooler regions making fruity Chardonnay and Pinot Noir.
In Victoria's Rutherglen, there is a delightful aged sweet wine made with a red skinned variant of Muscat Blanc.
Ouside of Sydney in New South Wales, you'll find age-worthy, lean and minerally Syrah and Sémillon from Hunter Valley.
Good to Know
Most Australian wines are bottled by screw cap, including the age-worthy bottlings. Wines can be stored upright.
If a wine blend lists the included varieties they will be listed in order of proportion.

Full-Bodied Red Wine
South Australian Shiraz
The epitome of Shiraz is found in South Australia, a historic region where many vines are over 100 years old. In fact, Barossa Valley in South Australia is the only region that guarantees wines labeled "old vine" are from vines more than 35 years of age.
Blackberry, Dried Currant, Mocha, Tobacco, Clay Pot

Full-Bodied Red Wine
South Australia GSM Blends
Where there is great Syrah, there is also great Grenache and Monastrell (called Mataro here). You'll find them all over South Australia but definitely investigate McLaren Vale and Barossa Valley for great quality.
Raspberry, Licorice, Graphite, Exotic Spices, Roast Meat

Full-Bodied Red Wine
Coonawarra Cabernet
Coonawarra's best Cabernet vineyards spring out of dusty red clay soils that give these wines ample depth, powerful tannins, and a subtle dried herb quality. Besides Coonawarra (which is cooler than Bordeaux!), Langhorne Creek is another area worth investigating.
Blackberry, Black Currant, Cedar, Spearmint, Bay Leaf

Full-Bodied Red Wine
Margaret River Bordeaux Blend
Western Australia differentiates itself from the rest of Australia with its earthier and more elegant Bordeaux-style blends. Well-made wines are even better when aged 10 years. This region is a great choice for someone looking to collect longer term.
Black Cherry, Black Currant, Black Tea, Rosehip, Loam

Medium-Bodied Red Wine
Victoria Pinot Noir
The regions in Victoria, including Mornington Peninsula, are hailed as some of the best places for Pinot Noir in the country. The best wines have rich fruit flavors and intriguing notes of orange peel and spice that come out in the finish.
Plum, Raspberry, Lavender, Black Tea, Allspice

Full-Bodied White Wine
Yarra Valley Oaked Chardonnay
Victoria is also a great place to look for Australian Chardonnay. In the Yarra Valley, there are several great unoaked Chardonnay wines that offer a bouquet of juicy fruit aromas supported with a tangy, crisp finish.
Starfruit, Lemon, Pear, Pineapple, White Flowers

Full-Bodied White Wine
Margaret River Chardonnay
One of Australia's top ranking regions for excellent quality Chardonnay in both oaked and unoaked styles. Wines tend to have more minerality and floral notes due, in part, to the region's sandy, granite-based soils.
Pear, Pineapple, Minerals, White Flowers, Hazelnut

Light-Bodied White Wine
Hunter Valley Sémillon
The oldest continually operating wine-growing region of Australia is known for both Shiraz and Sémillon.  The real surprise are the Sémillon wines which are complex whilst being lean and minerally at the same time.
Lime, Lilac, Asian Pear, Green Pineapple, Candle Wax

Aromatic White Wine
Clare Valley Riesling
There are some cooler micro-climates within South Australia including Adelaide Hills and Clare Valley.  While Adelaide Hills produces a range of white wines, Clare Valley focuses on delightfully refreshing dry Riesling. 
Lemon, Beeswax, White Peach, Lime, Petroleum

Sparkling White Wine
Tasmanian Wines
Tasmania is still very much a new frontier in Australian wine representing less than 0.5% of the country's wine grape harvest. The focus here is on cool-climate Pinot Noir, Chardonnay, and sparkling wines which are lean and smoky, often with subtle mushroom notes.
Lemon, Almond, Cream, Smoke, Saline

Desert Wine
Rutherglen Muscat
One of the rare sweet wines of the world made with a red variant of Muscat Blanc that's sometimes labeled as "Brown Muscat."  Grapes hang on the vine long after the harvest to produce one of the sweetest "stickies" of Australia.
Dried Lychee, Orange Peel, Walnut, Exotic Spices, Coffee

Desert Wine
Australian Tawny
Before Shiraz was popularized as a dry red wine in Australia, wineries were known for their dessert wines.  The fortified Port-style wines are delightful to taste, especially the tawnies which develop more candied pecan notes as they age.
Toffee, Incense, Dried Cherry, Pecan, Nutmeg
Dynamic Wine Region Guides
Margaret River Guide
The most isolated wine region in the world, Margaret River makes some of Australia's finest wines. Cabernet Sauvignon and Chardonnay reign supreme. Discover exceptional and age-worthy red and white wines in Margaret River.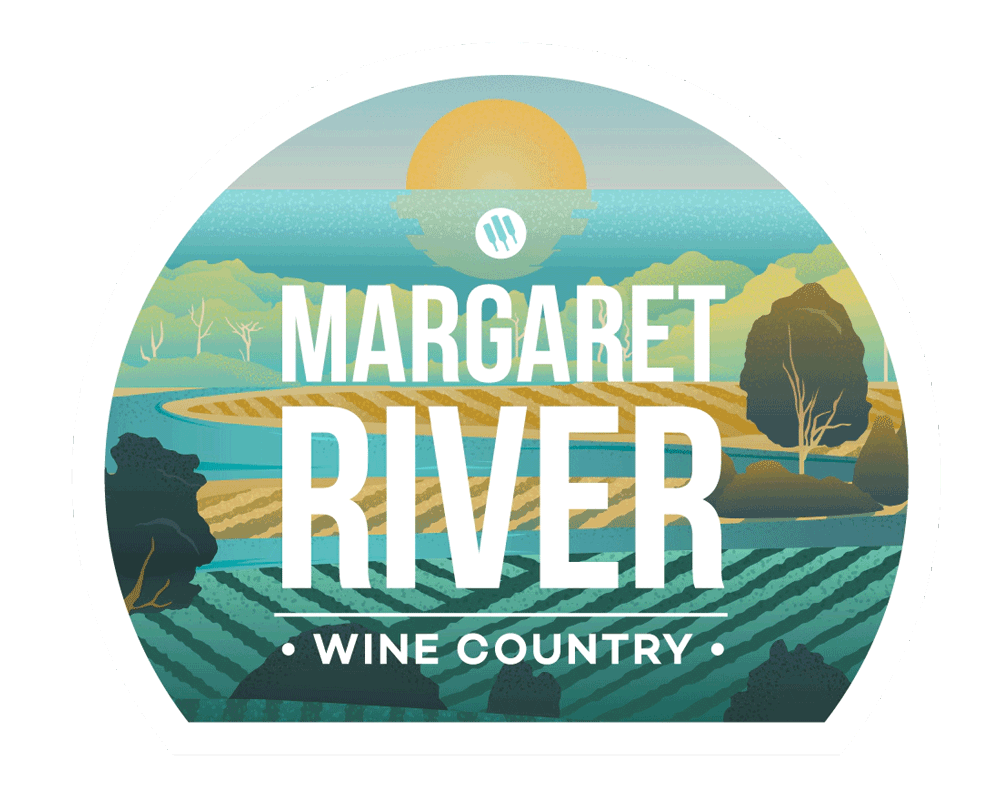 Recent Australia Articles
---
Join Our Newsletter
Jumpstart your wine education and subscribe to the Wine Folly newsletter right now. Always awesome. Always free.