The Chilean economy boomed in the 1990s. The government was transitioning back to a democracy and this gave wineries greater opportunity to export to Europe and the United States. The wines created a stir internationally due to their great potential for quality and good value. Seizing the opportunity, larger US and French wineries rushed to set up operations in Chile, creating shiny new wineries and buying up vineyards. The land grab that happened during this time is what has shaped the most popular Chilean wines we drink today.
Now Cabernet Sauvignon is the most planted grape in Chile and the country prides itself on its exceptional Bordeaux-style blends (aka Cabernet blends). Let's break down the 4 major wine regions of Chile which are famous for these balanced and age-worthy red wines.
Chile can essentially be split up into 3 major zones: North, Central, and South. The North and South are the frontier regions, where some of the most innovative winemaking is happening. The Central area is the most classic wine-growing area, with hundreds of years of winemaking history and is also home to Chile's largest producers – this is where you'll find the valleys of Aconcagua, Maipo, Colchagua and Cachapoal Valleys.

The vineyards on the terraces and slopes along the Aconcagua produce the best wines. This is Viña San Esteban and the vineyard site is located here.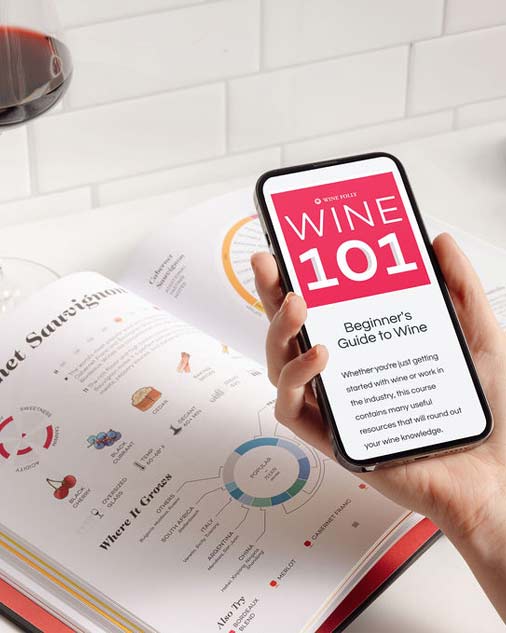 Buy the book, get a course.
Get the Wine 101 Course ($50 value) FREE with the purchase of Wine Folly: Magnum Edition.
Shop Now
Aconcagua
The Aconcagua wine region stretches from the coast inland, and the area for Bordeaux varieties is located around the cities of Llay Lay, San Felipe, and Los Andes. It is one of the sunniest and driest regions for the production of Cabernet Sauvignon, Merlot, and Carménère in Chile. For this reason, the best vineyard sites are usually situated on slopes and terraces which use elevation to increase the temperature modulation between night and day. The vineyards here produce some of the most intensely structured (tannic) red wines, with higher levels of acidity due to the cool nightly temperatures. You'll find that the Bordeaux-style blends from this region typically exhibit subtle notes of dried berries and intense minerality, along with a milieu of spices that include red pepper, paprika, and black tea. For those who love a more rustic, mountain-influenced style of red, this is your spot.
Some producers to know:

Maipo has a more mediterranean climate suitable for olives and grapes. This is Antiyal's biodynamic estate.
Maipo
The region of Maipo follows the Maipo river valley to the south of Santiago out to the Pacific Ocean. The valley receives cooling winds from the ocean and has a much more Mediterranean climate. The sweet spot in this transverse valley for Bordeaux varieties is found around the towns of Pirque and Puente Alto at the base of the Andes. This area, called Alto Maipo, is famed for its full-bodied red blends, which are reminiscent of the Cabernet Sauvignon from Napa Valley, exhibiting notes of black currant, black cherry, fig paste, and baking spices. If you're a fan of full-bodied reds in a California style, this is your place.
Some producers to know:

Vineyards planted on the rocky slopes of Los Lingues, in Alto Colchagua, at the foot of the Andes mountain range. Viña Koyle is a biodynamic/organic winery.
Cachapoal
The more Northern of the two transverse valleys, Cachapoal is known to produce wines with more elegance and minerality. The sub-region, Alto Cachapoal, is at the foot of the Andes and is known for it's wines with more tart cherry flavors and a distinct gamey/savory nose. The Bordeaux style blends and Carménère from this area offer tart fruit notes along with moderate tannins and a herbaceous finish – think dominant red fruits, structure, and minerality. This is also a great spot for Chilean Syrah (a must try). The other highlighted sub-region for Carménère and Cabernet Sauvignon in Cachapoal is called Peumo, and produces some of the most balanced, and lush Cabernet Sauvignon blends. This (along with Colchagua) is where you'll find some of the highest rated single-varietal Carménère in the world.
Some producers to know:

Carménère turns bright red in the fall. This was taken at Lapostolle's vineyards in Apalta, Colchagua. Photo by Matt Wilson
Colchagua
The most southern of the two transverse valleys contains some of the more prime vineyard area for Bordeaux varietals from San Fernando to Santa Cruz. The sub-area called Apalta (just outside of Santa Cruz), is very well known for it's age-worthy Bordeaux-style blends that waft off aromas of black currant, mint, pencil lead, and clove. You'll also find a great deal of Carménère here, which has rich flavors of red and black fruit, chocolate, and peppercorn.
Some producers to know:
NOTE:
Rapel Valley is where the Cachapoal and Tinguiririca Rivers (Colchagua) join. If you find a wine labeled with Rapel Valley, it is a wine made from a blend of grapes from both Colchagua and Cachapoal Valleys, or it is from the western portion of the region. Rapel valley is slightly wetter/cooler than Cachapoal and Colchagua and tends to produce more elegant reds wines.
---
12×16 Chile Wine Map
Own the complete Chile wine region map. These collectible maps are durable and designed to use. They are printed on spill and tear resistant paper and made in Seattle, WA, USA.