The Ahr Valley is one of those wine regions you'll never hear about unless you dig. Why? Perhaps it's because the Germans don't want to share, or maybe it's because Burgundy doesn't like the competition next door.
Either way, the Ahr River Valley is a serious Pinot Noir hotspot.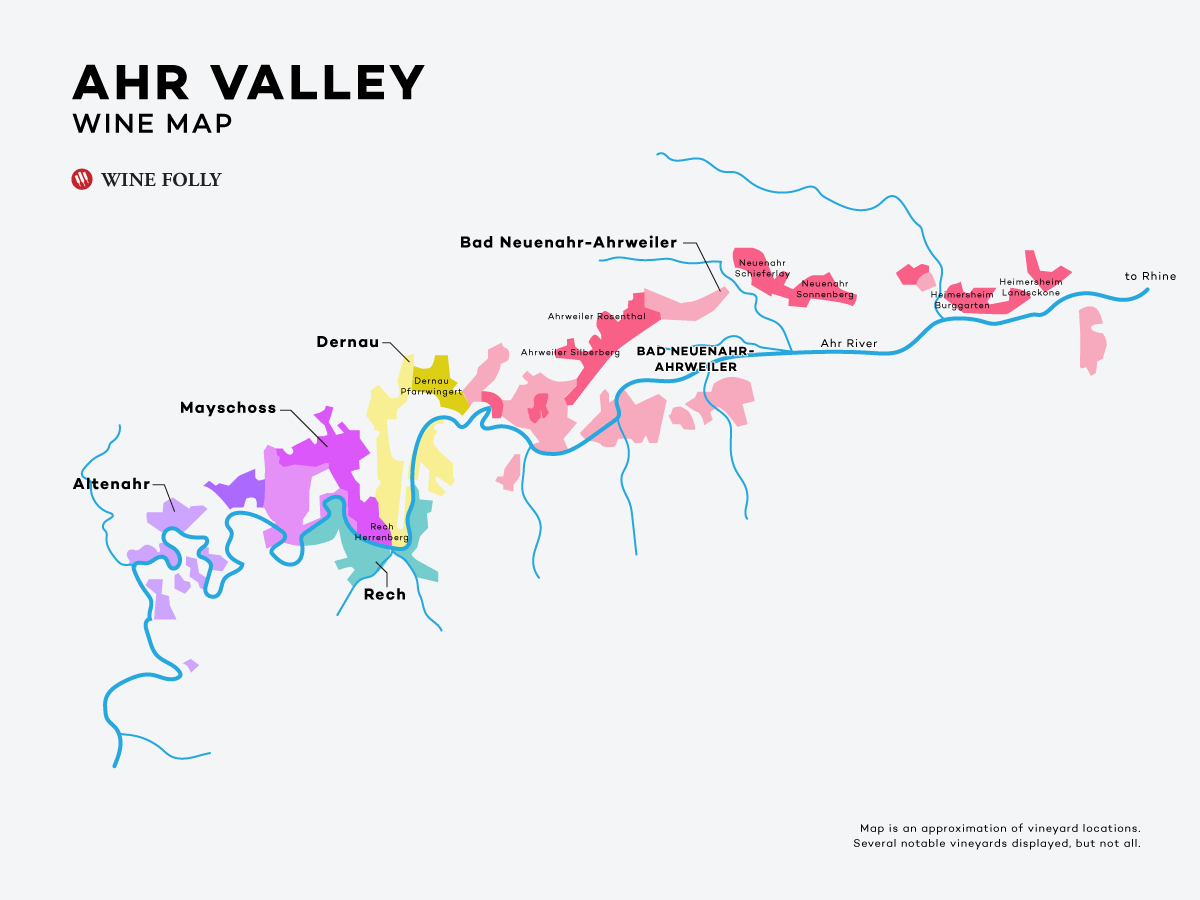 In the summer of 2021, the Ahr Valley was struck by floods and mudslides that devastated the community and local wineries. To learn how you can help, click here.
To step into the Ahr and find out it's one of Germany's smallest regions is a shock. You're surrounded on all sides by steep, vineyard-wrapped mountains, some reaching over 2,000 feet (600 meters). Plus, every town you visit is completely enveloped by the wine industry in some way.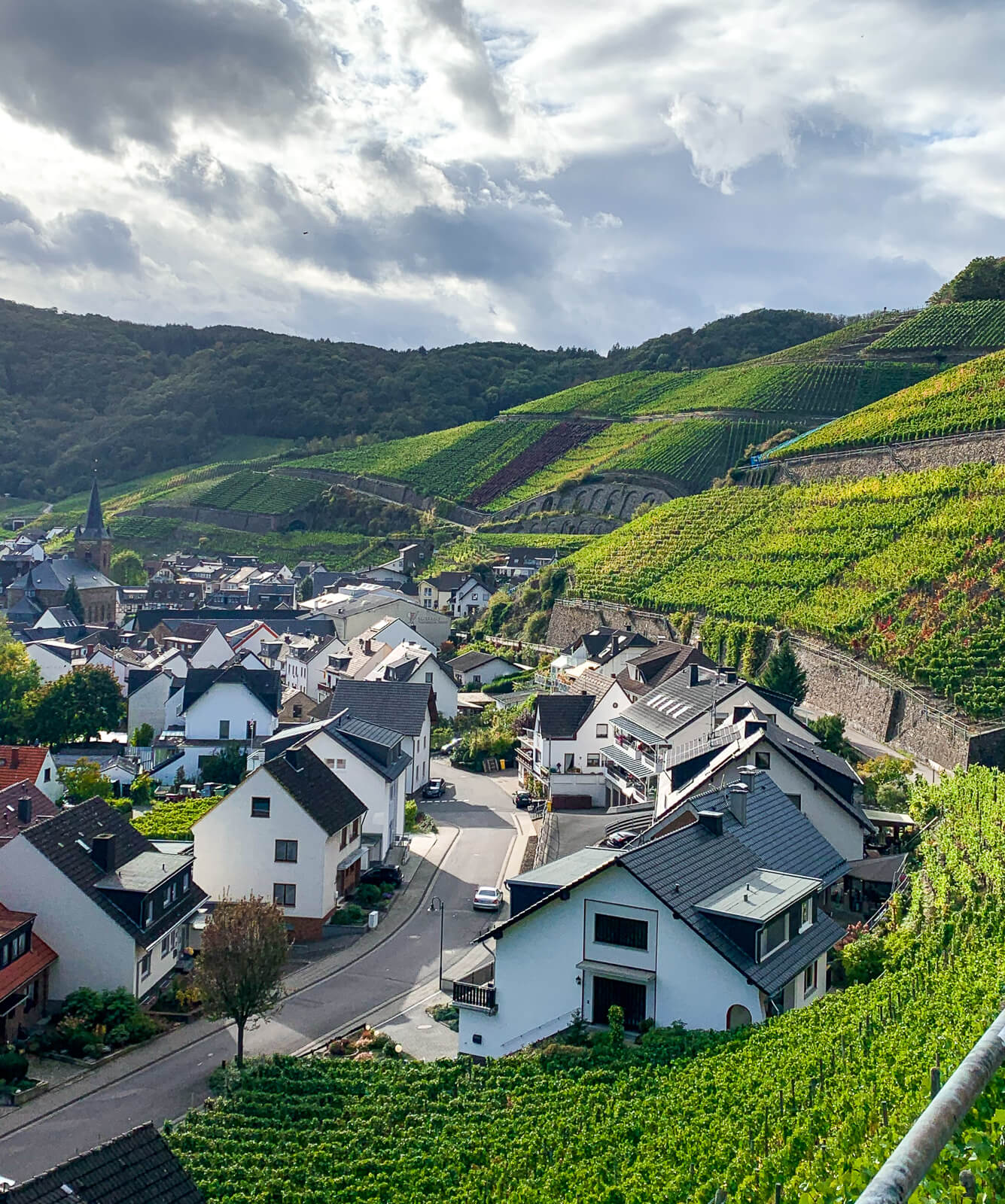 It's visually gobsmacking. Still, the Ahr Valley is only composed of about 1380 acres (560 hectares) of vineyards, with 65% dedicated to Pinot Noir.
Spätburgunder: Germany's Favorite Red
If you didn't know (honestly, most of us don't), Germany is the 3rd largest producer of Pinot Noir in the world. Of course, around here they called it Spätburgunder. And, it's a bit different from the Pinot most of us know.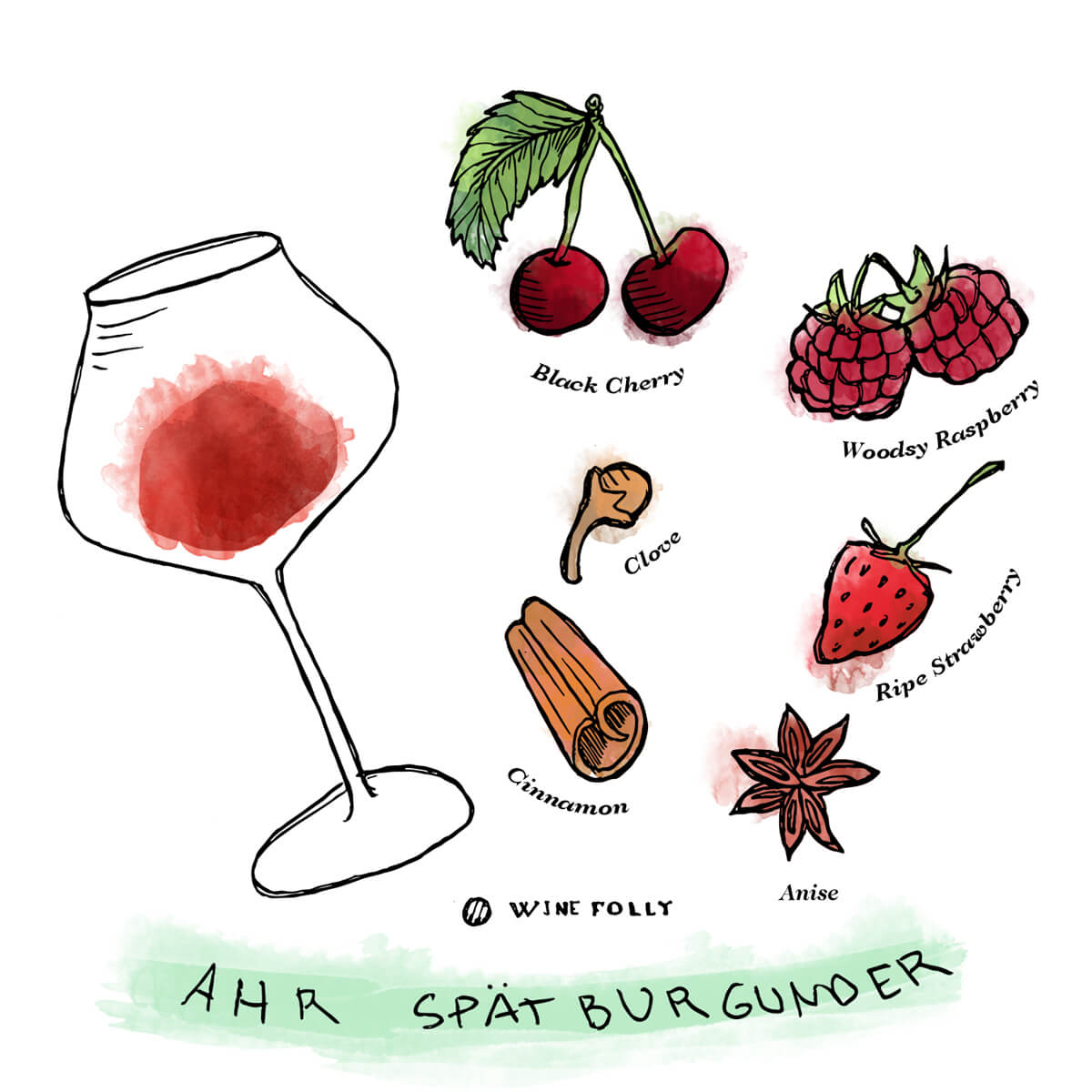 The first thing you'll notice about an Ahr Spätburgunder is the color. Where most New World Pinot tends toward a light to medium ruby color, Ahr wines are garnet, leaning towards a rusty orange.
Expect aromas of black cherry, woodsy raspberry brambles, and rich, ripe strawberry, along with subtle, spicier hints of clove, anise, and cinnamon.
There's also a definite earthiness beneath it all, described by some as mushrooms or damp leaves. Spätburgunder generally lacks the big, jammy aspects that one often finds in warmer climate Pinot Noir.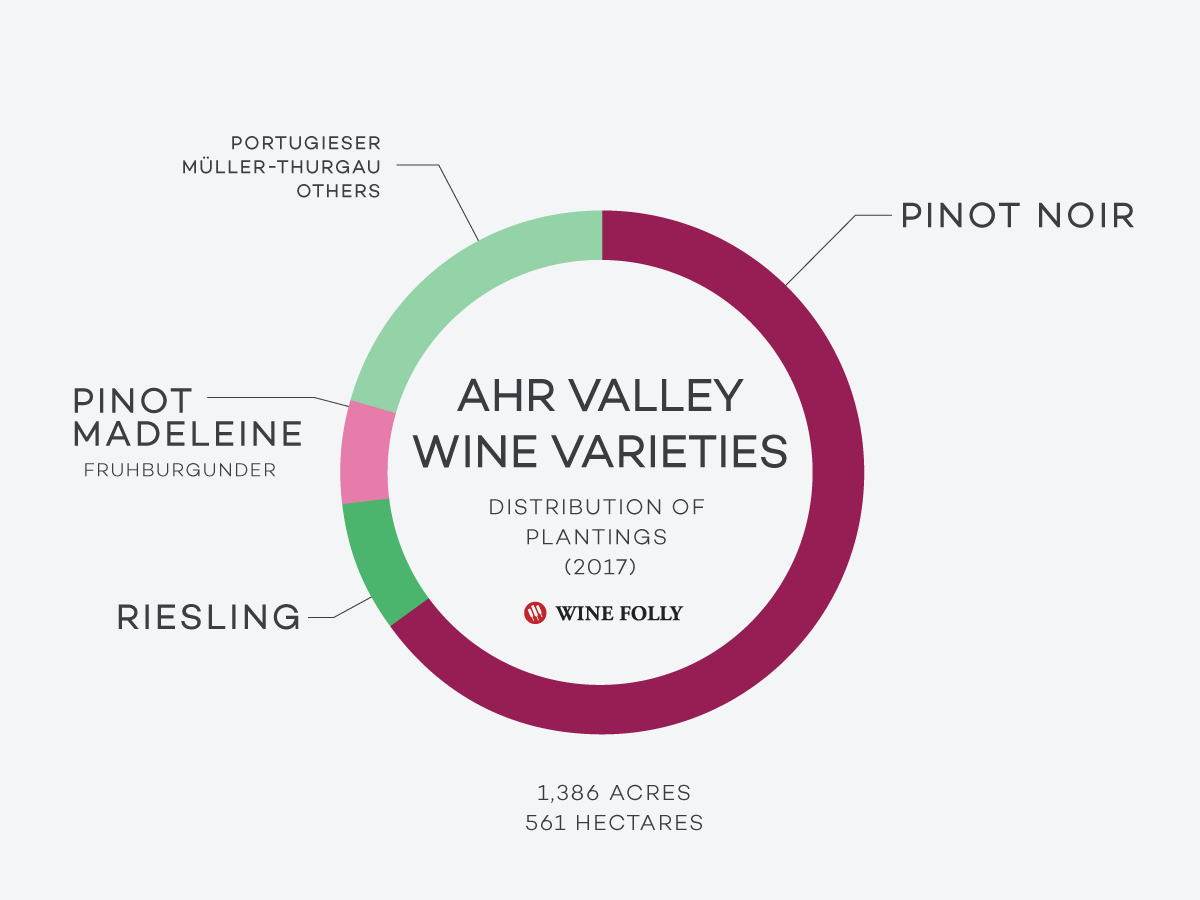 Fun Find: The Ahr is home to Frühburgunder. This is the German name for Pinot Madeleine, a more elegant cousin of Pinot Noir that ripens early but with crazy low yields!
Beyond the Pinot varieties, expect to see some Riesling, Müller-Thurgau, Portugieser, and Dornfelder along with rare plantings of Regent and Domina scattered throughout the valley.
What To Look For
Here are some common label terms to know on Ahr wines:
Auslese: In the German Classification system, "Auslese" refers to wines that are made from grapes that are selected later in the harvest for their higher sugar content. This is accepted as the best class of grapes with which to make Spätburgunder.
Trocken: Literally meaning "dry", most Ahr Valley Spätburgunder will fall under this category.
Blanc de Noirs: Germany is fond of using Pinot Noir to make both white and sparkling wines. This leads to a fuller, more robust sparkler than you'll generally find in a German Sekt.
Aging
While most Ahr Valley Spätburgunder is drunk young, the higher quality levels age for 10+ years. The high acidity combines with oak tannins to add layers of complexity over time.
Expect to Spend
In the United States, Ahr Valley Spätburgunders are pretty difficult to find, but not impossible. The price range you'll likely see will fall between $25 and $90, especially if you're ordering online. Check with your local wine shops, though: you never know who might have a connection.
Vintages
Keep an eye out for these years while you're on the lookout for Ahr Valley Pinot Noir:
2018: Exceptional. High yields paired with great sugar levels.
2017: A tough year, with frost and rain. Avoid all but the higher end.
2016: Brilliant, despite early weather issues. If you find one, buy it!
2015: Low volume and high quality. A great purchase if you can find it.
2014: Super variable. This vintage is generally best to avoid.
Ahr Wineries to Know
Here are a few standout wineries worth investigating further: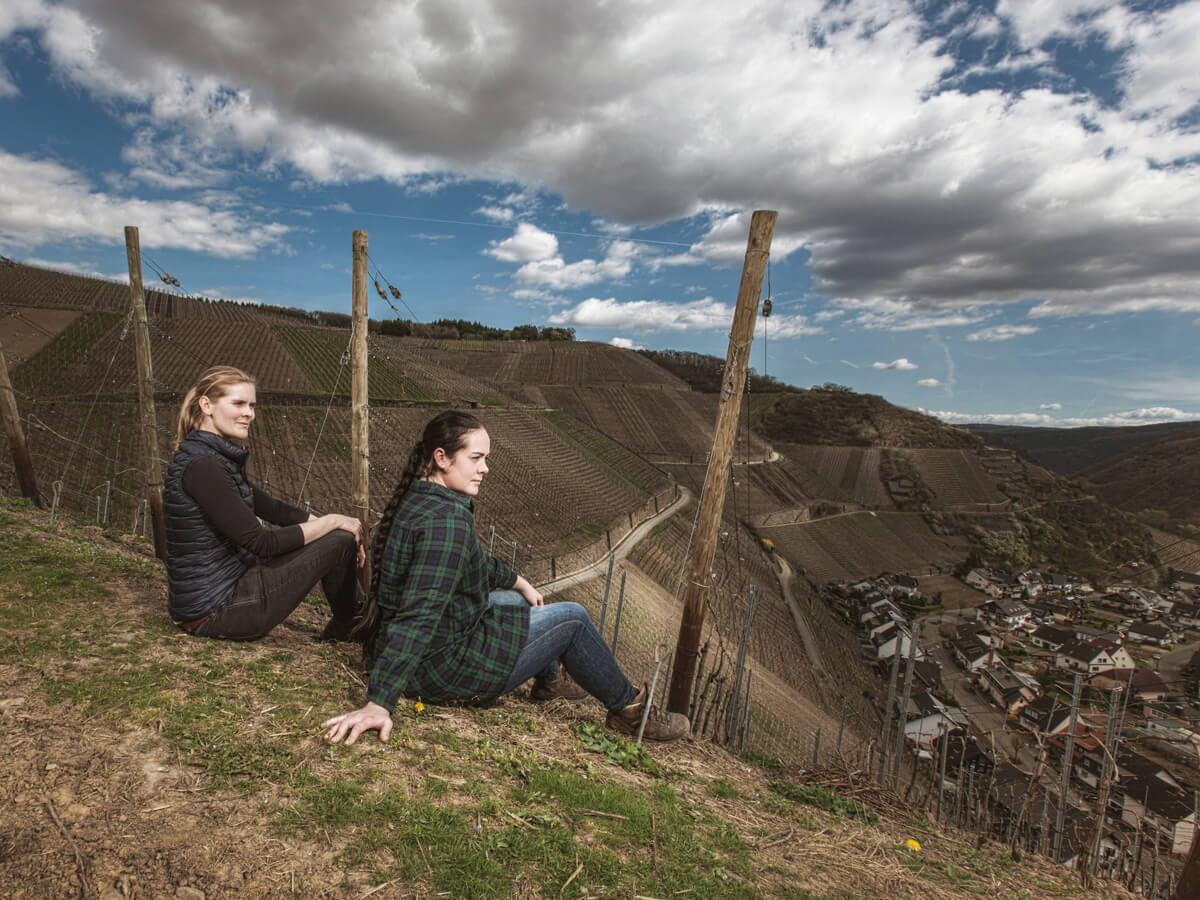 Meyer-Näkel
An impressive family-run operation, the quality of the wines made at Meyer-Näkel has caught the eye (and tastebuds) of more than a few wine experts.
Tamlyn Currin said of it, "It would not be exaggerating to say that Meyer-Näkel makes some of the most outstanding Spätburgunder in Germany." Fortunately, this is one of the easier Ahr wines to find in the US.
---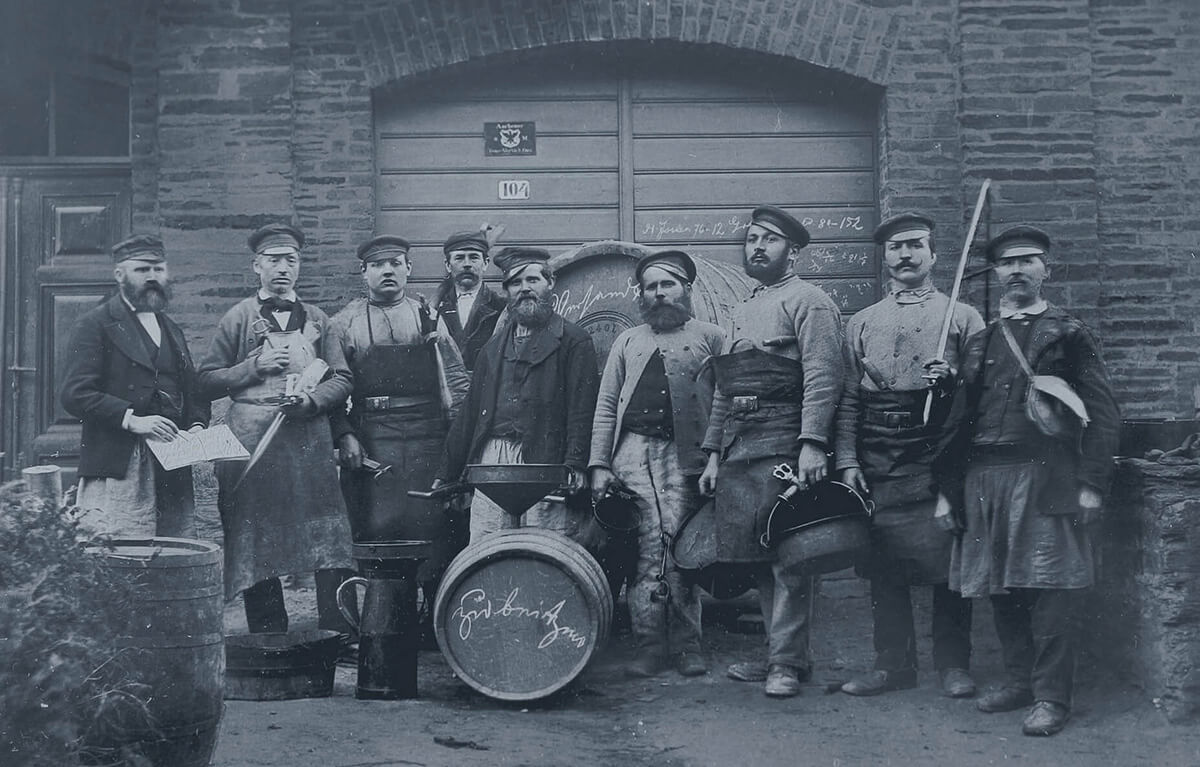 Mayschoss-Altenahr
Founded in 1868, Mayschoss-Altenahr is Germany's oldest wine cooperative. Grapes come in from all over the region producing a wide variety of regional wines (60% of them Spätburgunder).
Below the facility is a sprawling cellar equipped not only with wine barrels and tasting rooms, but with several popular dance halls and dining areas.
Erwin Riske
With just under 20 acres (eight hectares) of land, the Erwin Riske winery is small but strong, with an impressive variety of wines (white, red, and rosé) that are gaining a reputation for quality and craftsmanship.
Keep an eye out for their "Surprise" Blanc de Noirs (a white Pinot), which adds a little pink to the mix, giving it a brilliant, copper color.
If You Go to The Ahr Valley
The Ahr Valley is the ideal spot for people who enjoy a day of hiking followed by a delicious bottle of Pinot (or Frühburgunder!).
Hiking and biking are hugely popular, especially along the Rotweinwanderweg (Red Wine Trail). This 22 mile (35 km) trail travels through the exact hills and vineyards that make Ahr so memorable.
Many of the wineries here offer rooms, similar to what we think of as a Bed & Breakfasts in the States.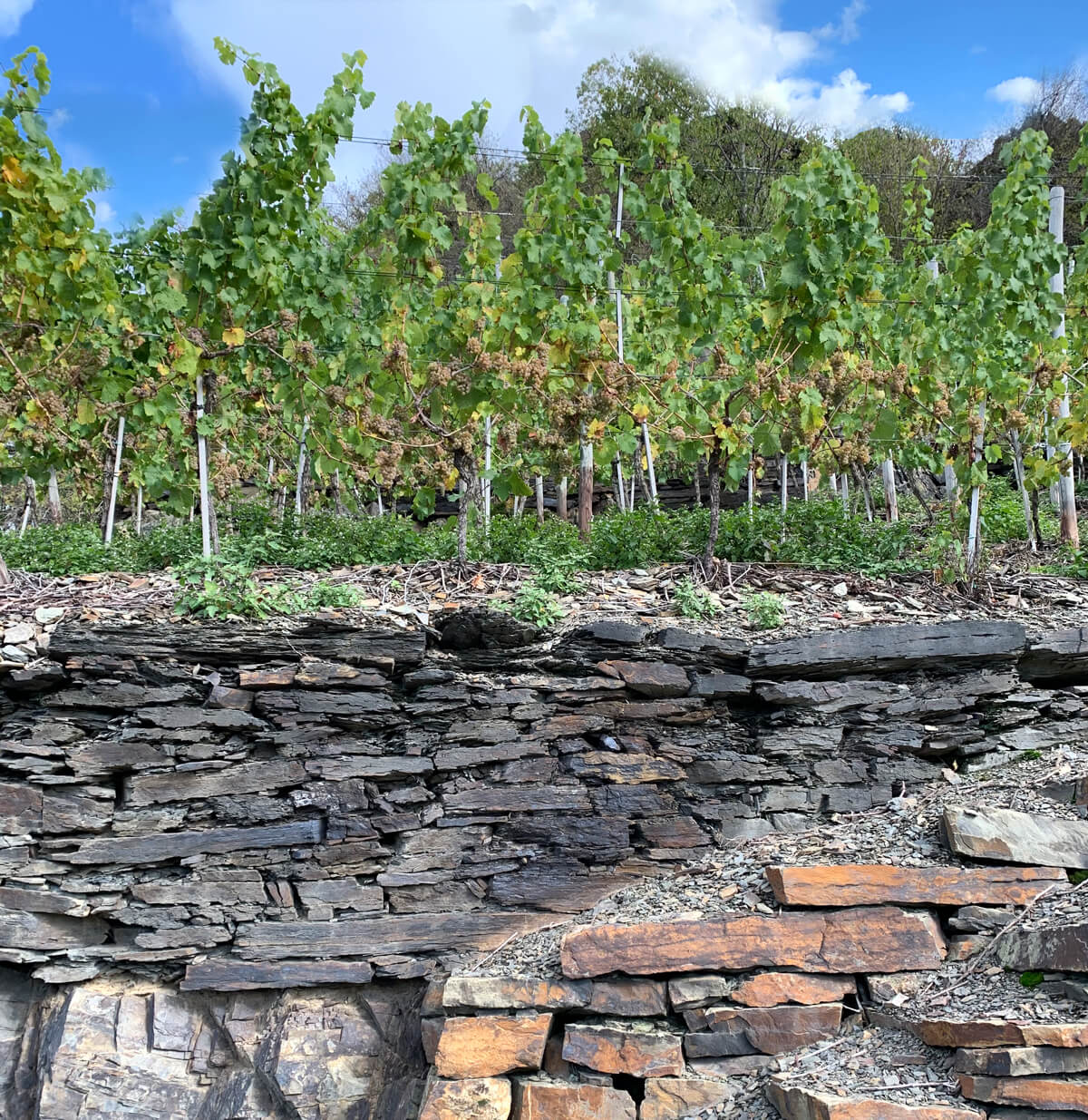 The Terroir
The difference between wine and great wine comes down to the terroir, and the Ahr Valley does wonders with Pinot Noir. A cooler climate with rugged soils requires that the best vineyards tend to be on southern-facing slopes (to catch the sun).
Western Ahr: Known for the region's most desirable wines, the western Ahr is far rockier, with a soil composed of slate and volcanic stone. This is also where you'll find the steep mountain slopes where the slate retains a terrific amount of heat from the sun. The slate is also particularly well drained, forcing the grapes to grow more gradually. It leads to wines that are far more aromatic and intense.
Eastern Ahr: The eastern Ahr Valley is lower in elevation than the west, and known for its Loess, a silty soil that retains heat and water well, while still allowing for proper drainage.
By the way, Loess is same soil type found in the Columbia Valley in Washington and Oregon. Its fertility and warmth allow wines to display rounder, fruit forward notes, with less acidity.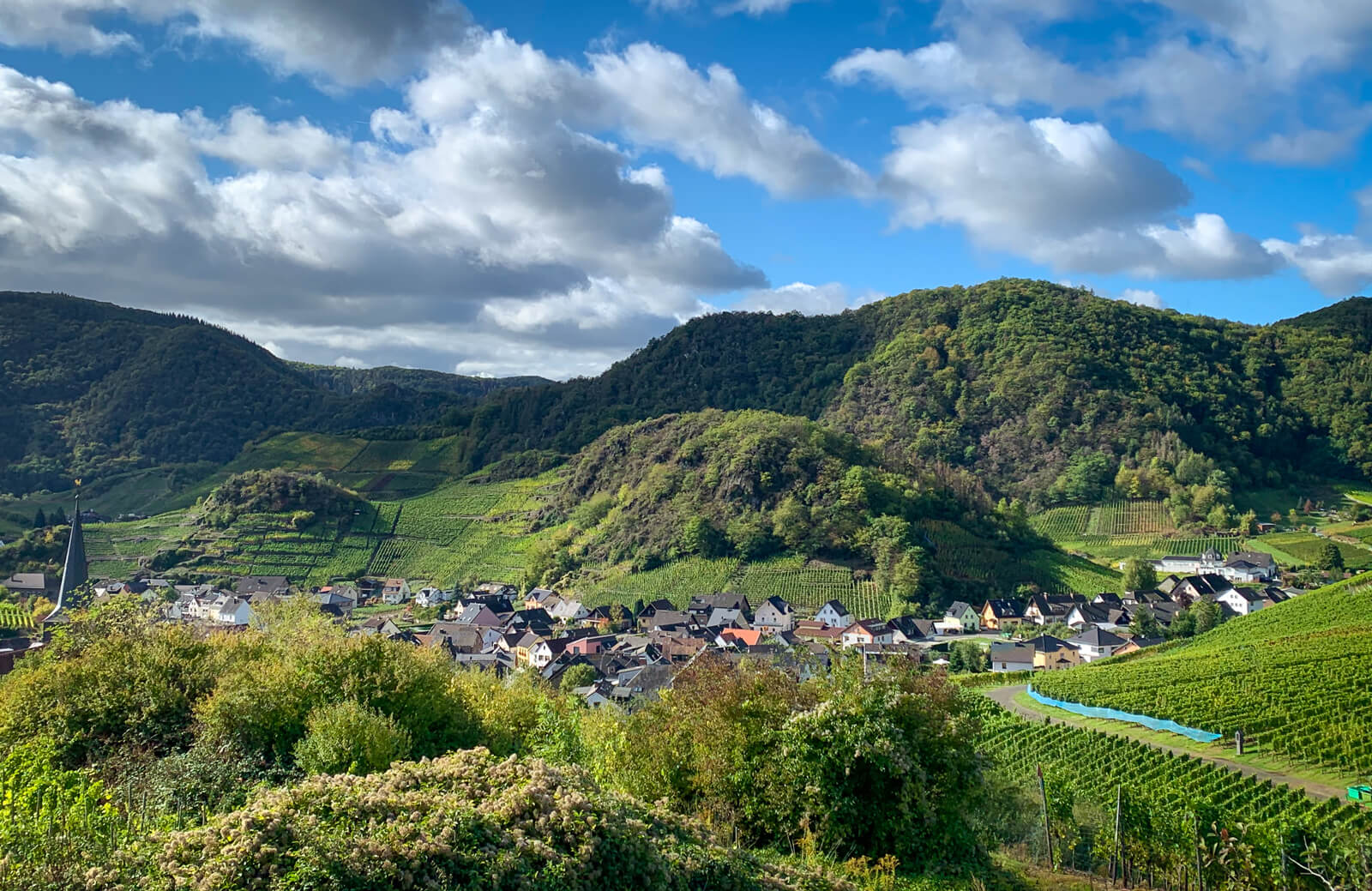 To the average wine drinker, the crown jewel of Germany is Riesling. But small, unassuming regions like the Ahr Valley are making sure that the legend of German Spätburgunder lives on. Looking for Ahr Spätburgunder? Try visiting online stores, or check with your local wine shop about their availability.
Outside of Germany, these wines are tough to come by, but they're absolutely worth your while.
Looking for more info on German wine regions? Check out our guide to Mosel!