Everything you ever wanted to know about Nero d'Avola wine courtesy of pages 144–145 of Wine Folly: The Essential Guide to Wine
If you love full-bodied dry reds like Cabernet Sauvignon or Syrah then Nero d'Avola ("nair-oh davo-la") is your buddy. This lesser-known Sicilian grape variety deserves more recognition as a wine to be taken seriously.
Guide to Nero d'Avola Wine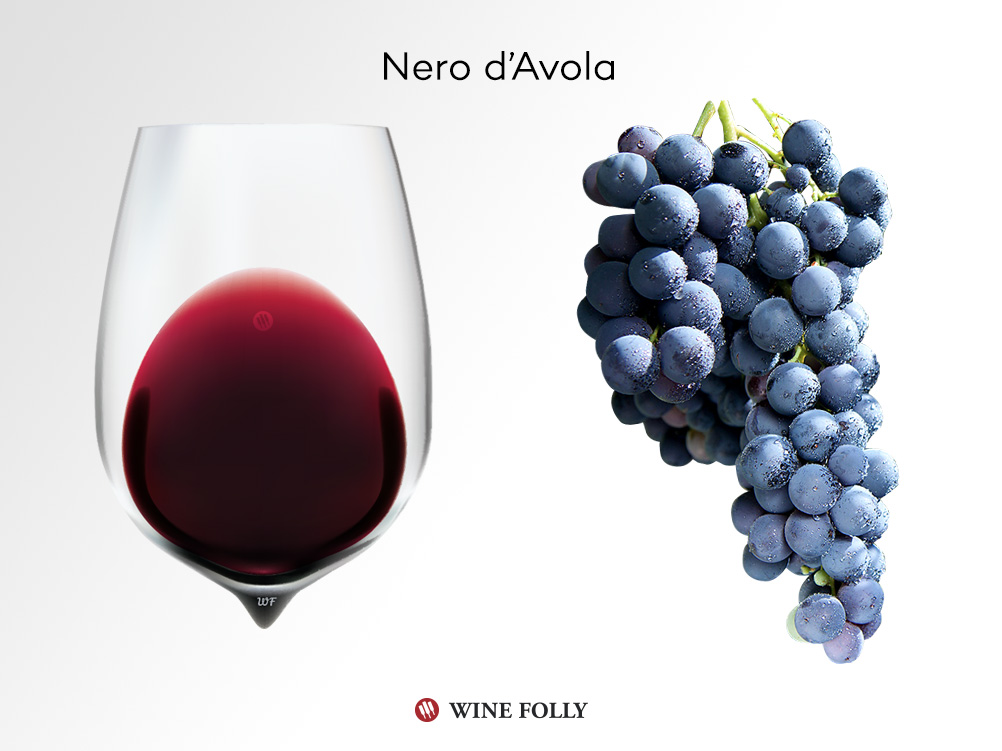 Its resurrection has a few producers to thank (among them are Planeta, COS, Curto and Donnafugata) who have made several jaw-dropping single varietal Nero d'Avola wines since the late 1990's. What is awesome about this grape is that even though the wines get high ratings, most can be purchased for under $20.
---
Nero d'Avola Taste
Fruit:

Nero D'Avola is known for its superbly bold fruit-driven flavors that range from black cherry to prune.

Body:

Nero d'Avola is one of the full-bodied wines of the world in the same boldness as Cabernet Sauvignon, Pinotage, and Syrah.

Tannin:

The tannin in Nero d'Avola is high, but not as high as wines like Barolo or Petite Sirah.

Acidity:

Acidity in wine ranges from the tartness of a lemon to the creaminess of greek yogurt. With Nero d'Avola you can expect moderately high acidity, but not so tart that the wine tastes overly spicy.

Alcohol:

Alcohol level not only determines the level of booziness but also greatly affects the wine's body. Nero d'Avola typically range from 13.5%–14.5% ABV, which would put them exactly in the "Medium Plus" category–pretty bold!
By the way, the flavors shown above are organized based on where the flavor comes from. There are 3 categories of aromas that contain nearly all wine flavors.
Primary flavors come from the grape variety itself
Secondary flavors come from winemaking and fermentation
Tertiary flavors come from aging (most typically from oak barrels or oxidation)
---
Food Pairing with Nero d'Avola
With its bold fruit flavors, robust tannin and acidity, Nero d'Avola is a great wine to match with rich meaty meats.
Some classic pairings include oxtail soup and beef stew, but you could easily swap BBQ burgers with bacon and everyone will think you're a genius. The gamier the meat the better because it will simply make your wine taste more fruity and candy-like.
Spices that will pair very well with Nero d'Avola (that you might not have considered) include anise, orange rind, bay leaf, sage, cocoa powder, asian plum sauce, and coffee.
If you're a vegetarian, whip out your black lentils and shitakes and make some beef-less magic.
---
Serving & Storing Nero d'Avola
Glass: Oversized. A large red wine glass that can collect aromas and has ample room to swirl (to reduce any harshness from tannins).
 
Serving Temp: Room (60–68 ºF / 16–20 ºC)
 
Aging: Most Nero d'Avola wine will age confidently for 10 years
 
Cost for Quality: $15–20 (US)
 
---
Where Nero d'Avola grows
Nero d'Avola is an arid climate variety capable of being dry-farmed, and it loves the heat. In Sicily, many of the oldest Nero d'Avola vineyards are Alberello pruned or "head-trained" close to the ground so that they are resistant to high winds. Nearly all the Nero d'Avola comes from Sicily, but there are a few pioneering producers, such as John Chiarito who dry-farms Nero d'Avola in Mendocino, CA and a few folks in McLaren Vale, South Australia who love the stuff due to its outstanding arid climate characteristics.
Last word on Nero
If you try several different Sicilian Nero d'Avola winemakers, you'll start to notice that there are 2 winemaking ideologies in play. One is a more fruit-forward, opulent and black-fruit driven style that offers up coffee and chocolate flavors from aging in oak barrels. The other style is much leaner and more elegant with zippy red cherry fruit flavors, herbal notes and very little oak aging (if any at all). It's up to you which style you like, and make sure to pay attention to these types of descriptions to find your style.
Tell us about an awesome Nero you've had.