The bold-yet-floral expression of Petit Verdot is something that all red wine enthusiasts should have the opportunity to try.
Petit Verdot ("peh-tee vur-doe") is a full-bodied red wine that originates in southwestern France (in Bordeaux). It is highly desired as a blending grape in red Bordeaux blends because of its plentiful color, tannin and floral aromas of violet. Because Petit Verdot is such a bold wine, it is commonly added in less than 10% of most wine blends. The wine is also rarely produced as a single-varietal wine, however there are several producers making phenomenal Petit Verdot wines in regions within Australia, Chile, Spain, California and Washington State.
Great Petit Verdot wines offer up ethereal aromas of plum, lilac, violet and sage with gravel-like minerality.
Guide to Petit Verdot Wine

See more information on Petit Verdot on page 146 of Wine Folly: The Essential Guide to Wine
Petit Verdot Taste
Petit Verdot offers up aromas of mostly black fruit flavors ranging from plum, blackberry and blueberry to slightly lighter black cherry. The unique and intriguing flavors of Petit Verdot are herbal and floral notes such as violet, lilac, lavender, sage, and dried herbs. You'll find that most producers will oak age this wine to soften it and add flavors of vanilla, hazelnut and mocha. And occasionally, the wine can be a bit smoky and rustic, like smoked meats. On the palate the wine is dry and full-bodied with high tannin, bold fruit and medium-plus acidity. Some producers in Australia over crop the variety (in regions like Murray Darling and Riverland) and it makes the wines a little lighter and softer with smooth tannin and notes of blueberries and vanilla.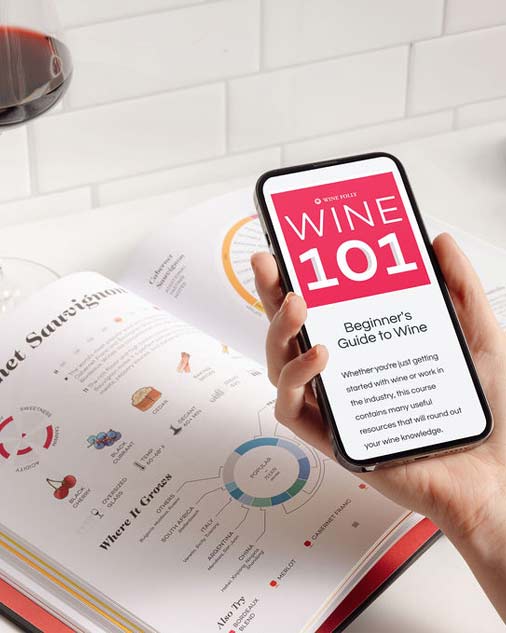 Buy the book, get a course.
Get the Wine 101 Course @ 75% OFF with the purchase of Wine Folly: Magnum Edition.
Shop Now
Similar Wines: Try Mourvèdre (Monastrell) and Petite Sirah.
Average Cost: $12–$20
Decant: Yes. 2 hours (or several passes through a wine aerator)
Food Pairing with Petit Verdot

Shashlyk is a form of shish kebab originally made by alternating pieces of lamb and lamb fat with herbs and spices. by Valters Krontals
Examples
Meat

Lamb stew, Lamb Chops, Lamb Kabobs, Roasted Pork, Barbecue Beef Short Ribs, Ground Beef Burgers, Iranian Beryooni, Mexican Adobo, Beef with Mole, Chinese Barbecue Pork

Cheese

Grana Padano, Pecorino, Manchego, Smoked Gouda, Aged Gouda, Aged Cheddar, Aged Gruyere

Herb/Spice

Sage, Rosemary, Mint, Cumin, Anise, Clove, Allspice, Turmeric, Black Pepper, White Pepper, Mace, Smoked Paprika, Adobo Seasoning, Cinnamon, Ancho Chile, Pasilla Pepper

Vegetable

Portabello Mushroom, Shitake, Wood Ear Mushroom, Black Lentils, Truffle, Black Beans, Kidney Beans, Dried Blueberry, Raisin, Dried Cranberry, Pomegranate, Wild Rice, Chestnut, Walnut, Hazelnut, Black Olives, Eggplant, Onion, Shallot
---
Petit Verdot Wine Facts

Petit Verdot during veraison (when grapes turn purple) at Jordan Winery in Alexander Valley, Sonoma (CA)
 
Petit Verdot translates close to "little green one" and this is most likely because this grape is a late-ripening, warm climate variety. In Bordeaux, it meant that the grapes were often not quite ready (e.g. a little green) when they had to be picked for harvest. Because of this, Petit Verdot was only used in blends in small amounts (usually only 1–2% of the Bordeaux Blend) to add tannin structure, color and herbaceous notes of violet and sage. In fact, much of the plantings in Bordeaux were uprooted in favor of the early-ripening varieties of Merlot and Cabernet Franc. However, when planted in Spain, Australia, California and other warm climate zones, the variety has since shown its true potential. And thus, you're likely to find awesome examples coming from outside of Petit Verdot's original homeland.
---
Regional Styles of Petit Verdot
Spain

Produced in several regions all over Spain, many of the single varietal wines are opaque in color offering up flavors of black fruits, clay-like minerality, licorice and black pepper notes. Wines can be quite high in tannin so be sure to decant.
Regions: Mentrida, Jumilla, Castilla La Mancha, Almansa
Average price: $18
---
Australia

Wines coming from the central areas of Australia, including Riverland, Riverina and Murray Darling, tend to be made in a lighter style and color with notes of black raspberry, black cherry, violets and vanilla. Other regions, including Barossa, don't over crop and produce a much more intense color.
Regions: Riverland, Murray Darling, Yarra Valley, Riverina, Barossa, Southern Fleurieu
Average price: $15
---
United States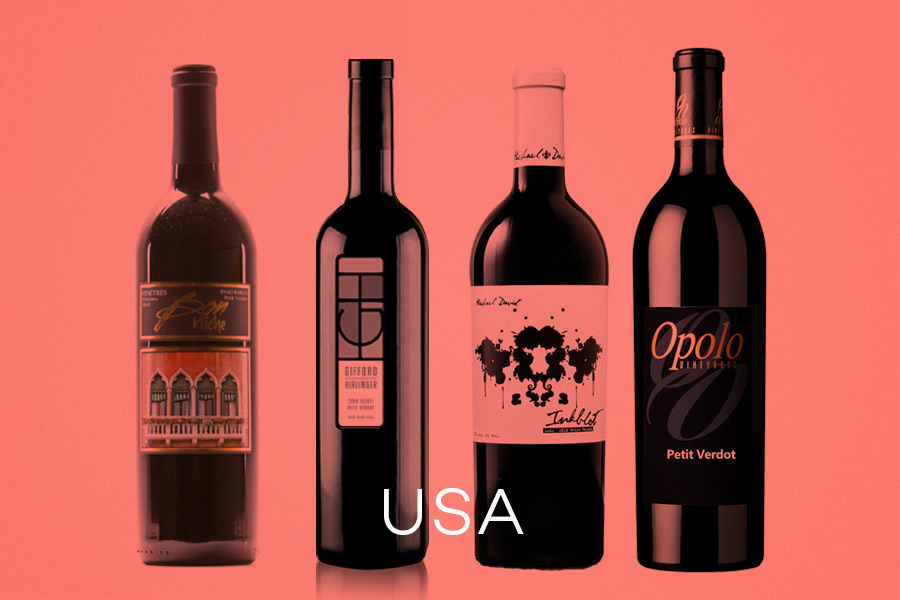 Flavors are dense and fruit forward including flavors of blackberry, sage and violet. Wines will typically be aged in oak for 20–30 months to soften the tannin and add subtle spice and vanilla notes.
Regions: Napa Valley (CA), Central Coast (CA), Lodi (CA), Walla Walla (WA), Columbia Valley (WA), Virginia
Average price: $25
---
Chile and Argentina

Deeply colored with aromas of blackberry and ripe currant with an herbal smokiness similar to roasted coffee or black cardamom. From Chile, these wines can be slightly more herbaceous (depending on vintage) and often with higher age-worthy acidity.
Regions: Colchagua Valley (Chile), Maipo (Chile), Mendoza (Argentina), Uco Valley (Argentina
Average price: $15
---
Italy

The majority of Italian Petit Verdot is reserved for the Supertuscans of the Maremma region in Tuscany. However, there are a few single-varietal Petit Verdot wines which lean towards more earthy with notes of crushed granite, dark berries and a dense dark color and bold flavor with high tannin.
Regions: Tuscany, Lazio, Sicily
Average price: $20
---
Get the book
A visual guide to wine with 230+ pages of infographics, data visualization and wine maps opening you up to the world of wine. Wine Folly: The Essential Guide to Wine is the perfect companion for your wine lifestyle.