Finding the wine you love has a lot to do with understanding where the wines you love fit in the entire spectrum of styles. Medium-bodied red wines are the quintessential food wine because they have balanced tannin and moderate acidity. Find out which wines fit into this style and if these wines are what you naturally gravitate towards as a personal preference.
Defining Medium-Bodied Red Wines

See detailed flavor profiles for medium-bodied red wines on pages 102–129 of the Wine Folly Book
When learning about wine, it's useful to understand a variety in terms of its weight compared to other wines. This way, you'll have an easier time finding wines you like. For red wines, there are 3 primary styles to know:
Each style has defining features, and one can define Medium-Bodied Red Wines as:
A few medium-bodied reds to know

Here are some common wines to know that can be categorized as medium-bodied. Of course, as you'll read below, sometimes these varieties can be intensified using winemaking techniques, but more often than not these wines will be medium-bodied.
Carménère
Carignan
Mencía
Negroamaro
Why do medium-bodied red wines pair so well with food?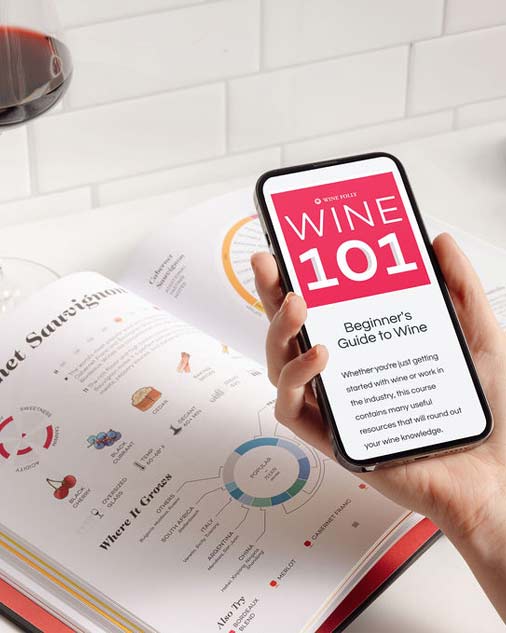 Buy the book, get a course.
Get the Wine 101 Course @ 75% OFF with the purchase of Wine Folly: Magnum Edition.
Shop Now
When pairing a wine with a food, the first 2 components you assess are a wine's acidity and tannin. The higher the acidity, the greater the variety of foods the wine can pair with because its zesty quality won't be drowned out by vinegar, tomato, or citrus-based sauces. The lower the tannin, the less need there is for a high-fat dish (a natural absorber of tannin), meaning you can pair lower tannin wines with more lower-fat content foods.
Not all wines are made the same
Occasionally, producers are able to create very full-bodied versions of medium-bodied wines depending on where the grapes were grown and what winemaking techniques are used.
Things that affect the boldness of a wine
Warm Climate

Grapes from warmer climate regions are sweeter and produce higher alcohol which adds body.

Oak-Aging

Wines aged in oak for longer periods of time add more tannin and alcohol, which also adds more body.

Dried Grapes

Wines that are left out to dry (passito method, like for Amarone della Valpolicello) sweetens the juice and makes richer, higher alcohol wines.
---
Drink more delicious wine
A visual guide to wine with 230+ pages of infographics, data visualization and wine maps that simplifies the world of wine. Wine Folly: The Essential Guide to Wine is the perfect companion for exploring and becoming confident with wine.