Aglianico "alli-yawn-nico" is a full-bodied red wine which is found almost exclusively in Southern Italy in the regions of Campania and Basilicata. Young Aglianico wines are known for strikingly savory flavors of leather, white pepper, black fruits and cured meat that when aged, develop soft dusty aromas of dried figs and sun-tanned leather. For those of us who are a fan of rustic, earth-driven wines, Aglianico is a star.
"Along with Nebbiolo and Sangiovese, [Aglianico] is generally believed to be on of Italy's three best wine grapes, but in my opinion it is far more…"
–Ian D'Agata, Native Wine Grapes of Italy
Aglianico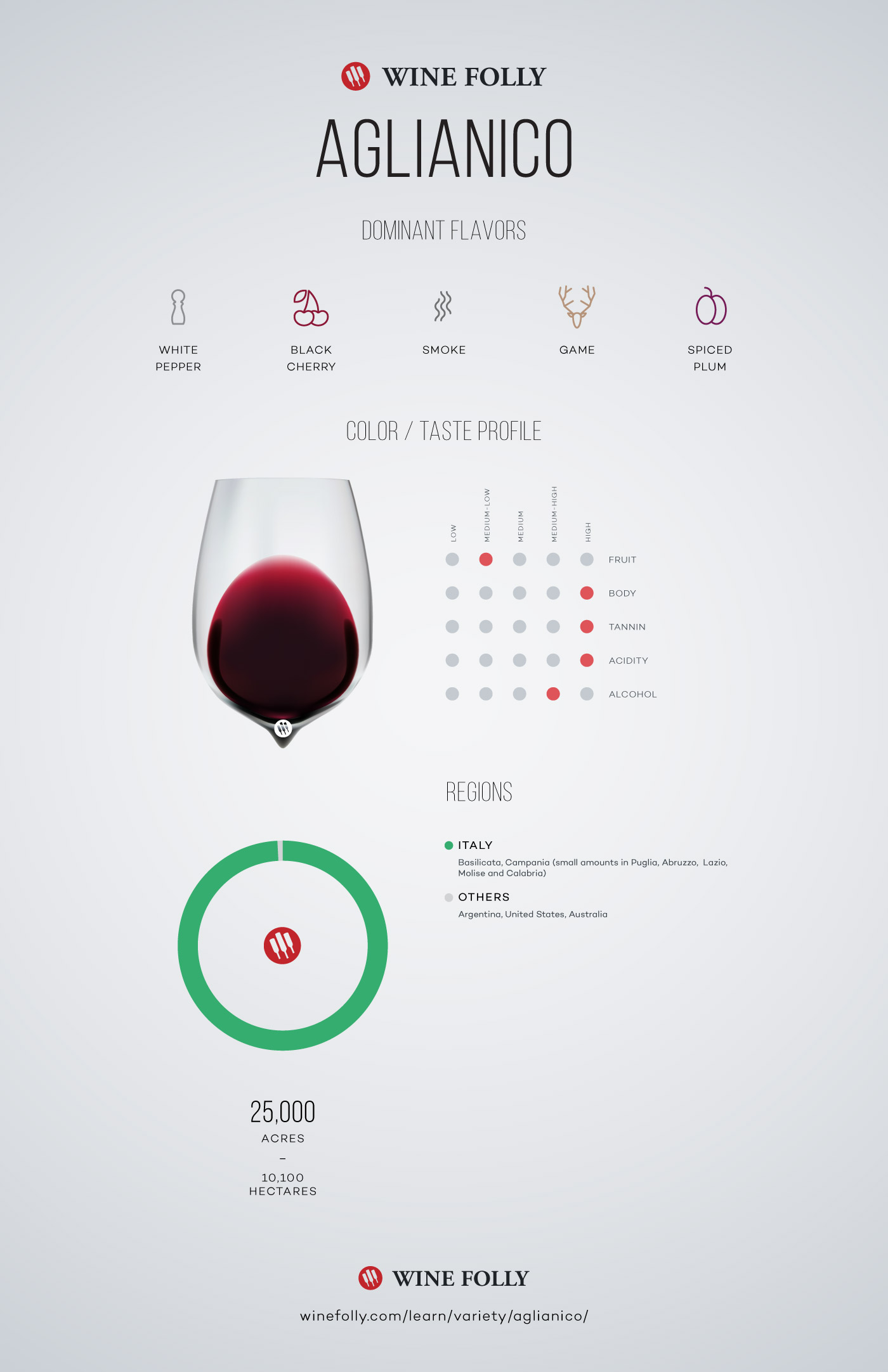 See more flavor characteristics of Aglianico on page 132 of Wine Folly: The Essential Guide to Wine
Flavors and Aromas
White Pepper, Cracked Peppercorn, Black Cherry, Blueberry, Blackberry Bramble, Black Plum, Dried Cranberry, Dried Raspberry, Wild Strawberry, Black Truffle, Potting Soil, Underbrush, Mushroom Broth, Cured Meat, Smoked Meat, Leather, Game, Smoke, Cocoa, Nutmeg, Cinnamon, Ash, Cedar, Tobacco, Cigar Box, Incense, Tar, Coffee, Licorice, Dried Oregano, Dried Roses
Structure
Full-Bodied
High Tannin
High Acidity
Medium to Medium-Plus Alcohol
Age worthy
Yes. 10–20+ years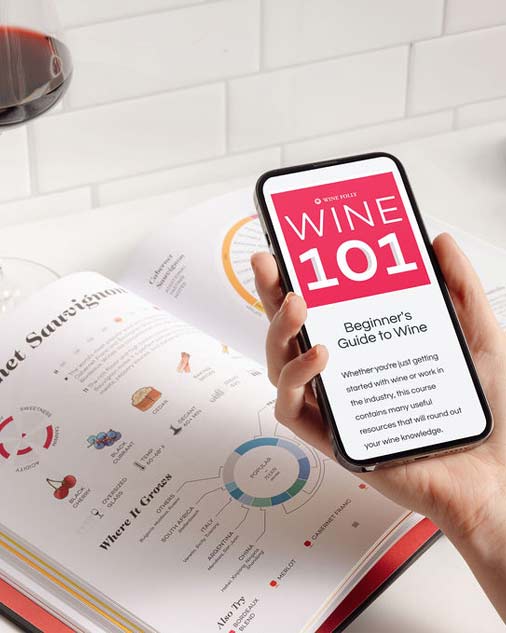 Buy the book, get a course.
Get the Wine 101 Course @ 75% OFF with the purchase of Wine Folly: Magnum Edition.
Shop Now
The real magic of Aglianico appears to the patient. Just like its Northern Italian stable-mate Nebbiolo (the only grape allowed in majestic Barolo and Barbaresco), well-made Aglianico wines really don't start to come into their best until 10 or so years of age. The time softens the wines firm tannic structure and enamel-removing acidity revealing lush layers of sweetened fruit and dried floral aromas intermixed with dusty and spiced smoke savory flavors.
Knowing about Aglianico's rigid nature, some producers make it into a much fresher, easy-to-drink style. Given that the grape has so much tannin and acidity it easily holds up to new oak aging and modern winemaking. The winemaking techniques are meant to subjugate Aglianico's wildness into a chocolatey, ripe, rich wine with moderately high alcohol and low pH (acidity). The modern style of Aglianico won't age as long as the traditional stuff, and has less of an expression of particular place, but on the plus-side, it's friendly to drink now and will sop up any beef brisket.
CLIMATE CHANGE: As a drought-resistant, late-ripening variety, Aglianico offers great potential for making high-quality wine.
Food Pairing with Aglianico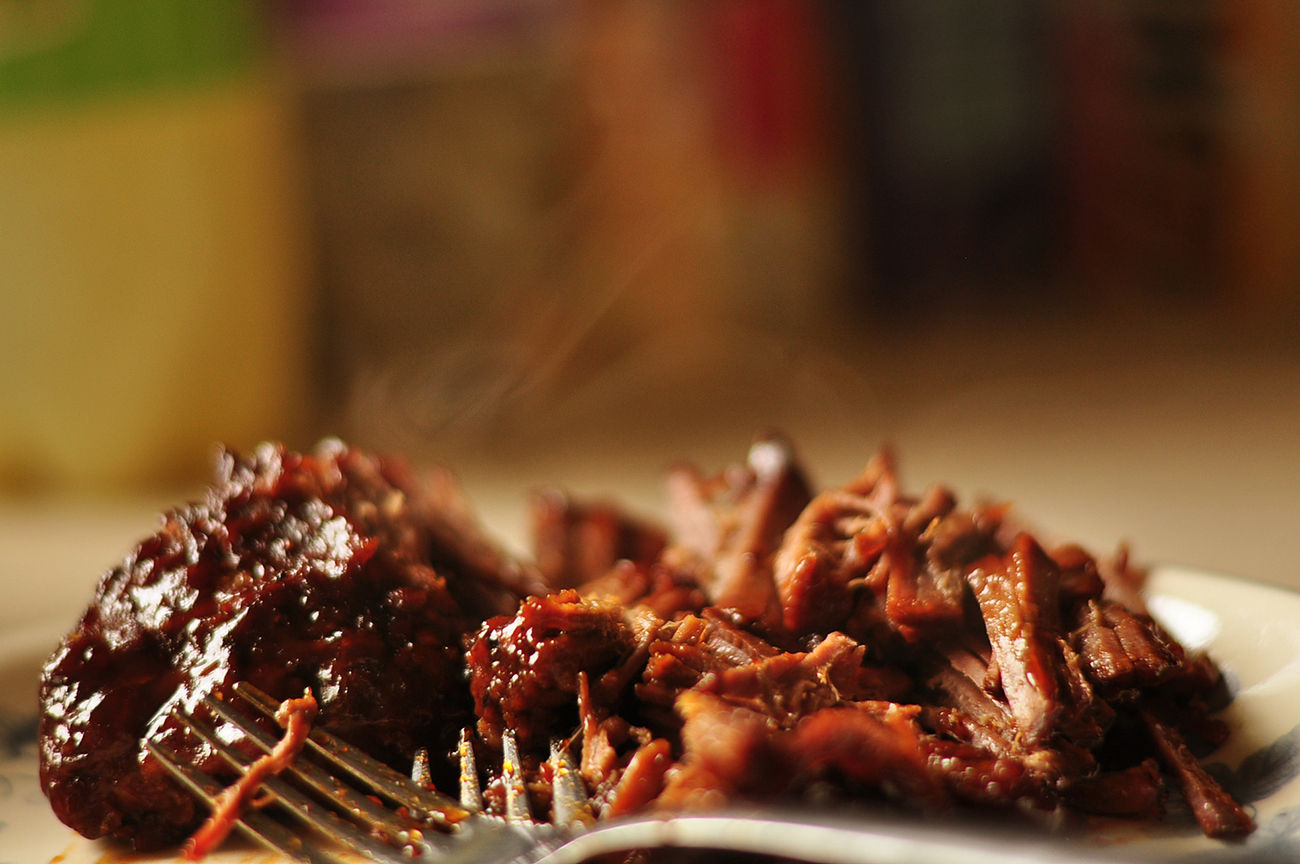 Aglianico will make your richest barbecue beef brisket taste even better. by Tim Hoggarth
The structure of Aglianico end up being a benefit for high intensity food pairings. Because of the high acidity, Aglianico does wonderfully alongside Barbecue sauce. Also, High tannin wines like Aglianico beg for rich meats with high fat content to absorb the astringency. If you're a vegetarian, hone in on flavors with a rich umami note, such as black bean sauce, soy sauce, tempeh or dishes that welcome roasted mushrooms.
Examples
Meat

Beef Brisket, Smoked Pork, Soppressata, Barbecue Beef, Carne Asada, Seared Prime Rib, Buffalo Burgers, Venison, Beef stew, Chili, Rabbit Stew, Oxtail

Cheese

Pecorino, Asiago, Grana Padano, Cheddar, Monterey Jack, Provolone.

Herb/Spice

Garlic, Black Pepper, White Pepper, Oregano, Sage, Cumin, Clove, Allspice, Soy Sauce, Chinese Black Bean Sauce

Vegetable

Portobello Mushroom Steaks, Roasted Mushrooms, Baked Beans, Tempeh, Black Beans, Black Eyed Peas, Lentils, Crispy Kale, Purple Potatoes, Roasted Purple Cauliflower, Arugula
---
Regional Wines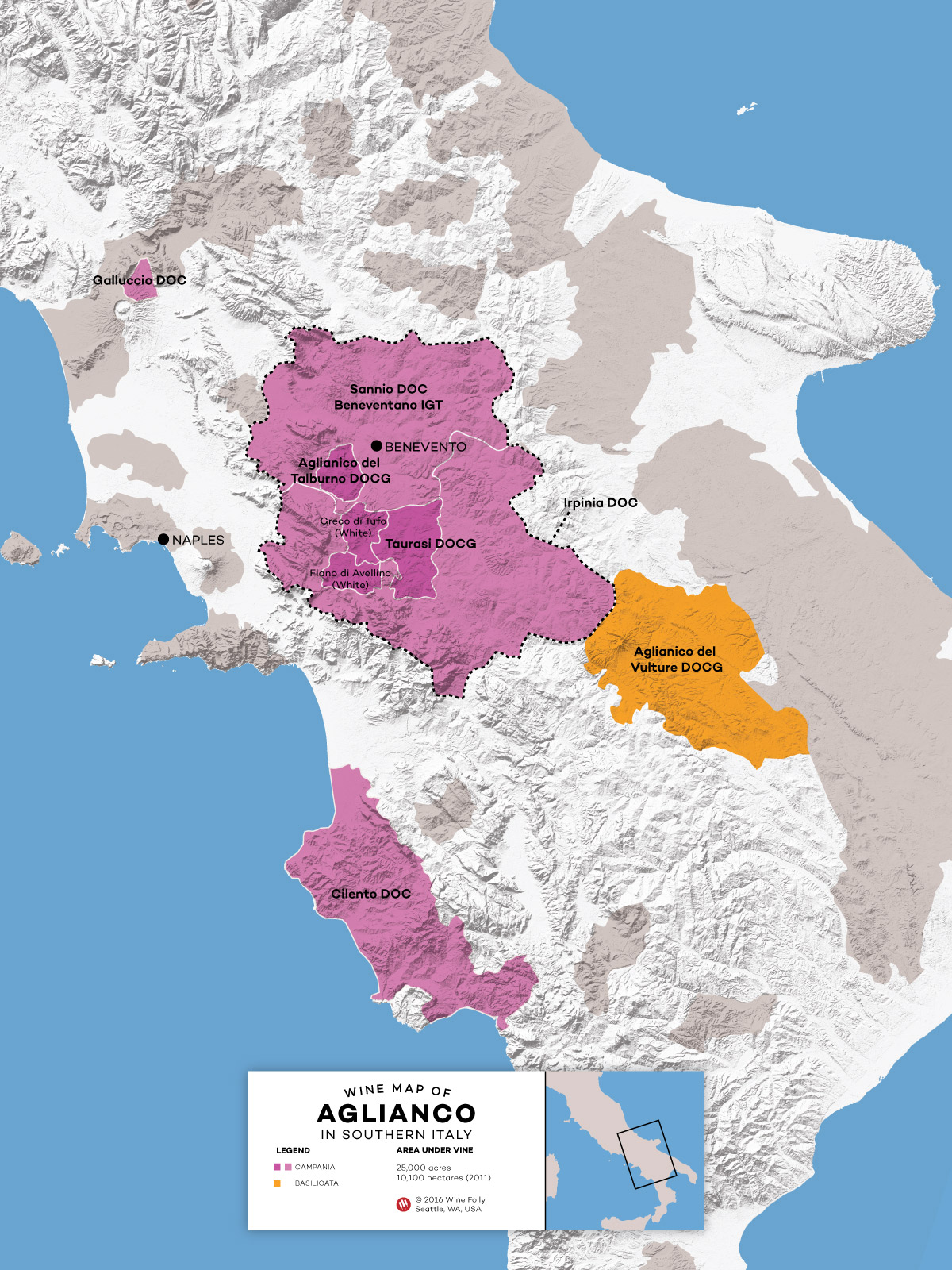 The areas shown in this map of that includes parts of Campania and Basilicata shows regions that produce wines with Aglianico.
While Aglianico is planted in a number of Italy's southern regions, it's the focus of just two: Campania and Basilicata. Within these areas there are three production zones that have the highest tier Italian wine classification (DOCG). Each region has a decidedly different expression of the wine, but the volcanic soils are what ties them all together.
Taurasi
Wine: Minimum 85% Aglianico (if blended, it's with Piedirosso, another Campanian native).
Expect to spend: $25–$90
The most critically rated Aglianico wines come from the region of Taurasi. Most collectors of this wine will agree that Taurasi tends to deliver the most floral expression of the wine with brooding aromas of rose and sour cherries. This wine is also likely the least approachable upon release with most needing at least an 8 year cool down period to account for ripping high acidity and grippy tannins.
Aglianico del Taburno
Wine: 100% Aglianico
Expect to spend: $15–$40
The most rustic (and often the best priced) style of DOCG Aglianico offers more leather, earth and dried herbal flavors along with tart black fruit and firm tannins.
Aglianico del Vulture
Wine: 100% Aglianico
Expect to spend: $15–$50
More plum, berry and spiced expressions of Aglianico with an earthiness in the realm of coffee or espresso and bold fine grained tannins.
Last Word Aglianico
Beyond Italy, we're starting to see a few regions produce deeply rich, chocolatey styles of Aglianico wine particularly in Australia and the US. Aglianico wines are bound to become more available as growers all over the world look to varieties that grow well in our rapidly changing climate conditions.
---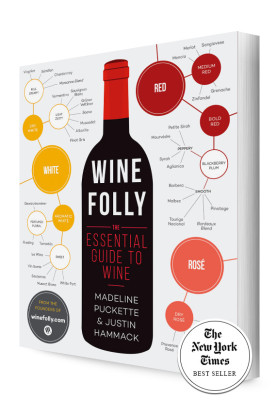 Get the Wine Folly book
A visual guide that simplifies the world of wine. Wine Folly: The Essential Guide to Wine is a easy-to-grasp reference to explore and gain confidence finding great wine.