Get to know the basics with White Burgundy (Bourgogne) wine, the ultimate French Chardonnay. Included are 4 primary styles to know and useful tips on taste, what to expect to spend and food pairing from Chardonnay-addict and sommelier, Morgan Harris.
For winemakers, white Burgundy may just be the Helen of Troy of Chardonnay because nearly everyone who's ever made Chardonnay has looked to the white wines of Bourgogne as gold standard.
All in all, white Burgundy is just Chardonnay, but the region is also the origin place of the variety, which is by the way, the world's most popular white grape.
In Burgundy, the combination of climate, land, and tradition produce a wine that is coveted by many and never precisely replicated anywhere else.
---
"Once you're hooked on white Burgundy, there's no going back."
---
Once you're hooked on white Burgundy, there's no going back. Some would say white Burg is the crack cocaine of Chardonnay. Sommeliers and retailers who sell white Burgundy sound like drug dealers: "Just try some, you'll love it…"
Now that you've had a proper introduction, let's get started exploring the region and the wine. While some people have dedicated their lives to understanding each and every nuance, anyone can be learn how to choose white Burgundy and what to expect.
Getting Started with White Burgundy
Broadly, white Burgundy can be found in four production areas within Burgundy. Each area has a different terroirs and characteristics and thus, different flavor profiles:
Bourgogne Blanc: unoaked simple wines with mineral and apple notes. Expect to spend $15–$20 for a tasty bottle of everyday Bourgogne Blanc.
Chablis: unoaked wines that are zippy and lean with lime-like mineral flavors. Expect to spend $20–$30 for a good bottle of Chablis.
Mâconnais: Mâconnais wines are usually unoaked with fruit-forward with melon and starfruit notes. Expect to spend $15–$20 for a tasty bottle.
Côte de Beaune: This is the "crème de la crème" of White Burgundy. Wines are typically oak-aged wines with rich, fleshy yellow apple and starfruit flavors with undertones of truffle, hazelnut and vanilla. Oak-aging costs more to make so don't be surprised if you spend more than $40.
Other Burgundy Whites
Aligoté –Bourgogne Aligoté appellation
Pinot Blanc –Found in Nuits-St-Georges
Pinot Gris –A mutation of Pinot Noir
Sauvignon Blanc –Found in the Saint-Bris appellation
NOTE: There are a few wines from outlier regions within Burgundy not included in this guide due to their relative rarity.
Burgundy Wine Map
---
Bourgogne Blanc
Simple white wines of Burgundy
General flavor profile: Bourgogne blanc are easy-drinking with fresh apple-y and lemon-y citrus notes. The wines will usually be marked by appealing cheese rind or yogurt-like aromas, as well as a slightly nutty, salty quality. Bourgogne blanc almost never see any oak and are light-bodied. They are true vin de soif ("thirst wines").
What's to know: Bourgogne blanc is the basic white appellation of Burgundy which means grapes used for a single bottle can come from anywhere in the entire region. Although, in practice, they're usually from vineyards around where the producer is located. Because of this, Bourgogne blanc are often the most affordable and provide the foundational taste profile of white Burgundy.
Food pairing: Great with chicken, middle-weight pastas, or random Thursday nights on the couch.
Buying Tips: Expect to spend about $20 for a decent a bottle and look for top vintages or quality producers for the best values.

---
Mâconnais
Succulent fruity everyday whites
General flavor profile: Flavors range from yellow apple-and-citrus like flavors to tropical honeydew and pineapple notes in richer vintages. Most wines are unoaked and light bodied. Expect more specificity and intensity than the average Bourgogne blanc, but with slightly less power and filigree than the wines from the Côte de Beaune. Mâconnais whites can often have the heft and weight of their more serious Côte de Beaune cousins, but are a little bit more rustic in nature. The more expensive examples will likely have some new oak which adds hazelnut and baking spice notes.
What's to know: Mâconnais is in the far south end of Burgundy (nearly 150 miles to the south of Chablis) right next to Beaujolais. It's much warmer than the rest of Burgundy and thus offers the most fleshy and plump of all white Burgs.
Food pairing: Great with any sort of middle-weight dishes. Cured pork products, anyone?
Buying Tips: Expect to pay between at least $15 and up to $45 for the best examples. Also, if you're accustomed to California Chardonnay, a warmer vintage village-level Mâconnais wine will be an excellent introduction to white Burgundy.

---
Chablis
The antithesis of buttery Chardonnay
General flavor profile: The wines here are marked by even leaner, tarter fruit aromas (lime zest, tart green apple, quince and under-ripe pear) than the average Bourgogne Blanc. In addition to this, there's often a brine-y, oyster liqueur like aroma to the wines along with the classic subtle notes brie rind, yogurt, and white flowers.
What's to know: Chablis is the northernmost region in Burgundy, and therefore the coldest. Chablis almost always has the tartest, crispest acid profile of all white Burgundy. Famous for its intensely chalky white soils, Chablis also contains several Grand Cru vineyard sites. Many producers will oak their Grand Cru wines, leading to a richer style similar to Côte de Beaune.
Food pairing: Oysters and anything from the raw bar are the classic pairings of Chablis. With high acidity and no oak, it is an ideal choice for mixed company. Pairs with everything? Maybe.
Buying Tips: Expect to spend from $20 to up to $75 for the fanciest examples. Quality-to-price ratio is always great for Chablis.

---
Côte de Beaune
A paradigm in oaked Chardonnay
General flavor profile: The most powerful of all French Chardonnay. Expect slightly fleshier, apple-y fruit aromas: Meyer lemon, golden apple, golden pear, quince, and yellow plum. There's also usually a fresh, earthy aroma of white button mushroom or truffle. The hundreds of years of experience the Burgundians have with new oak shows here: well-integrated, balanced aromas of cinnamon, toasted almond, and toasted bread.
What's to know: The Côte de Beaune is the Beverly Hills of white Burgundy production, and is home to some the most expensive vineyard land on Earth. The  roughly 25 Kilometer strip of the Côte de Beaune produces some of the most show-stopping, intense expressions of the Chardonnay on the planet.
Food pairing: Many of the best wines from the Côte de Beaune are a visceral, meditative experience that you could savor without food. However, richer fish dishes, pork, chicken and anything in a cream sauce or with fungi are highly recommended.
Buying Tips: The white wines of the Côte de Beaune are the pinnacle of white Burgundy and they are not cheap. Lesser village-level wines start at $25-$30, premier cru quality typically start around $40, and a few grand crus can be found in the low $100's but often command much higher prices.

---
Burgundy Quality levels
Burgundy has four quality levels:
Bourgogne Blanc: White wines allowed to blend grapes from all over the region.
Village: a wine from a specific village that is labeled with the village name. (e.g. Santenay)
Premier Cru: from a specific, Premier Cru (1er) designated vineyard
Grand Cru: from a specific Grand Cru designated vineyard
NOTE: As you move up in specificity, you move up in price, and generally in oak usage. Famous white wine villages in the Côte de Beaune include, but are not limited to: Chassagne-Montrachet, Puligny-Montrachet, Meursault, St. Aubin, Beaune, and the hill of Corton.
White Burgundy Vintage Notes
Vintage variation in cool climate regions like Burgundy is very common, so if you're trying to find a great wine, definitely be picky when it comes to the vintage, especially if you're looking for values. Of course, it's good to know that high quality producers tend to be consistent year in and year out.
2011-2013: These were pretty even-keeled vintages, not sensational and with their fair share of difficulties during the season, but generally, quality across the board has been good, if not stellar.
2010: In a word: epic. The best wines from the Côte de Beaune will be drinkable on our deathbeds, but best thing about this vintage is it gave much more stuffing and power to wines that are usually a little more lack-luster.
2009: Very warm growing season led to ripe and rich wines. Definitely a "bridge" vintage for those accustomed to new world Chardonnay, but probably not one for the ages.
2008 and older: 2008 was a cold, hard vintage that gave wines with a lot of tart and fresh flavors. In general, I find that tarter, fresher vintages tend to age slightly better that big, fat, ripe ones, but there will always be exceptional producers who buck the trends.
PRO-TIP: Something changed in Burgundy in the mid 1990's, and no one really knows why, but the wines have started to age prematurely, yielding brown oxidized flavors far before they should in some cases, so buyer beware.
---
Are You A Collector?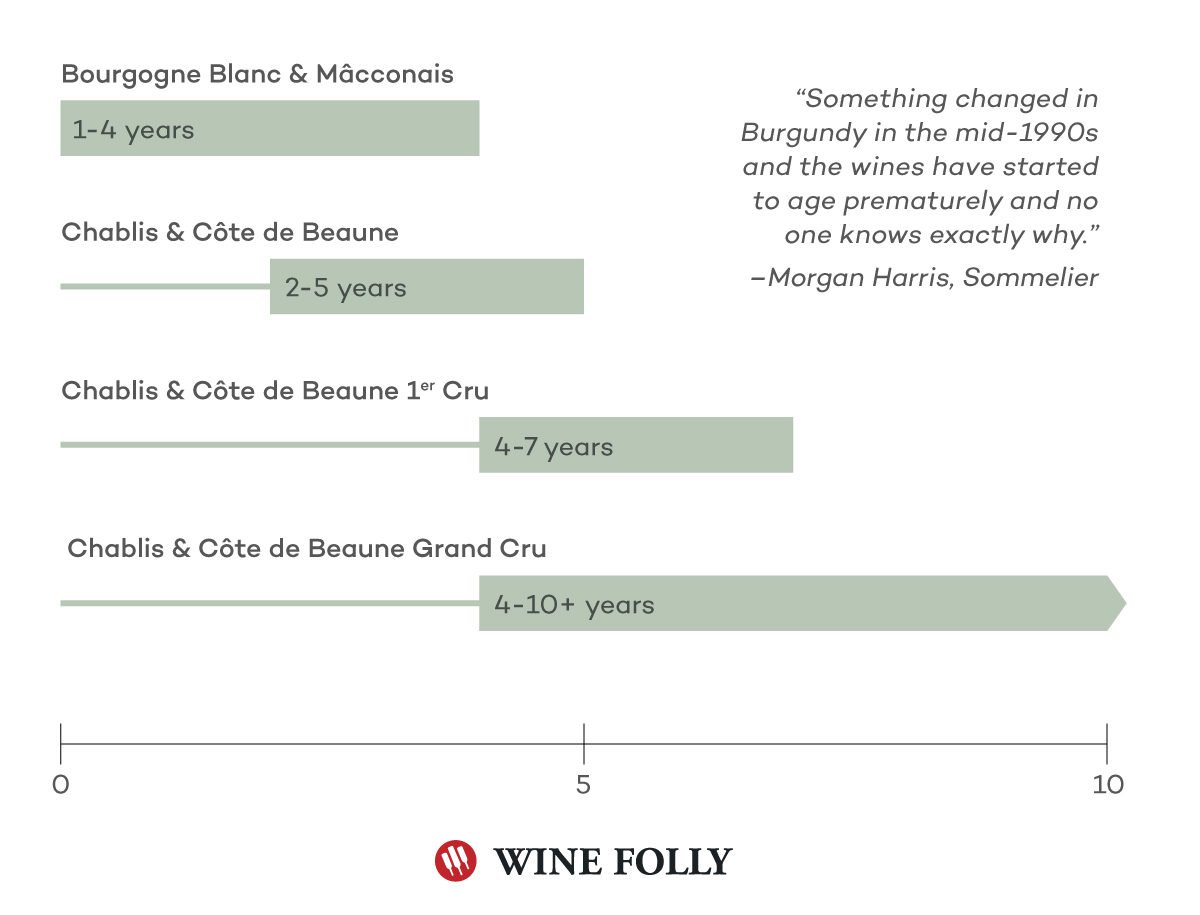 A few loose guidelines help when it comes cellaring white Burgundy. Keep in mind there are always exceptions to the rule.
Bourgogne blanc and the Maconnais: Between 1-4 years of the vintage, in most instances, with the major exception being serious Maconnais producers.
Chablis and the Cote de Beaune: Between 2-5 years of the vintage for village wines, 4-7 for premier crus, and, and grand crus at 4-10+
A further caveat on white Burgundy: It's great to drink young, to drink middle-aged, and to drink old (in the best examples). In general, the more particularity and pedigree a wine has, the longer it will last. Keep in mind, that even among experienced white burgundy drinkers there's much dissent about when a wine is showing best.