Stop trying to memorize labels. There's a better way!
Did you know that there are over one hundred thousand new wines and new vintages that are released by the TTB (Alcohol and Tobacco Tax and Trade Bureau – ttb.gov) each year?
Knowing this fact might make you rethink your strategy of memorize labels.
If you simmer down all the labels to their meta information, you'll realize there are essentially three ways that wines are classified:
Wines labeled by variety.
Wines labeled by region.
Wines labeled by made-up name.
Wines labeled by variety are not always 100% single variety.
Different countries have different labeling minimums. For example, the US requires just 75% of the listed variety (in most cases), whereas, Argentina requires 80% of the listed variety. Some individual, classified regions, such as Brunello di Montalcino, require 100%! (This is made from Sangiovese grapes, BTW).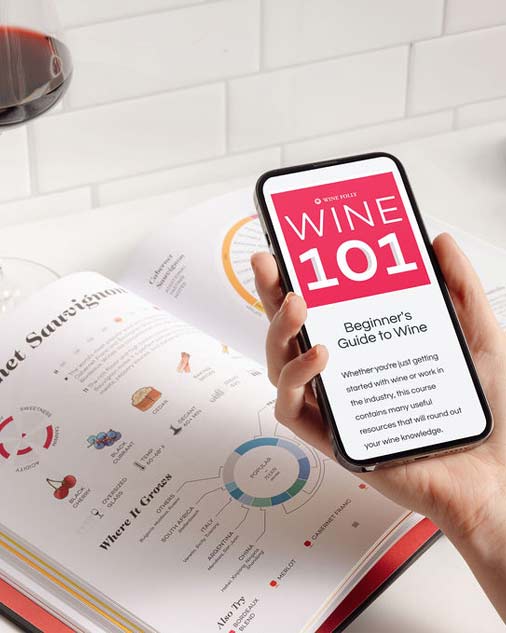 Buy the book, get a course.
Get the Wine 101 Course ($50 value) FREE with the purchase of Wine Folly: Magnum Edition.
Shop Now
It's common to find wines labeled by region in old world countries including France, Italy, Spain, and Portugal.
Back in the early 1800s, the local vintner-farmers would band together to promote their region. Each region would pool resources and market their unique product.
The most successful regions produced singular and consistent wines. These regional wines include some of the most famous wine blends of all time!
What happens when you have a unique wine that's nothing like what your neighbors make? And, what if your wine is a special concoction of wine grapes?
When you don't follow regional wine rules and don't stick to a single grape, then you'll have to go your own way. In the wine world, we call this a made-up or fantasy name.
Several amazing wines out there in the world use this strategy.
Of course, really cheap, bulk wines use this same method. So, be sure to do your research!
Get The Book
The companion to this series is the new Wine Folly Guide – completely redesigned and rebuilt from the ground up. This one has over two times the content of the first, bestselling book.