If you haven't heard about it yet, here's your chance to see 3 wine experts blind taste a wine from New Jersey. The goal of this tasting is to discover if wine from places like New Jersey (or even India) have a spot amongst the great wine regions of the world.
The story about New Jersey wine originally popped up in the New York Times and was also talked about on NPR . So, is this New Jersey wine any good?
The video includes a blind tasting challenge of New Jersey vs. Napa and Bordeaux. Two of the tasters know the three regions but not the tasting order. The third blind taster doesn't know anything. She will have to trust her very accurate nose to sniff out the quality of the three wines.
Find out how New Jersey's wine fairs against Napa and Bordeaux.
New Jersey Tasting Challenge
The Wines
| # | Region | Winery | Varietal | Cost |
| --- | --- | --- | --- | --- |
| 1 | Napa Valley | 2006 Drinkward Peschon "Entre Deux Meres" | Cabernet Sauvignon | $60-80 |
| 2 | Bordeaux | 2009 Château Feret-Lambert | Merlot (90%) | $20 |
| 3 | New Jersey | 2010 Amalthea Cellars "Europa I" | Red Blend (75% cab, 20% merlot, 5% cab franc) | $30-35 |
About New Jersey Wine
Amalthea Cellars sent us a bottle of their New Jersey wine in the mail. To the naked eye there was nothing out of the ordinary by looking at it. The bottle had a classic wine label; the kind with textured off-white paper and a simple illustration of a vineyard house in the background. A label that could easily be from France, except for one tiny part. If you rotated the bottle and read the small text it said "New Jersey" in plain lettering on the back.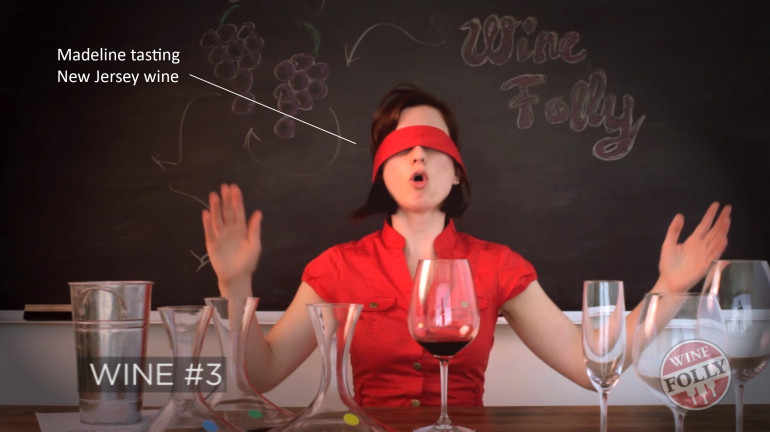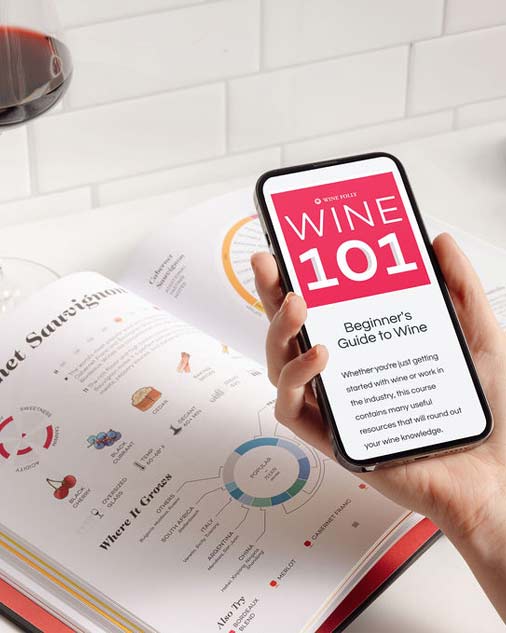 Buy the book, get a course.
Get the Wine 101 Course @ 75% OFF with the purchase of Wine Folly: Magnum Edition.
Shop Now
Amalthea Cellars gets their grapes from the Outer Coastal Plain wine region in New Jersey. The winery tells us that, in terms of soil and climate, New Jersey is similar to Bordeaux. If you think about the area, it's not too far from the truth; New Jersey has low slopes with sand and clay soils similar to the right bank of the Garonne River in Bordeaux.
Conclusion
Every taste tester was surprised about the balance and texture of the New Jersey wine but thought it had a lot of oak usage. Everyone liked it more after decanting it for one hour. The New Jersey wine was much less fruity than the Napa Valley wine but bigger than the Bordeaux. It reminded Advanced Sommelier, Rina Bussell, of a Merlot blend from Tuscany.
Watch the video to see sommelier, Rina Bussell, accurately identify the Napa Valley wine and Madeline Puckette lose her cool when she sniffs the wine from New Jersey.
Like the funky music in the background? Check out Modern Girls